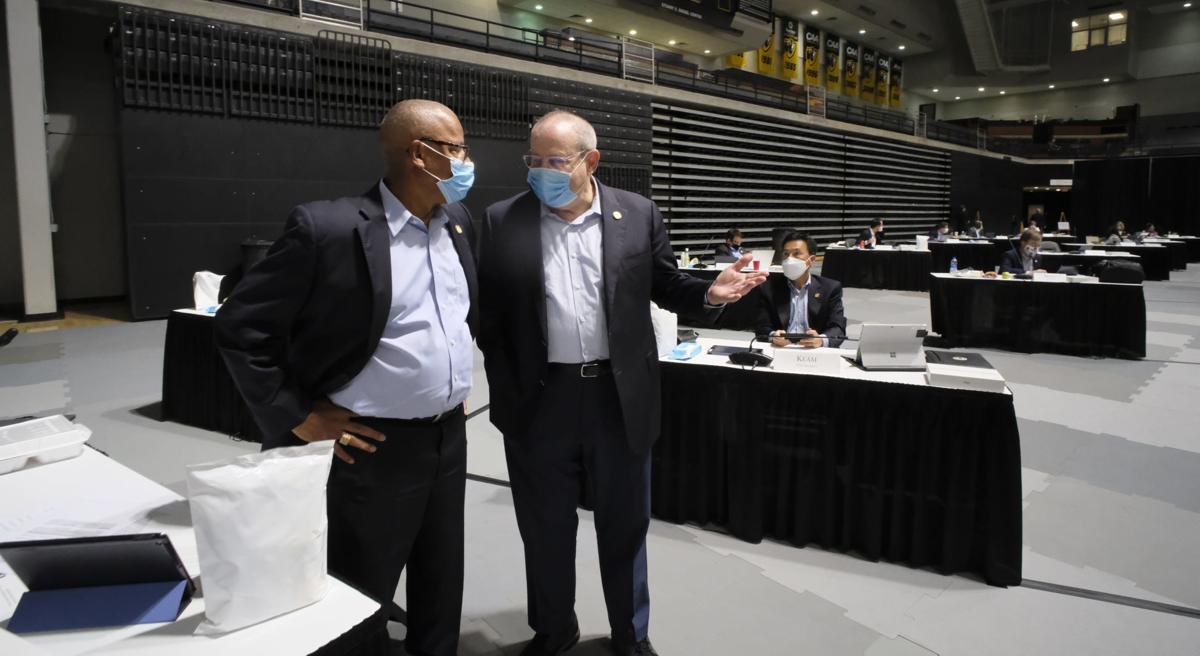 The Virginia General Assembly is moving forward with a plan to provide prepaid postage to absentee voters and authorize ballot drop-off boxes to reassure voters they won't have to cast their vote in person during a pandemic or gamble on uncertain mail delivery.
The House and Senate budget-writing committees backed legislation that would spend $2 million on postage and require registrars to set up drop-off boxes for the November election. Gov. Ralph Northam is backing this initiative.
"No one should have to risk his or her life in order to exercise their franchise," said Sen. Janet Howell, D-Fairfax, the patron of one of the bills, Senate Bill 5120, and chairwoman of the Senate Finance Committee.
More states across the country are speeding up efforts to install ballot drop boxes as voters voice concerns about timely delivery of mail ballots.
"There's a lot of angst across the commonwealth about how we're going to take care of this election safely," said Del. Mark Sickles, D-Fairfax, who patroned the other bill, HB 5103, on this proposal.
The boxes look a lot like a mailbox and are typically under video surveillance or guarded. Skeptics, particularly Republicans, worry about the boxes being tampered with or people with bad intentions handling people's ballots.
"I can't imagine anything that is more inviting of fraud than this would be if we allowed this to go forward," Sen. Steve Newman, R-Lynchburg, said.
Newman envisioned scenarios of people going door to door in neighborhoods that are known for swinging toward a certain party, gathering ballots from voters, and then not delivering them to the drop-off box. He emphasized the importance of not expanding the amount of time between when someone fills out a ballot and it's delivered to an election official.
Newman pushed for additional language to the bill, including making it a felony for someone other than the voter to deliver the ballot to the drop-off box. But Democrats rejected his suggestions.
Sen. Jennifer McClellan, D-Richmond, said she thought Newman's narrow recommendation would prevent a person from dropping off a ballot for an elderly or disabled relative.
"I understand this is an extraordinary measure, but these are extraordinary times," she said.
Sen. Creigh Deeds, D-Bath, said there is no evidence of widespread fraud with the use of drop boxes. Several states, particularly those that have already been voting almost entirely with absentee ballots, have been using drop-off boxes for years without trouble.
"Our job is to make sure that we allow as many people who wish to participate are able to do so," Deeds said. "A whole lot of people are scared to death of the coronavirus, particularly older people."
The ballot drop boxes would be set up at the registrar's office and any satellite offices. Under the legislation, the registrar also would be able to establish additional drop-off boxes as deemed necessary.
Absentee ballots will start going out in the mail Sept. 18. Election officials are urging people to send them back as soon as possible. People do not have to provide an excuse for casting an absentee ballot, and the requirement that an absentee voter have a witness sign the ballot has been waived for the November election.
Under the legislation, if the ballots arrive — either in person, by mail or drop -off box — by Oct. 31, the registrar's office will examine the ballots for any problems. If there are any issues that would result in the ballot being invalidated, the registrar will give that voter the opportunity to correct any problems. The voter would have to make the fixes by the third day after the election.
People would be able to use the drop-off box through the close of the polls on Election Day.
Ballots that are sent by mail and arrive by the Friday after Election Day will be counted as long as there aren't any problems that would invalidate them.
The full House of Delegates and Senate, both controlled by Democrats, still have to approve the legislation. The legislators are aiming to hurry it along so that registrars can get to work setting up the boxes.
Some Republicans said the $2 million price tag gave them pause.
"That's a big chunk of change," said Del. Kirk Cox, R-Colonial Heights.
Del. Glenn Davis, R-Virginia Beach, said the money would be better spent on education, mental health, transportation or various other areas.
"We're trying to find a problem that doesn't exist to spend $2 million on," Davis said.
Del. Paul Krizek, D-Fairfax, who sponsored legislation for prepaid postage at the regular legislative session earlier this year, likened the requirement that people buy stamps to a poll tax. He said other states already offer prepaid postage.
"You should not have to pay to vote, even 55 cents," Krizek said.
Get local news delivered to your inbox!
Subscribe to our Daily Headlines newsletter.