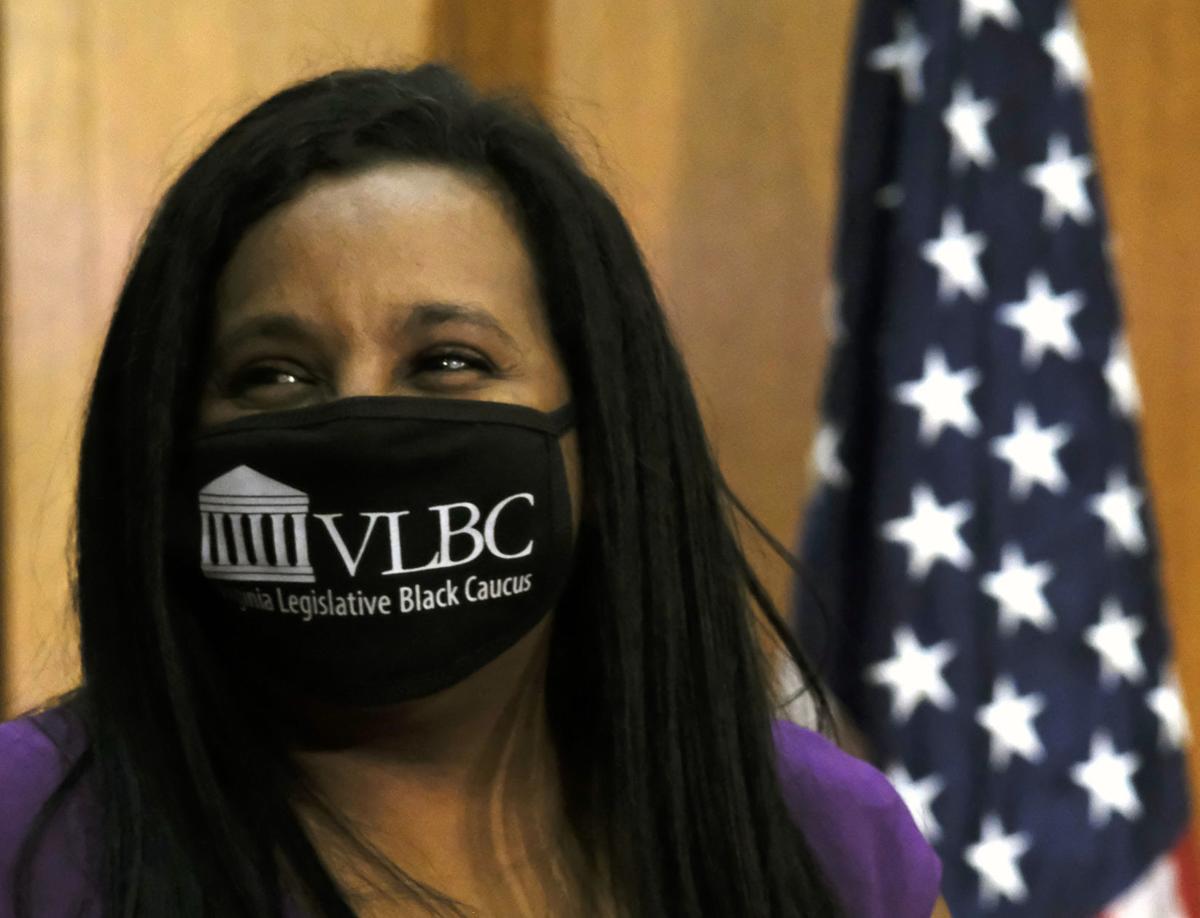 RICHMOND — Five months after George Floyd died in police custody in Minneapolis, sparking nationwide protests, the Virginia General Assembly has sent Gov. Ralph Northam a package of police and criminal justice reform bills.
Among those proposals are setting up a mechanism to send counselors to 911 calls when the person is having a mental health crisis, limiting police use of chokeholds, banning police from making traffic stops for various minor infractions and searching people based on the smell of marijuana, and prohibiting police from serving search warrants without first announcing themselves.
"I'm really thrilled," said Sen. John Edwards, D-Roanoke, a criminal defense attorney and former federal prosecutor. "What we really did was landmark legislation."
Democrats — who control the House of Delegates and Senate — came into the session with an ambitious agenda, and they were able to accomplish many of their proposals in some way. There was some bipartisan support on a few of the bills, but Republicans largely spent the special session casting Democrats as pushing "anti-police" measures and prioritizing helping criminals.
Del. Ronnie Campbell, R-Rockbridge, a former state trooper, said the legislation "vilified" police and predicted an exodus of police and that crime would rise.
"I truly hope we are finished fixing law enforcement in Virginia," he said.
House Majority Leader Charniele Herring, D-Alexandria, said the legislature took a "holistic approach" to police reform that takes into account public safety, individual rights and policing.
"What we are doing is to make the commonwealth safer, and it is to improve the relationship between communities and law enforcement," Herring said.
One bill that has received a lot of attention is the establishment of community care teams across the commonwealth to go to emergency calls involving people experiencing mental health issues. The bill is named after Marcus-David Peters, a high school biology teacher who was having a mental health crisis when Richmond police shot and killed him in 2018.
"This is a bill that is going to save lives," said Sen. Jeremy McPike, D-Prince William, who sponsored the Senate bill.
The legislature also mandated additional crisis intervention training for police officers and created a statewide curriculum for police training academies. Lawmakers approved legislation granting localities stronger review and disciplinary authority for civilian review boards. They also sent to Northam bills improving the process to decertify police officers to prevent bad ones from working in another agency and improving the ability for law enforcement officials to share personnel information about officers no longer on the force.
While law enforcement groups supported some of the measures, they have been resistant to others.
"We have this idea of criminal justice and police reform, but nobody can really define what we're trying to accomplish," Roanoke County Police Chief Howard Hall recently said. "Social justice, systemic racism and racial equity are not defined either. So no one can describe the problem the legislation is fixing, and there's no way of evaluating it."
Other legislation sent to the governor includes:
Allow the state attorney general's office to open investigations into police departments that engage in discriminatory practices so the state does not have to rely on the U.S. Department of Justice.
Require police officers to intervene when a colleague is using or attempting to use excessive use of force and to render aid to someone harmed by the use of force.
Demilitarize police departments by prohibiting the acquisition of certain military equipment.
Make it illegal for members of law enforcement to have sex with someone in their custody.
Criminal justice reform bills headed to the governor include allowing local prosecutors to drop criminal charges in cases they don't want to pursue without a judge blocking that decision and expanding the commonwealth's existing earned sentence credit program so that inmates can be released earlier for good behavior.
Herring's bill would automatically seal criminal records for more than 150 misdemeanors and felonies. The Senate's bill, sponsored by Sen. Creigh Deeds, D-Bath, would have allowed a person to petition for the expungement of the police and criminal records of a conviction for misdemeanors and certain felonies if they had been granted a simple pardon for the crime. It also would have allowed a person to petition after five years for an expungement of the records relating to convictions for marijuana possession, underage alcohol or tobacco possession, using a false ID to obtain alcohol and in cases where such charges have been dismissed by the court under a deferred disposition.
Edwards said legislators would discuss the issue further and try to have another proposal for the regular legislation session beginning January.
A bill to give defendants convicted at jury trials the option of being sentenced by a judge rather than jury narrowly passed the House and Senate Friday night. The bill from Sen. Joe Morrissey, D-Richmond, has been the topic of intense debate. Most of the commonwealth's local prosecutors openly opposed the bill. Proponents of the bill point out that juries tend to hand down stiffer sentences than judges, and so defendants avoid jury trials and end up taking plea deals.
"We are in a position where we can bring justice to the state of Virginia and end mass incarceration," Del. Don Scott, D-Portsmouth, said.
Get local news delivered to your inbox!
Subscribe to our Daily Headlines newsletter.