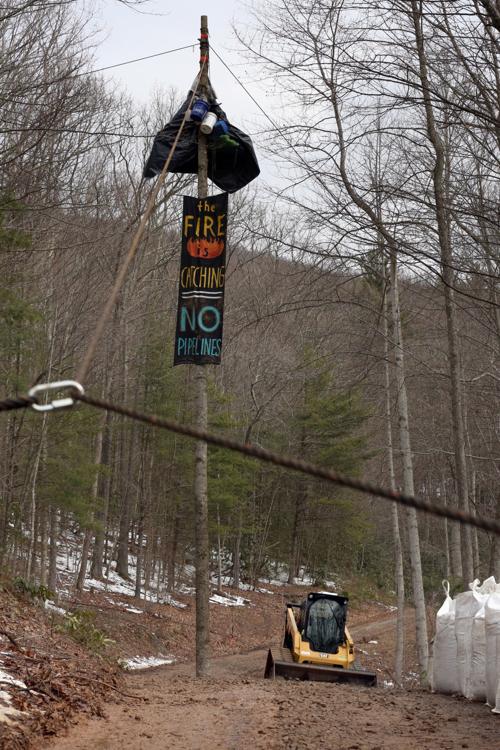 A lawsuit is raising questions about the treatment of a woman who has spent the last 50 days protesting the Mountain Valley Pipeline from her perch on a pole that is blocking a construction road.
Identified only as "Nutty," the woman is staging her barricade in the Jefferson National Forest, where authorities have denied her food and water, according to the legal action filed Wednesday in Roanoke's federal court.
In addition to cutting off supplies to a suspended platform where the woman is camped, U.S. Forest Service officials are "attempting to drive Nutty out of the monopod by burning fires near the pole, sending smoke up into the monopod, and by fixing bright spotlights on Nutty's monopod in the darkness," the lawsuit states.
Filed by the Rutherford Institute, a nonprofit civil liberties organization in Charlottesville, the legal action was not brought specifically on the protester's behalf.
Rather, the group is representing Dr. Greg Gelburd, a Charlottesville physician who attempted to examine the woman and provide medical treatment, but was not allowed to approach her platform by Forest Service law enforcement officers who have been guarding the site.
The lawsuit accuses the Forest Service of violating Gelburd's rights under the Religious Freedom Restoration Act and the First Amendment.
"Gelburd's concern for Nutty's health is rooted not only in the ethical obligations of his medical profession, but also in his religious beliefs that compel him to use his skills as a physician to assist persons in need of medical assistance, particularly the poor and disadvantaged," a news release from the Rutherford Institute stated.
The Forest Service declined to comment Wednesday, citing a policy of not talking about pending litigation.
The lawsuit was filed by Floyd County attorneys Alan Graf and Tammy Belinsky, who last month wrote in a letter to the Forest Service that Nutty could die if officials continue to deny her food and water.
Gelburd believes the woman needs immediate medical attention for conditions that could be complicated by severe weight loss, lack of sleep, exposure to the elements and prolonged confinement in a small space. The lawsuit seeks no monetary damages, only an order from a judge that would allow a medical examination of the woman.
The 28-year-old took up her position March 28 on Pocahontas Road, a Forest Service road in Giles County that is being used by Mountain Valley to access one of many construction sites for the 303-mile natural gas pipeline.
Critics say work on the pipeline will cause major environmental damage, and that direct action through tree-sits and other protests is the only alternative now that regulatory agencies have approved the project.
The pole that holds Nutty about 30 feet off the ground is anchored by six guy wires that are connected to a metal gate and several nearby trees, preventing large vehicles from driving past the structure without endangering its occupant.
Supporters camped near the monopod had been sending food and water up to her with a system of buckets and ropes, but they have been blocked by Forest Service officials from doing so since early April.
Forest Service officials maintain that the monopod is an illegal structure sitting on a road that has been closed to the public for public safety reasons related to pipeline construction.
Since her ties to the ground support team were cut off, Nutty has been living off a reserve of energy bars, packets of applesauce and rainwater that she collects by funneling it off a tarp that covers her tiny living space, according to a May 8 post to the Facebook page of Appalachians Against Pipelines.
"This is, comparatively, an extremely mild form of deprivation, and one I'm fortunate my body seems to have adapted well to," she wrote in the post.
"Recently a doctor hiked up to check on me, and asked (via megaphone, over the noise of the generator the cops turned on) if I needed any medicine. I don't; all the medicine I want right now is to hear that rebellion is spreading."