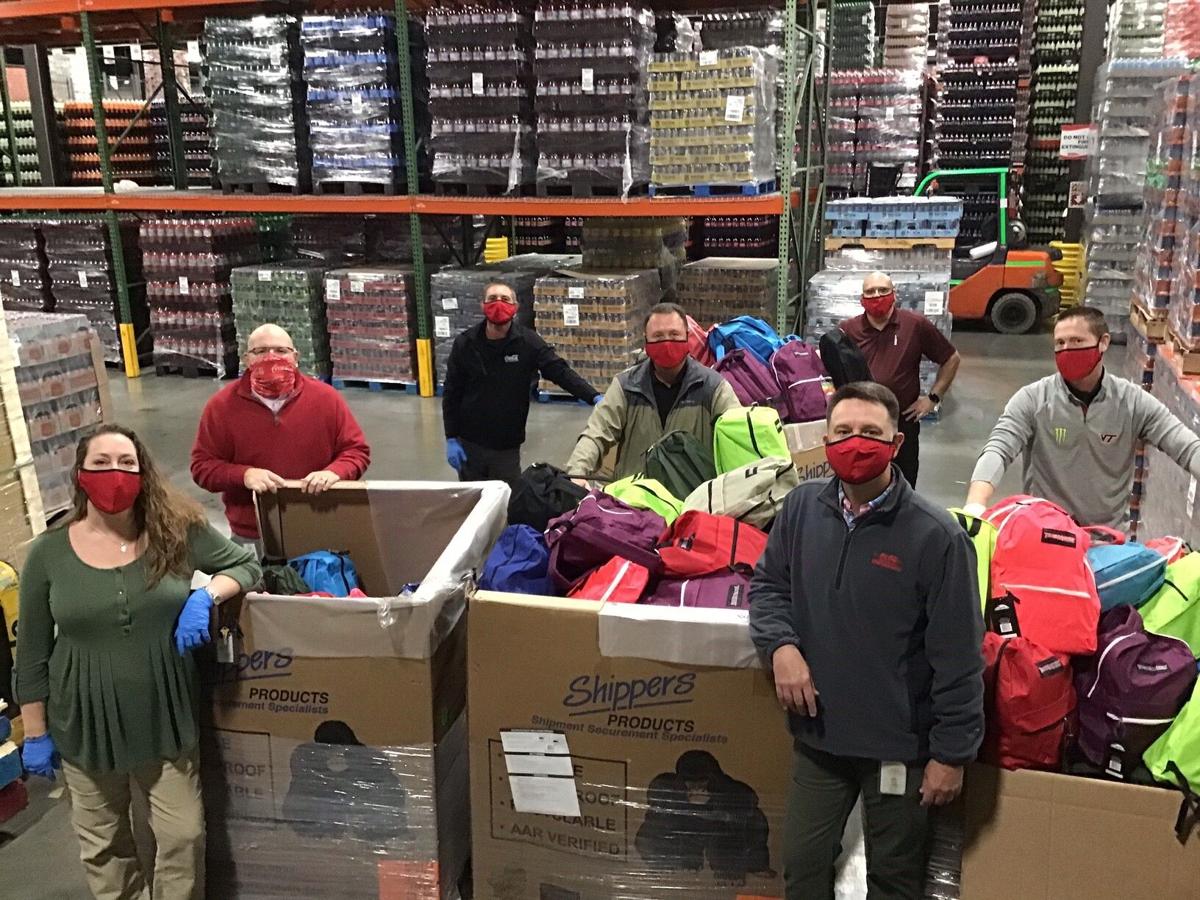 Representatives from Kroger Mid-Atlantic, Coca-Cola Consolidated and the Roanoke Branch NAACP recently delivered 200 backpacks filled with food to Westside Elementary School.
The backpacks were provided by Coca-Cola and the food items were donated by Kroger. The backpacks were filled with juice boxes, oatmeal, granola bars, fruit snacks, trail mix, cereal and other items.
"Helping to ensure students have access to nutritious and filling foods is of the utmost importance to us at Kroger," said Allison McGee, corporate affairs manager for Kroger Mid-Atlantic. "We're proud of this donation because not only were we able to provide 200 children with much-needed food, but we were also able to come together as a community while doing so."
"We're honored to partner with Kroger to serve the Roanoke community," said Frank VanValkenburg, customer development director at Coca-Cola. "Being able to provide backpacks to these students is just one of the ways we seek to live out our purpose every day."
The donation, worth more than $3,000, and the event were guided by Kroger's Zero Hunger — Zero Waste efforts aimed at eliminating hunger in Kroger communities and eliminating waste in stores by 2025.
Appalachian Power gives $50,000 to food banks
Appalachian Power is making a $50,000 year-end donation to 16 food banks and feeding centers across West Virginia, Virginia and Tennessee.
The donations will help the food banks and feeding centers in the company's service territory provide food during the high-use winter season.
Those receiving contributions included Feeding Southwest Virginia, Grace Network of Martinsville-Henry County and the Patrick County Food Bank.
"The COVID-19 pandemic has made this an especially difficult year for some people and families," said Appalachian Power President and COO Chris Beam. "These organizations have the contacts to reach the most vulnerable in each of the communities. We are thankful for the work they do providing food and meals to those at risk for hunger."
The AEP Foundation earlier this year also donated $288,000 to food pantries and similar organizations across the three-state area.
80,000 pounds of food arrive at local charities
With the knowledge that the holidays are here and food pantries have a greater need, especially during this pandemic, the Church of Jesus Christ of Latter-Day Saints delivered 80,000 pounds of foods to Southwest Virginia.
The first delivery of 40,000 pounds consisted of 12 pallets of refrigerated butter and cheese and 12 pallets of dry goods.
The food was split among the Rescue Mission of Roanoke; Manna Ministries, a subsidiary of the Rescue Mission; and Catholic Charities of Roanoke. Roanoke Area Ministries also received a few cases of food.
The second delivery of 40,000 pounds of food was equally divided between Feeding Southwest Virginia and the 82nd Airborne Christian Soldiers Food Pantry.
"This is such a blessing. We are so thankful," said Kitty Tabor, food resource manager for Feeding Southwest Virginia.
Missionaries from the church also were available at the 82nd Airborne Christian Soldiers Food Pantry in Roanoke to help unload the 20,000 pounds of food that was expected to help feed the 60 to 80 people who visit the facility each day.