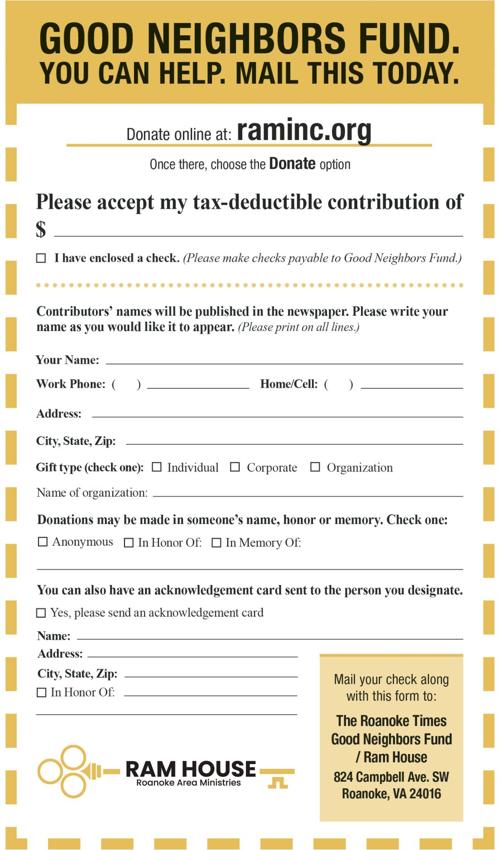 There are philanthropists who try to do the most good for the most people they can, and then there are those who quietly give what they can to just a few.
The Rev. Glendora Dalton earns her living as one of two chaplains at the Western Virginia Regional Jail in Roanoke County, but in her spare time, she operates a charity called P3 Network Ministry & Housing Services, which she founded in 2004. The "P3"in the name stands for "People Preparing 4 Purpose through Prayer, Praise and Power." Dalton's main mission is operating a home for women who have recently been incarcerated.
Dalton said she felt the call to become a minister when she was a child, but resisted it until about 18 years ago. "I am very passionate about helping the underdog," she said. Doing charitable work as a member of the clergy offers her a chance "to plant seeds" while meeting people's earthly needs, she said.

Dalton rents a turn-of-the-century mansion on Patterson Avenue which, until this fall, provided housing for five women. In October, the household temporarily relocated down the street while the old place was prepared to double the number of occupants it could serve.
The perks of living there are generous. Although the actual cost per month per resident is $1,200, Dalton said, rent is just $800, and covers food, lodging, clothing, transportation, personal items, and employment coaching.
"They have everything a traditional home would have," Dalton said. "They're under my support wing."
Dalton personally selects the renters, and if they don't work out, she said, "I find some place for them to go."
In exchange, renters are expected to contribute to their own support. They must bring in some kind of income by working — if their mental and physical health allows — or through assistance from government or charitable agencies. They also must adhere to strict rules of behavior, which include attendance at worship services, no smoking or drinking, and no bringing men into the household.
"It's not a halfway house, it's not a group home, it's MY home," Dalton said. "I apply the same rules I had when I was raising my four children. They're required to function as a family."
The charity has a board and financial advisers, but there is no paid staff, she said, "just an understanding husband." When something needs doing, she said, "there are volunteers for specific needs."
Dalton has been employed at the jail for a year, but was a volunteer there two years before that.
She said she observed that when men are released from incarceration, they often move in with women who are willing to support them. But Dalton said that's not the case for women.
"They have absolutely nowhere to go," especially when they have children. With no means of support, they often return to the environment that caused them to offend in the first place.
"They have less resources for housing," she said. "It's a vicious cycle."
This fall, Dalton's set of renters ranged in age from 27 to 64 years old, and included a young woman who had just had a baby.
"It was very settling for the other women" to have a new baby in the house, Dalton said. Some of them also are mothers and are working to reconnect with their children.
"It's a good group of women," she said. "They are all in recovery, and they have a like-mindedness."
Although they are expected to move on once they get on their feet, one renter has been with Dalton for five years, Dalton said. She is elderly and her only income is a Social Security retirement check, so she stays on as a live-in supervisor.
The religious elements of her program are firmly entwined with the services she provides, Dalton said, so her charity is not eligible for federal funds.
"I'm faith-based," she said firmly, "and that's not going to change."
Her work is supported by donations — either directly from friends, family and members of her church, Morningstar Baptist, where she is an assistant pastor — or through fund raising activities. When those sources come up short, Dalton said, she reaches into her and her husband's retirement funds to pay the bills.
Like many charities during this time, P3 has had to cancel all of its fund raising events. In addition, Dalton said, several of her tenants have had their work hours or other support cut back, which meant they would have had to leave the house.
In September, Dalton contacted Roanoke Area Ministries on behalf of her renters, and helped each apply for a grant toward part of their rent from the Emergency Financial Assistance Program, which is supported by The Roanoke Times' Good Neighbors Fund. In October, all five women and the baby were still safely under Dalton's roof.
"It was a divine match between two agencies," said Melissa Woodson, RAM's executive director. "I'm so glad RAM could help everyone's dreams come true."
"It was unbelievably simple," Dalton said about the application process.
During the holidays, the residents have held a yearly open house for friends, family and the community. Dalton is currently trying to think of ways to make this event safe for attendees, and she may turn the open house, which includes a display of Christmas trees, into a drive-by event.
Dalton said she recognizes that the number of people she can help is small. To keep her program manageable, she said, she doesn't ever want to have more than 10 tenants in this particular house, though she is planning on more "step-up" housing for women who graduate from this initial program. "I like the home-like feeling," she said.
But even if she can only reach a few people, she said, " that's one less child in foster care, one less woman who will overdose."
Get local news delivered to your inbox!
Subscribe to our Daily Headlines newsletter.