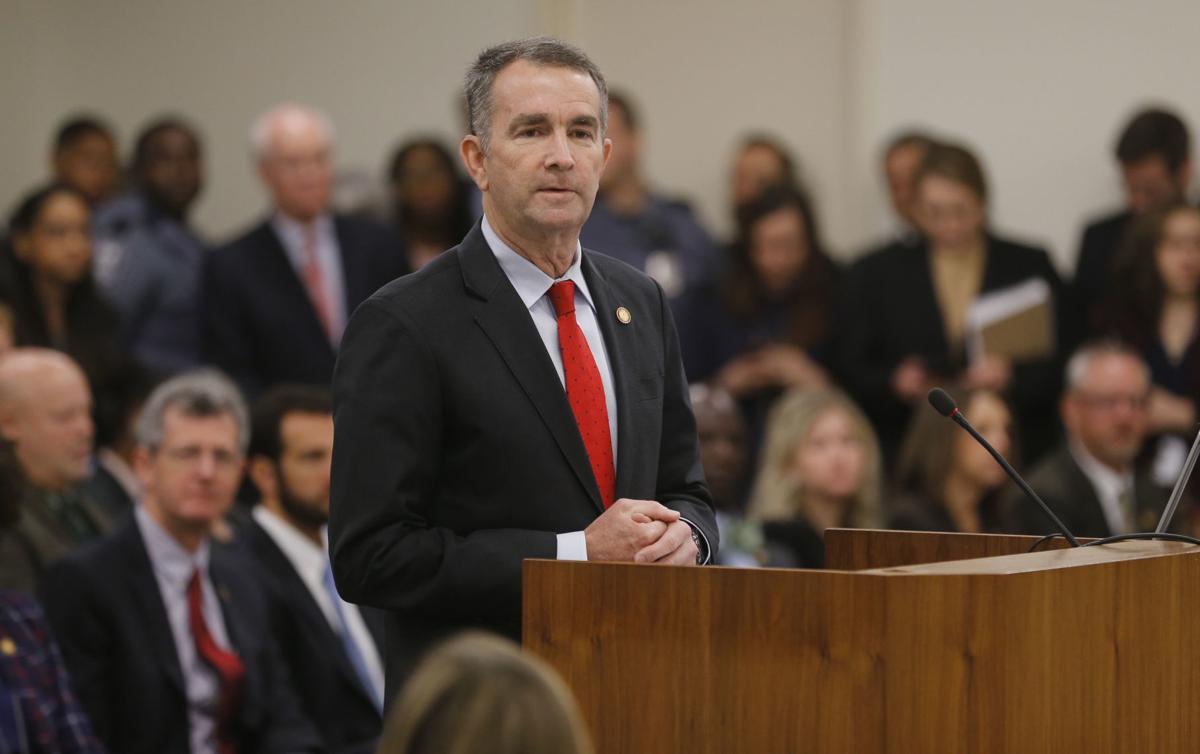 RICHMOND — Gov. Ralph Northam unveiled his two-year budget proposal Tuesday, pitching tax increases for motor fuels and tobacco products, which he'd like then to use to scrap car inspections and lower registration fees, and lower insurance premiums with new health programs.
Northam said the priorities in the $47.5 billion general fund budget are a reflection of the results of the November election, when Democrats flipped the General Assembly, bringing the party in full power at the Capitol.
"In November, Virginia sent a clear signal for direction they want our commonwealth to go," Northam told the General Assembly's two money committees. "They want us to continue to build a Virginia that is welcoming and respectful of all, and a Virginia that takes care of its citizens when they need help the most."
His proposals such as tuition-free community college, nearly doubling the amount spent to expand broadband coverage and increased funding weighted to support school systems with the most students in poverty would be especially beneficial to rural western Virginia. However, some lawmakers expressed concern about the large price tags and higher taxes.
"It is apparent that it is Christmastime, and Santa Claus Northam is going to have to get a second sleigh to carry all these presents and goodies he wants to extend to the commonwealth of Virginia," said Sen. Thomas Norment, R-James City, the outgoing co-chairman of the Senate Finance Committee.
Norment said he was skeptical the tax increases would support Northam's wish list, and he said the money committees would "dissect" the budget proposal to figure out what the state can afford.
The budget proposal includes $100 million each year of the two-year cycle that the new, Democratic-controlled legislature can spend for "uncommitted contingencies" or other priorities the leadership identify.
"This is a time of change in the General Assembly," Northam said. We will see new leadership, new priorities."
The proposed budget calls for raising the gas tax 4 cents per gallon for three years, bringing it to 34 cents, which brings it closer to neighboring states but still below the national average.
Northam also wants to increase the cigarette tax from 30 to 60 cents per pack and boost the tax on other tobacco products from 10% to 20% of the manufacturer's sale price.
Northam also proposed that Virginia transition to a state-based health insurance exchange. Other states run their own marketplace, giving them the added flexibility that comes with that control to design standardized health plans with reduced cost-sharing and high-value services.
"It appears to be a little more spending that I would have anticipated and would be agreeable to. The numbers are big, the increases are significant," said Sen. Emmett Hanger, R-Augusta, who is also outgoing co-chairman of Senate Finance, adding he was interested in looking more closely at the state-based exchange.
Northam proposed adding $300 million to the state's cash reserve fund, which would increase the state savings to $1.9 billion by mid-2022. This would accomplish one of his goals to have put more than 8% of the state's annual revenues in the reserves by the end of his term.
The budget also proposes repealing the new taxpayer relief fund that Republicans established this year to hold additional state revenues as a result of provisions of the federal tax plan passed last year. The $110 checks that Virginians received this fall were provided through this fund. Finance Secretary Aubrey Layne said the plan is to put the money into the general fund in case of an economic downturn.
"The addition of millions of dollars in higher taxes by a Democratic governor is predictable," Del. Todd Gilbert, R-Shenandoah, said in a statement. "But going further to repeal a fund specifically designed to bring tax relief to Virginians passed just last year is disappointing."
The goal of the gas tax is to shift more of the costs to those who use the roads more, including out-of-state drivers, Northam said.
"This funding proposal is more sustainable, and it is more equitable," Northam said. "Those who drive more should pay more."
While gas will be more expensive, Northam wants to eliminate the annual car inspection and cut vehicle registration fees in half. There are no definitive studies proving that vehicle inspections improve safety. Sen. David Suetterlein and Del. Joe McNamara, both Republicans from Roanoke County, have introduced bills — not at the request of Northam — to end car inspections.
Since 2018, as more electric and fuel efficient vehicles have hit the road, the gas tax revenue has been declining while vehicle miles traveled has increased. Lawmakers have floated the idea of fees at charging stations for electric vehicles and taxing ride-sharing services.
Republicans asked why there were no proposals regarding electric and hybrid cars.
"I didn't hear anything about how those pounding the roads with their hybrid vehicles are going to get away with paying less, and if I've got a combustible engine, I'm going to potentially pay more," said House Appropriations Chairman Chris Jones, R-Suffolk.
Northam is proposing that the cigarette tax increase fund a state reinsurance program, which his administration anticipates would reduce marketplace premiums by 20%. Reinsurance programs provide payments to health insurers to help offset the costs of enrollees with large medical claims.
The cigarette tax will still be the lowest of most surrounding states. But Northam said smoking is a significant burden on Virginia's health care costs.
"Here in Virginia, we pride ourselves in being a low-tax state, but it makes no sense to cling to the bottom of the rankings for a product that costs us so much," he said.
Virginia Lottery officials have been raising the alarm over the growing number of unregulated electronic gaming machines siphoning off lottery profits, which goes toward public education.
Layne said the state wants any proposed regulation of these games to generate at least $50 million in the first year and $75 million in the second to protect lottery profits.
Northam has been rolling out various budget proposals the past several days, including investments in renewable energy, programs to address homelessness and affordable housing, as well as services aimed at reducing the maternal and infant mortality rate.
K-12 education: The budget has $1.2 billion in new funding on direct aid for K-12 education, including $145 million for a 3% pay raise for teachers in the second year and $140 to increase the "at risk add-on" to support low-income students.
The additional at risk add-on provides more per pupil funding, and it would help Southwest Virginia because it benefits both rural and urban school districts where the state's poverty is most concentrated.
Northam lamented Virginia's "crumbling schools" in his inaugural address, but he didn't include any new funding for that specific purpose in this budget.
Tuition-free community college: The budget includes $145 million over the biennium to fund a tuition-free community college program for low- and middle-income students who pursue jobs in high-demand fields.
The program will be especially beneficial to those community colleges in rural Virginia. At a roundtable with Southwest Virginia higher education leaders this summer, they said students are making more use of food pantries and are sometimes so financially strained that they end up dropping out.
"When you're struggling to pay for the basic necessities of life, a roof over your head, food, child care, transportation, the cost of an education can seem far out of reach," Northam said.
Republicans pointed out that the budget didn't include any money for tuition moderation and expressed concern about tuition going up. Earlier this year the General Assembly included $52 million in the state budget to encourage public colleges to keep tuition flat for in-state undergraduate students.
Broadband: There's an additional $16 million added to invest $35 million each year to get more communities connected to broadband, which has been a significant challenge in certain parts of rural Virginia with mountainous terrain.
Mental health: The budget has $379 million to better serve Virginians with mental health needs, including funding to operate 56 new beds at Catawba Hospital to keep up with demand.
Get local news delivered to your inbox!
Subscribe to our Daily Headlines newsletter.