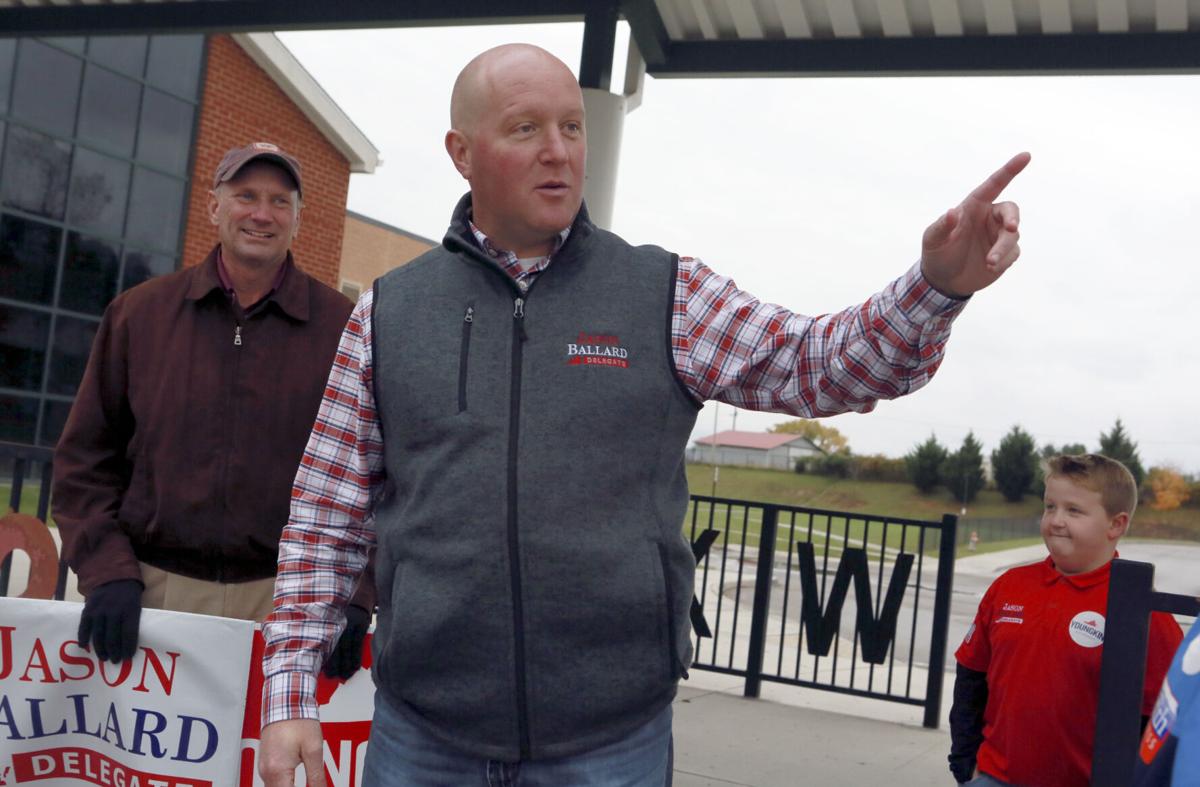 The Associated Press early Wednesday declared Republican Jason Ballard the winner in a House of Delegates race Tuesday over incumbent Del. Chris Hurst, D-Montgomery, in a race that included ads critical of a Hurst traffic stop last year during which he avoided a DUI charge.
Ballard had 55% percent of the vote as of 11:45 p.m. Tuesday night with 40 of 44 precincts reporting, according to unofficial results on the State Board of Elections website. The AP called the race for Ballard at 2:01 a.m.
The attorney and war veteran from Giles County ran a campaign that was heavily critical of Hurst's 2020 run in with Christiansburg law enforcement, but another incident Monday night put even more scrutiny on the Democrat.  
The latest happening came late Monday night when Hurst was stopped after his girlfriend, Emily Frentress, was seen "turning over, bending over" campaign signs, according to Radford Sheriff Mark Armentrout, a Republican who is himself running for reelection.
A Radford deputy saw a woman doing something with campaign signs outside the city recreation center. She got into a vehicle and the deputy called city police, who then stopped the vehicle, Armentrout said.
The sheriff said that the delegate was given a "notification" that he was driving with a suspended license – but a Radford city spokeswoman said later Monday that no citations were issued.
A statement released by city Director of Communications Jenni Goodman differed slightly from Armentrout's account. It said that at about 9:24 p.m., a city sheriff's deputy reported possible vandalism to the city police department.
Goodman's statement said that the deputy initiated a traffic stop and asked for assistance. The statement does not identify the people stopped.
The city police officer observed some damage to signs, according to the statement. The statement does not reference any other details about the signs.
Asked if either Hurst or Frentress was cited for a traffic violation or charged with a crime, Goodman wrote in an email, "There were no citations issued from the Radford City Police Department to the occupants of the vehicle."
The city has referred the matter to the Virginia State Police, Goodman wrote in the statement.
Virginia State Police spokeswoman Corinne Geller wrote in an email that she could say nothing about the matter.
"Because your inquiry concerns an elected official, I am not able to comment," Geller wrote. 
Hurst did not respond to multiple requests for comment on the matter, though Ballard put out a statement early Tuesday.
"I am deeply disappointed that Chris Hurst has decided to end his campaign in such a reckless way. His latest misstep is yet another reason why he doesn't deserve another term as Delegate. I, on the other hand, will remain laser focused on the issues that matter most to the people of the 12th District. I will always strive to set a good and positive example for my children and the fine people of the New River Valley."
It wasn't immediately clear how  the incident might have affected the outcome of the race, but it was the only time in three election cycles Hurst lost the popular vote in Radford.
Hurst's first run in with law enforcement as legislator, which was something Ballard and Republicans relied on heavily during the run up to Tuesday's election.
Hurst was pulled over in Christiansburg in 2020 after the car he was driving swerved. He blew a 0.085 percent on a blood-alcohol level field test, above the legal limit of 0.08 percent, but was ultimately let go after passing other field tests, though he was told to let his girlfriend drive, and that the couple should go to the Christiansburg Walmart and sit for awhile before continuing toward Hurst's home in Blacksburg.
The two candidates spent approximately $2.3 million, with $1.5 million coming from Hurst, according to The Virginia Public Access Project. The pair spent nearly $1 million on TV Advertisements.
Other than the barrage of attack ads referring to Hurst's first traffic stop, Ballard focused on issues such as rural broadband and education.
He said he believes school systems and the state's department of education don't want parents involved in the decision making processes involved in public education.
"They have made that quite clear," he said last month, though he did not specifically identify any issues or instances where parent's voices weren't heard.
Ballard has said more decision making should come from the localities as opposed to at the state level.
"We know what's best for our kids here in our community," he said previously. "Parents need a voice in their kids education."
Ballard said he is also highly focused on bringing universal broadband to the district, an issue that's been at the forefront for rural communities the last several years.
"There are pockets of places in Giles that don't have any service. It was a big problem when kids were learning from home," he said. "I saw it firsthand."
Ballard, 42, served in the Army following the terrorist attacks on Sept. 11, 2001. He deployed twice into combat in Afghanistan and Iraq, and went on to serve as the Senior Defense Council at Fort Knox, and command the JAG School's Student Detachment in Charlottesville, according to his campaign website.
While serving, he earned a Bronze Star, four Meritorious Service Medals, the Army Achievement Medal, the Army Commendation Medal, the German Armed Forces Badge of Military Proficiency, as well as the Pathfinder Badge, Parachutist Badge, and the Air Assault Badge, according to his website.
Neither candidate was available for comment late Tuesday.