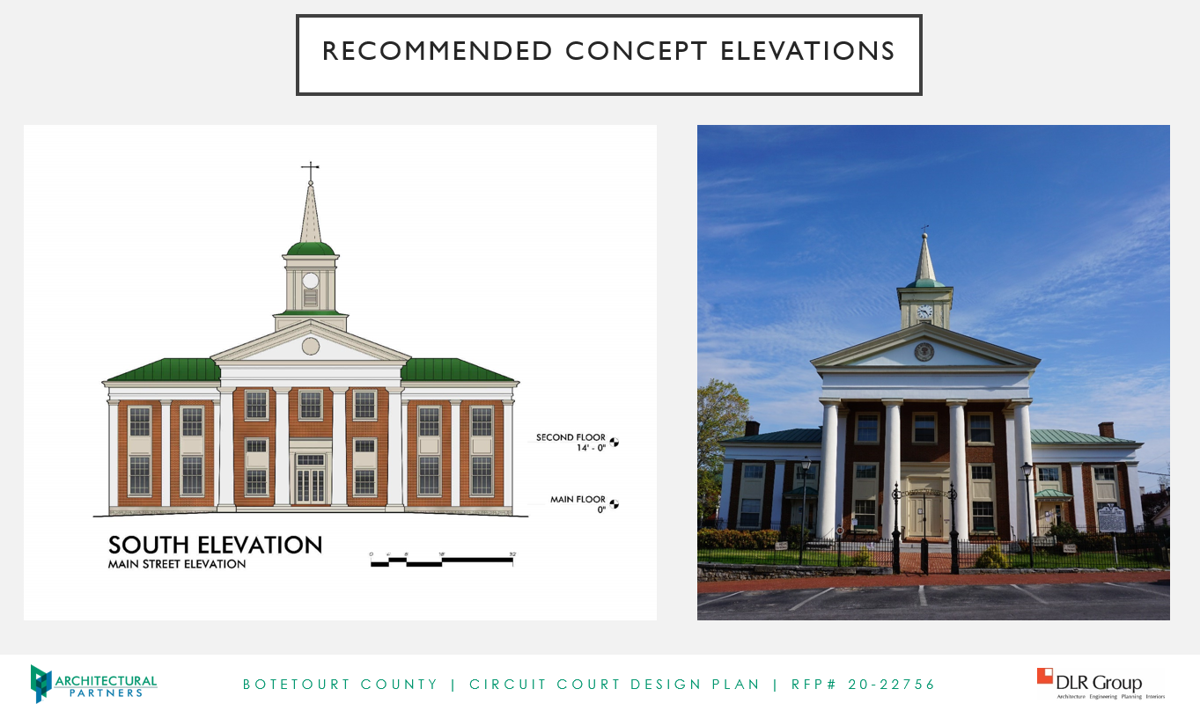 Botetourt County supervisors on Tuesday approved an increased budget with no tax rate changes — and the board continued on a path to replace its dilapidated courthouse.
The $111.5 million 2021-22 budget represents a 7.2 % increase in both revenues and expenditures and featured no change to the county's tax rates, which include $2.71 per $100 of assessed value on personal property, and $0.79 per $100 of assessed value on real estate.
The county schools will receive $65.2 million of what documents show is a balanced budget.
In other board action, the supervisors unanimously approved a set of measures that will allow the county to move forward with replacing its dilapidated courthouse.
The budget had been a drama-free process, with no one speaking out against it during an April 20 public hearing dedicated to the budget. Revenues were generated locally ($59.8 million), federally ($1.6 million) and from the state ($11.6 million). Expenditures also include a one-time $4.8 million debt payment.
The board of supervisors also approved an $11.1 million, five-year capital improvement plan. That plan's largest 2021-22 items are community and economic development ($575,000), maintenance ($497,000), general government ($476,818) and fire/EMS ($263,500).
Work on the circuit courthouse accounts for $355,485 of this fiscal year's general government capital outlay, the documents show.
A new, 35,000-square-foot circuit courthouse may ultimately cost about $24.4 million, said Gary Harvey, principal and chief architect of county-hired Architectural Partners of Lynchburg, in a Tuesday presentation to the supervisors. Harvey's firm has been reporting to the county's courthouse advisory committee, which includes courthouse officials and other county leaders.
After Harvey and other architects, including project manager Jim Vernon, presented their conceptual plan for the new structure, the supervisors unanimously approved several related measures. The county will issue a request for proposals for construction engineering and architectural drawings consistent with the plan the architects presented. It will form an evaluation team for those proposals, form a project oversight team and authorize County Administrator Gary Larrowe to complete any deal, with County Attorney Michael Lockaby's approval.
The original courthouse was built in 1848 and rebuilt in 1975 after a fire destroyed it.
Circuit Court Clerk Tommy Moore, who has served for about 30 years of the building's 45-year existence, narrated a video that showed the crumbling, leaky, moldy building with practically no wheelchair access, outdated security and corroded plumbing. Leaks threaten courthouse documents, some of which date to the 1770s, Moore said in the video.
Caseload analysis shows that there will not be enough room in the existing building for a growing population and courthouse staff, the architects told the supervisors. By 2030, a second circuit judge will be needed, and a second courtroom for that caseload, the architects said.
The firm suggested a lookalike structure, while extending the new building toward Back Street, according to the plan, posted at botetourtva.gov/news.
The expanded courthouse footprint, most efficiently built, will work best if the Botetourt County Historical Society's museum, which stands behind the courthouse, is moved farther back. The building, erected in 1791, was recently included among the Roanoke Valley Preservation Foundation's 2021 endangered sites.
New parking and a public green were featured, with the firm suggesting that the county's Confederate Veterans Monument be moved from the courthouse's front steps to the north side of the relocated museum building, next to parking and handicap access.
A group of public speakers, present at many past supervisors meetings, again spoke against moving the monument. Regardless of its final location, that spire will have to be moved for the demolition and new construction.
After moving court and clerk staff into "swing space" at the Old District Courthouse and the public safety building, and moving the museum building, construction is scheduled to begin by the end of 2022, and take two years.