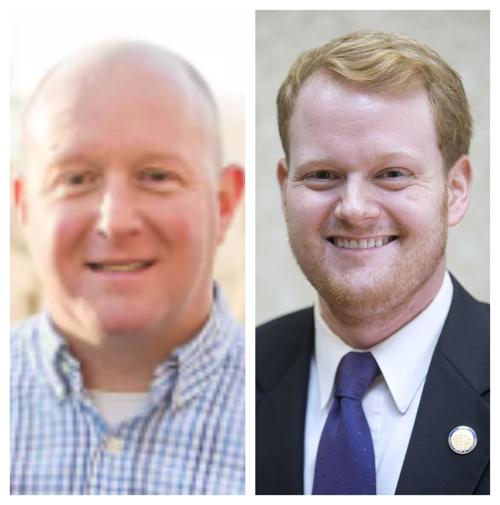 Fueled by an incident involving incumbent Del. Chris Hurst, Republican Jason Ballard is attempting to reclaim the 12th District for Republicans — which would be a notable statewide party victory in a year the control of the House of Delegates is at stake.
But the incumbent Democrat Hurst, won in his first attempt for public office in 2017 over hard-working Republican Del. Joseph Yost in a district that can lean Democratic due to the historical vote in Blacksburg. Hurst won again in 2019 over Republican Forrest Hite.
The Hurst-Ballard race has evolved into a high dollar/TV ad-driven affair with Ballard running ads critical of a Hurst as a liberal as well as one on a 2020 traffic stop during which Hurst was found to be over the legal blood alcohol limit, but was not charged. Hurst has countered with an ad claiming Ballard, a lawyer, helped a sex offender — with not much more context about that situation.
Hurst, a former Roanoke WDBJ (Channel 7) television reporter and anchor, rose to political significance after his girlfriend, WDBJ anchor Alison Parker, was killed in 2015 during what's now an internationally known on-air shooting.
Ballard, a Giles County native and resident, is a combat veteran, local attorney and member of the Pearisburg Town Council.
The district consists of all of the town of Blacksburg, Giles County, the city of Radford and a small portion of Pulaski County.
Giles County and Pulaski County often vote majority Republican. Blacksburg is a Democratic stronghold. Radford can be the deciding factor — Hurst beat Yost, in fact, because he won there decidedly.
Hurst, meanwhile, is one of the few Democratic delegates in Western Virginia.
He believes that is one of the reasons why both parties are throwing so much money at the election. Each candidate has surpassed the $100,000 mark, though Hurst has raised significantly more, according to the state's election website.
"The Democratic Party essentially ends at the New River," he said. It's critically important that Dems have a voice in the New River Valley. The district needs a loud voice in Richmond."
Ballard agrees that the area needs a louder voice in Richmond, just not who that voice should be.
"I grew up here and I've been listening to people in the community. We need better representation in Richmond and their voices need to be heard," he said. "I don't see how he [Hurst] has helped our district."
Hurst, 34, said he's accomplished quite a bit since being elected in 2017, naming a variety of initiatives he's helped put in place, most notably the recent announcement that the area will have passenger rail service in the coming years.
The state came to an official agreement with Norfolk Southern in May and more than $250 million will be invested in the project.
Hurst served on the transportation and appropriations committee that helped make the project a reality, he said.
Radford Mayor David Horton lauded Hurst's efforts to get the rail system to the NRV.
"This is something we've been wanting to get in the region for quite some time and Chris was a piece of the puzzle that got it here," he said.
Republican Radford City Councilman Forrest Hite said any local official would've been able to get the rail here and that it was "the bare minimum a local representative should be doing."
"I don't feel like he is the representation we need in this district. He is just following Democratic talking points," Hite said. "Ballard aligns with my views and the views of the Republican Party."
Ballard, 42, echoed that sentiment when asked if Hurst had done anything positive for the district.
"I'm not sure Chris has done anything since being in office," Ballard said.
The local attorney said he plans to focus on broadband and schools if elected on Nov. 2.
He said he believes school systems and the state's department of education don't want parents involved in the decision making processes involved in public education.
"They have made that quite clear," he said, though he did not specifically identify any issues or instances where parent's voices weren't heard.
Ballard said more decision making should come from the localities as opposed to at the state level.
"We know what's best for our kids here in our community," he said. "Parents need a voice in their kids education."
Hurst said some decisions can't be made at the local level, which he said has often been a dog whistle for people wanting to discriminate against certain groups of people.
"Brown v. the Board of Education is a perfect example for this. Before the Supreme Court's decision, school segregation was left up to the localities," Hurst said. "That's the reason we don't leave some things up to localities."
Hurst also said he believes parents should be a primary stakeholder in the educational process, despite what his opponent and other Republicans have said.
He also wants to focus more on the mental health of students by eliminating "high stakes" testing and making sure students are treated equally in schools.
"I think all adults can agree no child should be afraid to be who they are when they are in school," he said." "No child should be afraid to be curious about different subjects and willing to learn."
Ballard said he is also highly focused on bringing universal broadband to the district, an issue that's been at the forefront for rural communities the last several years.
"There are pockets of places in Giles that don't have any service. It was a big problem when kids were learning from home," he said. "I saw it firsthand."
Hurst said he's been an advocate for expanding broadband in the district and much progress has been made in the last few years.
He pointed to the Virginia Telecommunications Initiative, which currently has more than $800 million in funds for communities in the state that need better access to broadband, he said.
"The VATI fund was at $10 million when Democrats took control," he said. "We are getting it done."
Issues affecting the district aren't the only things that've been brought up during the campaign this year.
Ballard has endorsed many ads that have attacked Hurst for an incident that occurred in January 2020.
Hurst was pulled over on suspicion of driving under the influence in Christiansburg, where he submitted to a field test that indicated he was slightly over the legal limit. Hurst went through sobriety tests and was released.
Christiansburg police did not ultimately charge him for the incident, citing that he would've likely not blown over the legal limit after being taken into custody.
Mary Biggs, a Democrat and member of the Montgomery County Board of Supervisors, said she was disappointed by the event but also believes Hurst has since made up for his mistake.
"He never tried to use his power as a legislator during the stop. The camera footage shows that. He owned up to the mistake and apologized for his actions."
Horton also gave his thoughts on the matter.
"I don't like how Republicans have portrayed the police throughout all of this," he said. "They made a decision to do what they thought was best without giving him any favoritism. I think it's insulting to law enforcement to question their decision or insinuate that he got special treatment.
"I also think people make mistakes. Obviously nobody should drive under the influence, and Chris has acknowledged that."
When asked about the incident, Hurst said he was deeply regretful of his decisions that night and it wasn't something that would be a problem in the future.
Hurst has also been under scrutiny about what he does for a living from local Republicans, including Ballard.
"I have a lot going on, but he doesn't seem to work, so I'm not sure what all of that is about," Ballard said.
Hurst said that he was doing some marketing and consulting work when the pandemic hit, which ultimately led to his contracts drying up.
"I was affected by the pandemic like a lot of other people," he said. "But you know what, being a delegate is a full-time job if you do it right. I am working hard for the 12th District and that takes up the majority of my time."
Hurst said that he and his partner recently bought a house in Radford and have plans to buy other properties with the intention to rent them out.
Ballard has received the criticism for defending a convicted sex offender in an ad endorsed by Hurst.
Ballard's campaign manager Kurt Lofquist responded to the accusation via email.
"For the last 17 years, both as a civilian attorney and as a JAG Officer in the United States Army, Jason has served as legal counsel in a variety of cases as a prosecutor and a defense attorney," part of the statement read. "Jason deeply believes in the legal system and the Constitution it was founded upon. As Americans, our Constitution guarantees us all the right to counsel in criminal cases."
Ballard also said he still did not know whether or not the 2020 presidential election was rigged, an assertion that has been debunked repeatedly, yet is still a main talking point of many top Republicans at the state and national level. He was more focused on moving forward, though he does not condone the Jan. 6 insurrection at the U.S. Capitol.
While most political campaigns engage in these sort of ads against opponents, local leaders said they are more focused on the candidate's platform than personal attacks.
"I am very appreciative of the work Chris has done. He's been a great partner with Radford," Horton said. "I think he has served the New River Valley well in helping to get support for a variety of things ranging from the passenger rail to child support services to education."
Horton also noted that Hurst has always been accessible to the council and has given legislative updates to the governing body in the past, something Biggs also echoed.
Both Democratic leaders said Ballard has not come and spoken to either localities governing body since announcing his candidacy.
"I don't think that he's really done that much to define himself as to what he would do for the New River Valley in Richmond, as opposed to he's not just Chris," Horton said. "I would like to see politicians define themselves on what they want to do for the area they're aiming to serve."
Joe Guthrie, chair of the Pulaski County Board of Supervisors, said Ballard is a good man who is qualified to lead the district.
"I am a Republican as you know, and I support the initiatives Jason wants to bring to the area. He is someone that has served our country and he will serve the New River Valley well if elected."