A legislative chief of staff who is also a newly elected Roanoke City Council member announced Friday he will be seeking the Democratic nomination to challenge a veteran state senator from Roanoke County.
Luke Priddy, elected in November to complete an unexpired term on the council, released a letter announcing his decision Friday evening via social media.
Priddy serves on the staff of state Sen. John Edwards, D-Roanoke, who announced Feb. 27 he is not seeking election in the new Senate District 4. Edwards, 79, has served in the Senate since 1996. He represents Senate District 21, which has lines more favorably drawn for a Democrat.
The Democrat's decision not to run for re-election follows 28 years in Virginia's Senate.
Priddy's letter was to Edwards, informing him he is stepping down as chief of staff as of March 31 to run for the seat, something he indicated he'd been planning since January 2022 should Edwards have decided not to run.
"This campaign needs a candidate who is hungry, somebody young with the energy and experience to deliver policies that will improve people's lives, protect their rights, and advance their interests," Priddy wrote.
The Virginia Supreme Court in 2021 set new legislative districts based on the 2020 census that placed Edwards and state Sen. David Suetterlein, R-Roanoke County, in the same Senate District 4.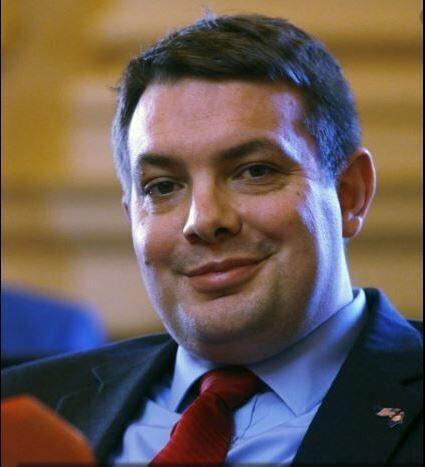 Suetterlein, 38, had served as an aide to his predecessor, Ralph Smith, in Senate District 19, before winning the seat for himself in 2015 upon Smith's retirement. He was reelected in 2019. He is a real estate agent.
In a Feb. 8 phone interview with Roanoke Times columnist Dan Casey, Suetterlein said he was planning to run for the new district but was waiting to make an official announcement until after the then-ongoing legislative session.
Suetterlein could not be reached for comment Saturday.
While collecting signatures in support of his candidacy on Saturday, Priddy said that he would officially file paperwork for his candidacy March 20, in hopes that his would be the first name to appear on the ballot when a primary election is held June 20. If no other Democrats announce a run, and Priddy gathers the required signatures, he will become the nominee without a primary.
Priddy said that while he anticipates attacks from Republicans saying he is "politicking from the dais," he doesn't foresee any problem in his ability to balance his campaign with his position as a city councilman.
"I've understood, working with Sen. Edwards for the last five years, and working on other people's campaigns including my own, how to take off my political hat and put on my governing hat," Priddy said.
Priddy, 31, has served as an aide to Edwards for five years. He was elected in November to complete the final two years of a council term forfeited last year by fellow Democrat Robert Jeffrey Jr. upon Jeffrey's conviction for a felony financial crime.
Senate District 4 includes the cities of Roanoke and Salem and parts of Roanoke and Montgomery counties. With the exception of Democratic U.S. Sen. Tim Kaine's reelection in 2018, its voting results trend more toward Republican candidates than Democrats, according to Virginia Public Access Project data from six recent statewide elections.
"The new lines for Senate District 4 present a challenge, an uphill battle that I am prepared to take on, because as I believe, this district is winnable with the right strategy and effort," Priddy wrote Edwards.