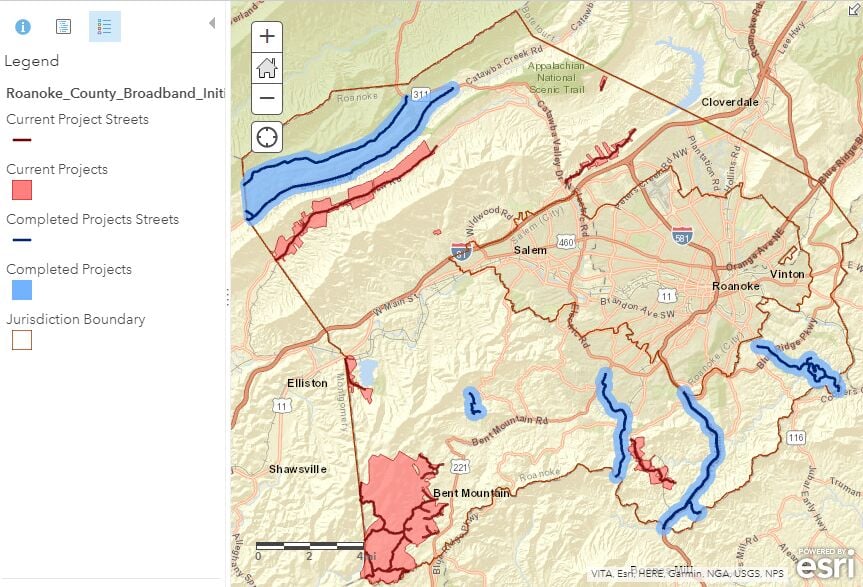 A new government website and interactive map launched Tuesday for citizens to monitor progress on a variety of broadband expansion projects dotting Roanoke County.
"What I like about this is it shows we're not just concentrating in one area," said County Administrator Dan O'Donnell. "We're focusing around the county."
"It seems like a long time since we started talking about it, but the first time we budgeted for rural broadband was the current year," he said. "I really think we've got some momentum now."
That momentum is expected to continue, with federal funds exceeding $100 billion being discussed for use by local governments across the United States, he said.
"We never developed a strategy because we needed to get something done as quickly as possible," O'Donnell said, referencing recently completed projects. "Let's look at our long-term strategies for using these dollars that are going to come to us in the next two years."
Moving ahead, county staff recommended hiring consultants to conduct a proper broadband survey to get a better idea for the need in the county, and to draft a countywide strategy for providing access.
The cost of connections per home is high because of the county's mountainous geography, said Bill Hunter, Roanoke County's information technology director.
Supervisor Paul Mahoney reiterated a point he made during a previous board discussion on broadband expenses.
"I know we have to do this, but I keep harping on the fact we're spending $9,000 to $10,000 per address," Mahoney said, smacking his head as he spoke the next line. "If only 30% of people sign up, I don't want us to look back five or six years from now and say, 'Gee, whiz, we wasted a whole lot of money.'"
Hunter noted that more recently, due to pandemic-caused circumstances, internet take-rates are up to 60% to 65%, compared to the 30% baseline rate at which potential customers signed up for internet prior to March 2020.
Looking toward the future, Chairman Jason Peters asked if Roanoke County is being mindful as new types of internet technology are explored and made available.
"I think going forward, that's what we really want to look at," Hunter said. "Let's don't pull out a cookie cutter and say that's what's going to be a fix for everybody."
Some duplication of internet service providers is anticipated, said Supervisor Martha Hooker, but service needs to be put in place for those without it, and then competition can dictate the market.
"We have people with needs right now," Hooker said. "As best we can, financially and with the intelligence we have now, we need to be making forward progress."
And changes in how internet is delivered are coming, Hunter said, noting that in some localities nearby, electricity providers are starting pilot programs to wire fiber-optic internet to customers' homes.
"That's what we're seeing unfold in front of us right now in Catawba," Hunter said, mentioning that the Craig-Botetourt Electrical Cooperative is bringing internet service to electric customers there. "That's going to help with pricing."
But without some prodding of private internet providers, such a solution might never come to light, Hunter said.
"I correspond with citizens pretty much on a weekly basis," Hunter said. "We got a lot of happy folks in these areas that have service now they didn't have before."
Projects approved Tuesday to bring internet to more than 300 homes will be completed over a two-year time frame, county documents said.
"This is critical," Hooker said. "I wish it could be done quickly. It's going to take longer than any of us would like."
Cigarette tax hearing forthcomingResidents will have an opportunity in May to voice their thoughts on a proposed cigarette tax.
"Currently, Roanoke County does not have a local cigarette tax," said county attorney Peter Lubeck, estimating taht the tax would cost smokers 25 cents extra per pack.
In 2020, the state government passed a law allowing counties to tax cigarette sales starting July 1 this year. Lubeck said the Roanoke County cigarette tax, if passed, would not take effect until Jan. 1, 2022.
Expected revenue from the new tax in its first year is $250,000, Lubeck said. At 0.0125 cents per cigarette, the county's proposed cigarette tax rate is the same as Vinton's, but lower than Salem's, which is 0.0225 cents per stick, or Roanoke's, at 0.027 cents each, he said.
The board unanimously approved the measure's first reading without comment and scheduled a public hearing for its next regular meeting at 3 p.m. May 11.