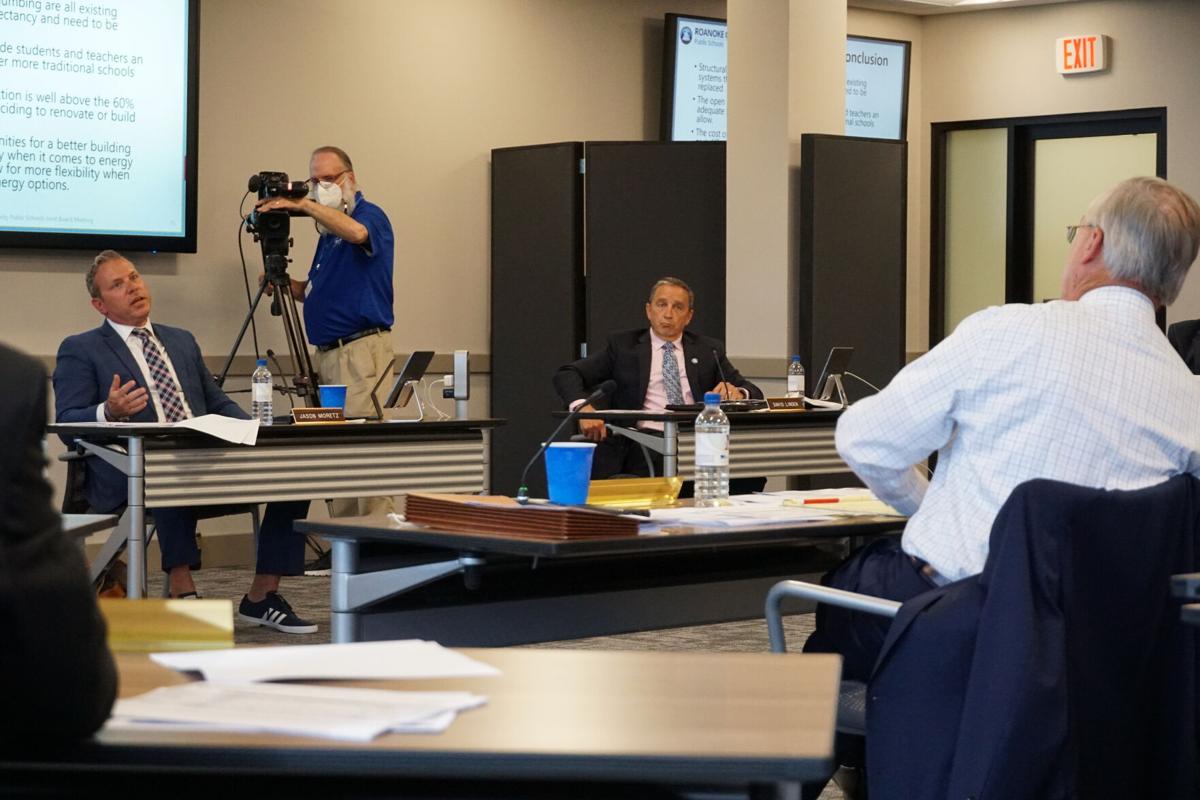 Three schools in Roanoke County need to be replaced, agree government leaders who met this week to compare ideas — including perhaps a 1% sales tax increase — for funding at least $153 million of construction costs.
Glen Cove and W.E. Cundiff elementary schools are approximately 60,000-square-feet apiece, opened in 1971 and 1972, respectively, according to county documents. Concerns abound within the 50-year-old schools: classrooms are cramped and noisy, owing to their obsolete open floorplans; bricks are crumbling; plumbing is two decades past its life expectancy; and the electrical systems verge toward ancient.
Estimates put construction of a new, 76,000-square-foot Glen Cove Elementary School between $20 million and $32 million, documents said. For W.E. Cundiff Elementary School, the most recent estimate is between $24 million and $37 million for an 87,000-square-foot structure.
No doubt has existed that Roanoke County's career and technical education school, the Burton Center for Arts & Technology, needs upgrading. The 89,000 square-foot building was first occupied in 1962, is aged in its infrastructure similar to the elementary schools, lacks capacity for students and exists in a floodplain of Salem, rather than being in Roanoke County.
Building a new, 176,000-square-foot BCAT could cost upward of $84 million, estimates said, and prices are skyrocketing upwards.
What was estimated to cost $270 per square foot to construct in February is now slated to cost $400 per square foot at BCAT, and rising, according to county documents.
"I'm fairly confident that if it wasn't for these 300-400% rises in material costs over the last 12 months, we'd be very darn close to our budget," said School Board Chairman Jason Moretz.
The heightened cost of construction is owed to current market conditions, said Roanoke County Schools Director of Facilities Chris Lowe. As an example, he said steel is not only exorbitantly expensive right now, but it is also unavailable for as long as 14 months after it is ordered.
In all, Roanoke County needs to find $153 million to build its three new schools, and county leaders want it done as fast as government can act. School board members said they do not want to wait until 2026 to begin replacing BCAT, as is scheduled.
"We need it done," said school board member Tim Greenway.
The need for these three new school buildings accounts for about two-thirds of the Roanoke County Public Schools capital improvement plan, which through 2043 budgets $232 million for identified construction needs. An accelerated replacement schedule will require new revenue, supervisors said.
"When we do this, we're making probably the largest investment in Roanoke County schools that probably we've ever made," said Roanoke County Supervisors Chairman Jason Peters. "When we do this, let's make sure we're doing it right."
Options exist to find or create a source of funding for school construction. Tentatively, the plan is to fund the two elementary schools from July 2022 through the 2025 fiscal year, with a final payment in 2027, as part of the scheduled capital improvement plan.
BCAT is not scheduled to receive funding under that county plan until 2026, but is now a priority for future state or federal allocations. Members of both boards nodded at the notion of moving BCAT out of Salem.
"I want to be a part of a board that solves this problem for BCAT today, and gets it done and started in 2023," Greenway said. "For the people, the citizens of Roanoke County, educationally it's beneficial, and for workforce development."
Supervisor Phil North said he is optimistic the state government will pass a bill to help fund school buildings across Virginia, aiding an issue especially prevalent in rural communities.
"This is a statewide problem … you've got to put some money to it, the state of Virginia used to do that," North said. "I don't care whether we get more or less than somebody else gets. We need to get something."
North said the school construction conversation needs escalating to the Virginia General Assembly's delegation and members, including its Commission on School Construction and Modernization. He said the commission held its first meeting in April and is expected in June to release data on educational capital needs across the state, which hopefully opens eyes in Richmond.
"Let's lobby the state," Moretz said. "Maybe let's get other localities involved too, they need the pressure."
Though the 10 elected local officials harrumphed that state funding would be the ideal fix to Roanoke County's construction needs, Supervisor Paul Mahoney noted the need for a backup plan.
When something needs paying for, what else is a government to do but raise taxes?
In 2019, the state authorized Halifax County to enact a vote on raising its sales tax by less than 1%, using those proceeds solely for school construction projects, said Roanoke County Attorney Peter Lubeck. That authority to raise the local sales tax rate was extended to eight other Virginia localities in 2020, he said.
"It's a process," Lubeck said, citing a list of requisites. "At this point in time, there is an uncertainty."
With a 1% sales sales tax rate increase, Roanoke County would levy $12.2 million from taxpayers annually, staff estimated. Under ideal circumstances, the tax would go into effect July 2023 at the earliest, Lubeck said.
Matters of public opinion
Convincing the voting public to approve a sales tax referendum would require extensive efforts to inform and win over the opinions of taxpayers, said school board member Don Butzer.
"It's going to take a very robust public relations campaign," said supervisor Mahoney.
The board chairs agreed to meet again this week for further discussion of next steps, and Peters said he hopes to convene the two governing bodies for another meeting in August.