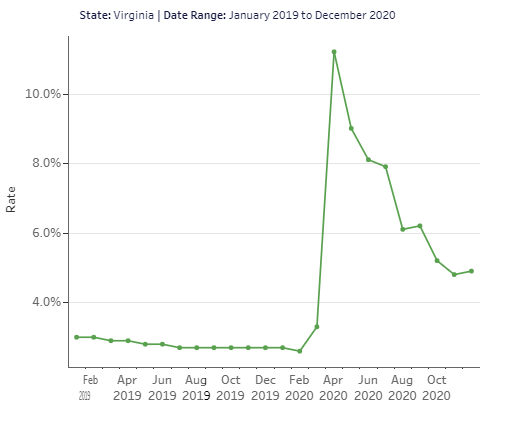 While many in the Roanoke and New River valleys returned to work after layoffs and furloughs following last spring's coronavirus-related shutdown, experts say it will take time before the job market and larger local economy fully recovers.
In areas surrounding Roanoke, the unemployment rate peaked at 10.5% in June and April, but was down to 4.3% when 2021 began, said John Hull, executive director of the Roanoke Regional Partnership, a nonprofit economic development driver for the Roanoke Valley and Alleghany County.
"Unemployment is back down to a fairly low level," Hull told the Roanoke County Board of Supervisors recently. "The job recovery is pulling ahead, but the full employment recovery is projected to be a number of years away, even though we've had brisk recovery to this point."
The coronavirus pandemic sparked a federal state of emergency declaration in mid-March, and Virginia in short order restricted nonessential gatherings and ordered public schools closed.
In April, some 15,000 jobs were lost in the Roanoke region, Hull said.
"The metro market has regained roughly 10,500 of those jobs," Hull said. "Employment is now 157,500, as of December 2020."
During April and May, employment decreased to 147,000 employees in the Roanoke metro job market, the lowest since the mid-1990s, Hull said.
"Jobs destroyed by the pandemic, not all of them will return," Hull said. "Some of those workers will need some up-skilling and training to compete."
Employment took a similar dive in the New River Valley, where more than 12,000 jobs were lost between February and May 2020, representing a 16% cut of the market, said Charlie Jewell, executive director of Onward NRV, the region's economic development organization.
"In terms of recovery, we've regained 73% of those jobs," Jewell said.
All but about 3,400 New River Valley workers in Radford and the counties of Giles, Pulaski, Floyd and Montgomery are back at the job, bringing the employment total to 73,500 workers as of December.
"We've seen most industries rebound," Jewell said.
Most of the still-missing New River Valley jobs are in the service sector, such as food, hospitality and retail positions, Jewell said. The same is true in the Roanoke region.
"The economic downturn due to the pandemic has impacted industries very differently," Jewell said.
Uneven impactAs is true nationwide, impacts to business caused by the coronavirus vary between sectors.
The worst-impacted in the Roanoke metro area and Alleghany County is accommodation and food service, which dropped almost 2,000 employees between the third quarters of 2019 and 2020, data said.
"Every sector had a slightly negative impact," Hull said. "Service sector and consumer-facing industries were the most heavily impacted."
While some industries able to adapt to a remote or distanced work environment quickly bounced back from the spring downturn, small business revenues took a significant hit in 2020, Hull said.
"To a large extent, small business revenue is considerably down," Hull said. "Small businesses have been at least somewhat left out of the recovery."
Roanoke County small business revenue decreased by as much as 33% between January and December of last year, according to a statistic provided by Hull through a website called tracktherecovery.org.
A combined more than 70% of small businesses in Virginia reported a large or moderate negative effect on their operations as of November , according to a survey of small business owners polled by the U.S. Census Bureau.
"Most sectors have rebounded, but the hospitality and leisure sectors have not been able to fully rebound yet," Jewell said. "That won't happen until we get back to normal."
Beyond recovering, some sectors are thriving. A survey conducted by Onward NRV showed three-fourths of responding technology-based companies and two-thirds of respondent manufacturers in the New River Valley are expecting to increase employment in 2021.
"Hopefully we get a majority of folks vaccinated and we're at a point where we've got herd immunity and we can get back to a level of normalcy," Jewell said.
As for when some sense of normalcy might return, Jewell said Onward NRV bases its expectations on economic forecasts from the Virginia Economic Development Partnership.
"They're projecting the full job growth recovery wouldn't happen until 2023," Jewell said. "That's kind of a general forecast. We tend to model pretty closely to the average in terms of national and state trends, so I'm hopeful that trajectory is on-track."
Timeline to normalcyBased on the economic forecasting of Chris Chmura, CEO of Richmond-based Chmura Economics & Analytics, the Roanoke region will not return to pre-coronavirus employment levels until the second quarter of 2022.
"In terms of the overall economy, employment of course is slower to come back because of people having to social distance," Chmura said. "But when we look at GDP, gross domestic product, the recession was sharp but very short."
GDP tracks the total value of an economy's goods and services. Nationally, it followed a rollercoaster trajectory in 2020, dropping by an annual rate of 5% in the first quarter. The second quarter saw a 31% annualized drop, rebounding with a 33% increase in the third quarter, followed by a 4% annual growth rate in the final quarter of 2020.
"We've already seen GDP come back pretty strong, but it won't be until we reach herd immunity that employment gets back to pre-COVID levels," Chmura said. "So the question is, when will we get to herd immunity?"
When some 80% of the population is vaccinated against COVID-19, health officials say herd immunity will be achieved. Chmura said vaccination data shows the tipping point to herd immunity most likely will be reached toward the end of 2021.
"This year, what's driving the biggest piece of our forecast is when we'll get to herd immunity," Chmura said. "That's when the economy is really going to pick up even more so in terms of employment."
Relying on health data to determine the economy's future is not something Chmura was accustomed to before March, but she said the pandemic has caused economic forecasting to rely heavily on medical predictions for vaccine availability and herd immunity.
"We're having to pull data from the CDC and medical experts that we never relied on in the past for forecasting the economy," Chmura said. "The economic forecast was not interconnected with the overall health of the population like it is now."
Declining demographicsEven before the coronavirus, demographic trends in the Roanoke region showed minimal growth, and it is unclear how population trends were impacted by the events of 2020, Hull said.
"One of the key issues to the economy in a number of ways is some of the population changes and trends that have been impacting this region," Hull said. "Regionally, growth is very slow."
The Roanoke metro is the slowest-growing metro in Virginia except for Bristol's, which declined in population during the past decade, Hull said, using data from the University of Virginia's Weldon Cooper Center for Public Service.
Census data from 2020 is delayed, but regional predictions paint a similar picture for the Roanoke area.
"Estimates show a loss of population regionally from 2013, with natural decrease accelerating, and this is pre-pandemic," Hull said.
More insight might be available when 2020 census data is released, Hull said.
"The fundamental challenges that were faced by the region prior to COVID are still in play," Hull said. "The skills mismatches, low population growth — those things are still there."
Both Roanoke County Supervisor Martha Hooker and County Economic Development Director Jill Loope keyed in on slow population growth as indicative of local talent and workforce shortages.
"The bigger issue is population growth," Loope said. "That's the real genesis of the challenges."