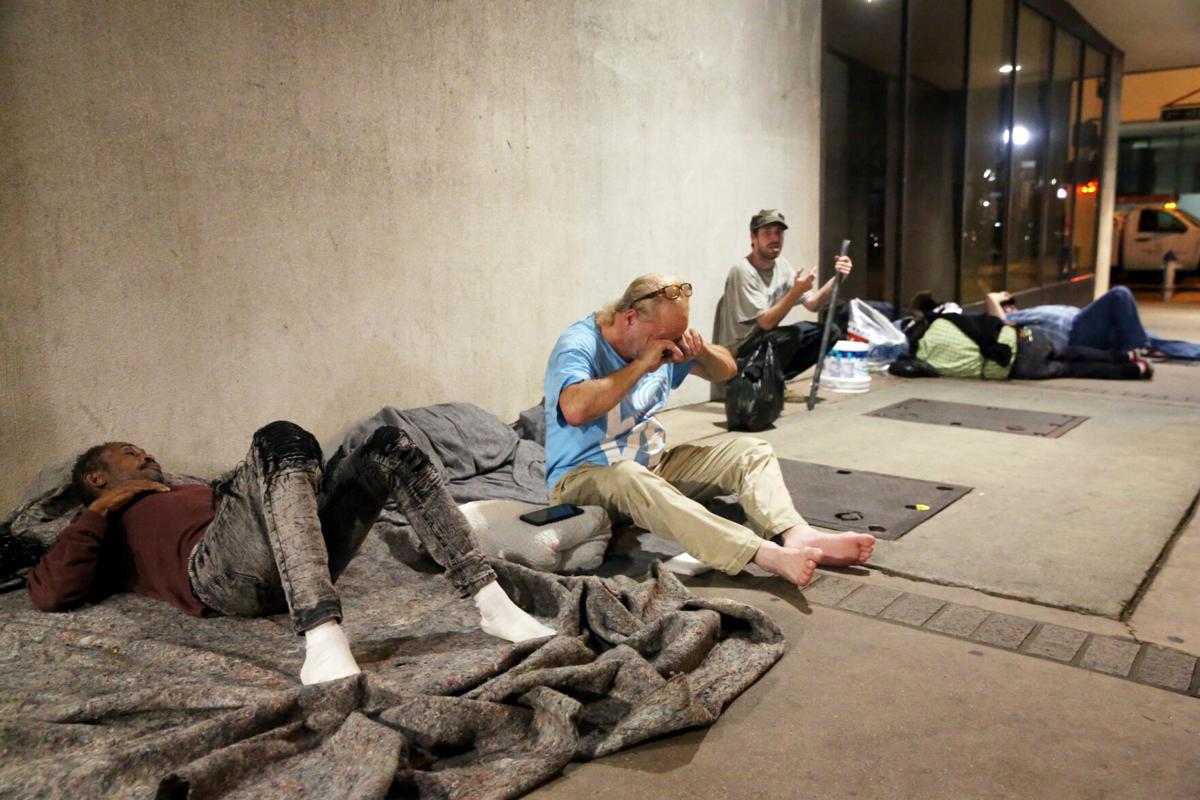 Roanoke plans to ban camping on downtown sidewalks in a move that may be the first of its kind in Virginia, officials said Monday.
Homeless shelters and nonprofit groups have plenty of beds at a variety of locations for all the homeless people living outdoors, which city officials say entitles them to enact the proposed ban as soon as Dec. 6.
People without homes began living on downtown sidewalks this summer in numbers no one could recollect seeing before. Roanoke's planned ordinance is intended to stop it and would set a $250 fine.
"It isn't safe to have your residence outside," City Manager Bob Cowell said.
Some have improvised dwellings with rugs, furniture and potted plants. 
Camping is already banned in city parks, at Market Square and along the greenway, but no language in the local ordinance book prohibits sidewalk camping downtown and police do not oust those who do it as long as they don't block passage by others.
The new proposal would criminalize sidewalk camping downtown in all respects — defined as "the use of any city-owned street, sidewalk, alley or other public rights-of-way for living accommodation activities such as sleeping or lying down ... storing personal belongings or making any fire."
It would not matter if the sleeping individual left room for a pedestrian or bike to pass.
The proposal is a response to complaints by downtown residents and businesses, which arrive in the city manager's office at a rate of about six weekly, Cowell said. These individuals often choose wide downtown sidewalks protected by overpasses or building overhangs, including the sidewalk in front of the Church Avenue office building housing the U.S. Post Office and city economic development agency. Witnesses reported seeing outdoor urination and defecation, piles of personal belongings, the accumulation of trash and fights.
Assuming the city council votes the proposal into effect Dec. 6, enforcement likely would begin in early January. "I anticipate compliance," Cowell said, rather than officers issuing a spate of tickets. Cowell couldn't recall anybody being ticketed for camping in a park.
That said, a person sleeping on a downtown sidewalk after the ban went into effect and who refused to leave after receiving a ticket would be subject to arrest, City Attorney Tim Spencer said.
Courts have examined ordinances designed to restrict where homeless people congregate and struck down some local laws. Spencer predicted Roanoke's proposal could withstand a legal challenge.
"Because it's narrowly tailored and because it's very similar to what some other localities out west have done, we think it's going to be defensible," he said. He said he thinks the proposal is the first of its kind in Virginia.
In further argument of the plan, officials said the proposed new law would help ensure people with disabilities can use downtown sidewalks safely. A blind individual reported tripping over a sleeping person recently, Cowell said.
A nonprofit group estimated 250 homeless people were living in the Roanoke region in January, about half as many as eight years ago. Experts say mental illness and addiction cause most homelessness. Although shelter exists, operators enforce codes of conduct that prompt some homeless people to stay out or get them kicked out.
The existing rule against blocking sidewalks is sufficient to deter sleeping on neighborhood sidewalks, which are narrower than downtown sidewalks and about 4 feet to 6 feet wide, officials said. They say it would be practically impossible to sleep there and not block others, making a person doing that subject to police action.
Roanoke and nonprofit groups have for years offered free, short-term housing and assistance to guide people who don't have it into permanent housing. There is a database with names and case-management information about virtually every homeless person in the area, officials said. All those supports would continue after enforcement of the ban begins in an estimated seven weeks, officials said.
There will be one exception: The city will restrict its giveaway of free tents to only those homeless individuals cooperating with efforts to get them permanent housing. Until recently, those sleeping outside could receive a tent upon asking whether or not they were taking advantage of the other help offered.