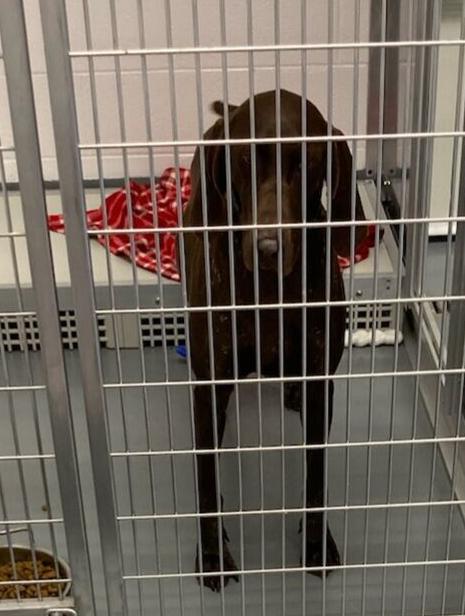 Former Rocky Mount police officer Jacob Fracker was fired by the town after federal authorities charged him with taking part in the Jan. 6 riots inside the U.S. Capitol building.
Fracker worked as a K9 unit officer, and this spring, he was reunited with his canine partner, a decommissioned narcotics dog named Dorka.
At Monday's Rocky Mount Town Council meeting, Callaway resident Joe Stanley, a gift store owner and veteran Democratic political operative, criticized the town, alleging during public comment that Rocky Mount officials gave the dog to Fracker for free and that Fracker has since been privately offering the dog's drug sniffing services for a fee.
However, Fracker said Wednesday in a text message that Dorka is just a pet. "No, she's not being used for work, she's too focused on stuffed crust pizza and belly rubs," he wrote.
Fracker and his former supervisor, T.J. Robertson, became nationally known after a photo circulated of the pair inside the Capitol Crypt on Jan. 6. Fracker is making an obscene gesture at the camera.
The men each face a felony count of obstruction of an official proceeding, as well as lesser charges of remaining in a restricted building and two counts of disorderly conduct. Free on bond, the pair are next scheduled for a status hearing in federal court on July 1.
Charles Bates, the owner of Chuck's Pups in Boones Mill, said Thursday that though Fracker works for him as a narcotics dog handler, the dog his company uses is not Dorka, but a German shepherd that Bates owns, named Hawkeye.
Bates said he has been working for four years to offer a service in which parents concerned that their child might be hiding drugs in the house could hire the use of a narcotics dog. "I had a drug dog, a narcotics dog that's been fully trained, we're all ready to go, and I didn't have a handler," which is why he brought Fracker in, he said.
Bates expressed sympathy for Fracker's predicament following his dismissal from his law enforcement job. "Because of this crap that the town put him under, he had nothing, he lost his livelihood. We're taking about a 30-year- old guy with a family," Bates said.
Responding to a Virginia Freedom of Information Act request, Rocky Mount officials provided The Roanoke Times with documents that show Dorka was sold for $5,000 on March 9 to Rocky Mount Police Sgt. Josh Mason, the former head of the department's narcotics dog units. Mason has since left the department.
"Josh bought her, followed all the right channels and had the right paperwork completed, then purchased her from the town and gifted her to my family," Fracker wrote.
Thursday, Mason declined to comment, other than to say that discussions about how to retire narcotics dogs in the Rocky Mount department, and statewide, had been underway months before Jan. 6 events in Washington, D.C., because of impending laws legalizing possession of marijuana. Across the country, law enforcement agencies are having to replace dogs trained to seek out marijuana, because their training cannot be undone.
The paperwork for Dorka's sale included a liability agreement stating the dog should not be sold or given away without seeking permission from the town. Rocky Mount Town Manager Robert Wood said Thursday the town has no penalty in place that can be enforced if the agreement is not honored.
Stanley, who has been sharply critical of town officials on several matters, wrote in an email that he would have known about Mason's purchase of the dog had the town responded to his FOIA requests on the matter.
In an email exchange carbon copied to a reporter, Wood wrote that Stanley had been notified March 19 that his FOIA request would not be responded to until he paid his outstanding bill on previous FOIA requests. State law allows entities to charge for fulfilling FOIA requests.
Stanley also insisted Thursday that Dorka is in fact being used as a narcotics dog, citing screen captures he has posted online of a conversation in which he conversed by text with Bates while pretending to be a parent seeking a narcotics dog's services to determine if a daughter was hiding drugs. The name "Dorka" does not appear in the conversation.
Bates recalled the conversation, saying he became suspicious when the person cited an allergy to German shepherds.