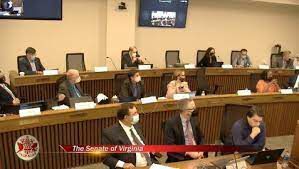 Bipartisan agreement created the Virginia Redistricting Commission, but political disagreement along party lines is causing its failure, leaving some wondering how to successfully chart unbiased electoral maps.
The commission is a first-time endeavor for the state, and proceedings have been about as bumpy as a maiden voyage can get.
The commission is tasked with determining on a map how to evenly divide voters into Virginia's political regions, for both state and national government. The idea is to avoid a map that is gerrymandered, or drawn in such a way that districts are manipulated for political gain, but this is not an ideal redistricting setup, according to experts and commission members alike.
There's been talk among the commission about switching Roanoke from the 6th Congressional District — which includes Lynchburg and extends north to the Shenandoah Valley — to the 9th District, comprising all of Southwest Virginia. But those discussions have taken a back seat as the conversation turns instead toward procedural disagreement.
The 16-member commission has been stalled by split 8-8 votes. Following another set of split votes at a meeting Wednesday morning, members of the commission, including Democrat Co-Chair Greta Harris, criticized how the group is organized, and its inability to find agreement.
"I would say we tried and it was a first for the commonwealth of Virginia, but this isn't working," Harris said, adding that the bureaucracy and a partisan structure won out.
Though discussions seem fundamentally split on party lines, the commission actually managed to agree on something: It will not meet again, unless the two co-chairs decide a meeting is worthwhile. Redistricting meetings and public hearings scheduled for this week have been canceled, the committee website shows.
"Just hearing us today, we're spinning our wheels," said Sean Kumar, a citizen member on the commission. "There are good intentions on both sides, but it doesn't change where we are."
Nicholas Goedert, an assistant professor of political science at Virginia Tech, agreed during a phone call on Wednesday that the commission's setup likely hasn't served it favorably.
"Commissions in other states have tended to be very successful, but those have tended to be much more nonpartisan," Goedert said. "They don't include sitting state legislators."
Half of the redistricting commission consists of elected members from the Virginia General Assembly, while the other eight are citizen appointees. The commission has eight Republicans and eight Democrats, mathematically setting up the decision-making process to be hung on split votes.
"If a commission is going to be successful, it's OK to include the even partisan split, but you have to remove the actual direct influence of the state legislators themselves," Goedert said. "It's definitely been my reading that the partisan state legislators on this commission have really been driving this disagreement, much more than the citizen members."
He referenced California, Arizona and Washington as examples of states that saw successful redistricting led by commissions, where lawmakers were not heavily involved in the process. Michigan and Colorado are appointing redistricting commissions now that are set up to see more success than Virginia's, Goedert said.
"Going forward, the legislature could propose an actual nonpartisan commission which would not involve the legislature," Goedert said. "Maybe given the outcome of this process, the Democrats [currently in the majority] in the legislature would be willing to do that."
In the past, before voters agreed to amend the Virginia Constitution in 2020, redistricting was handled by the state's General Assembly.
Some change in the commission's setup seems necessary for future efforts, but for redistricting in 2021, it seems increasingly likely maps will be drawn by the Virginia Supreme Court.
"When states have adopted a nonpartisan commission approach, they have tended to be successful in drawing maps that were fair on a partisan basis, and that created a reasonably good amount of competition," Goedert said. "You have to have the right process."