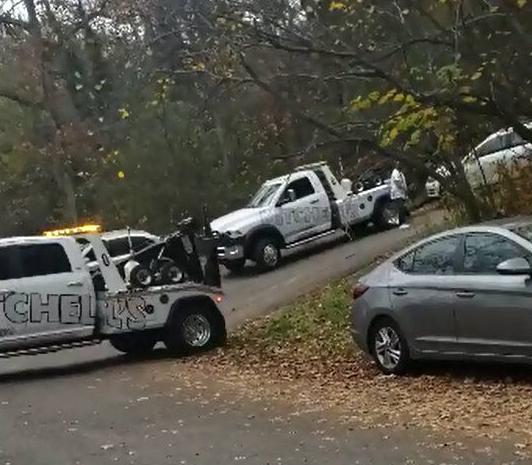 As sure as many hike McAfee Knob any given week, another autumn will soon arrive, and more cars parked illegally near the destination's gridlocked trailhead will again be vulnerable to towing by unregulated wrecker services.
But by fall of 2022, a new set of towing regulations enacted Tuesday should be implemented to cut down on citizen complaints against unsavory wreckers, and improve response times whenever Roanoke County police need to call for tow trucks.
Members of the county board of supervisors, however, don't want to wait for another fall fiasco at McAfee Knob. Not like the one last year.
"The timeliness of the leaf season is upon us," said Supervisor Phil North. "We have these issues at McAfee's Knob, so I certainly hope that the implementation can occur in order to beat those situations this year."
"We've done a great job with publicizing we have great outdoor adventure amenities, and McAfee's Knob is on the top of that list," said Supervisor Martha Hooker. "So it's not cool to go and then get towed."
Over the course of nine meetings, the tow board — four police, four tow workers and one citizen — winched out and fine-tuned a load of recommendations that were unanimously accepted by the supervisors on Tuesday.
To ensure consistent quality of service when police call for tow truck companies, Roanoke County will now contract up to eight companies for two-year terms, including some provisions for third-year options, documents said.
An eight-tab binder details maximum fees, requirements to tow for the county and definitions to be used in the new towing contracts.
But until those contracts are signed and administered — which staff said will take a few months — county police will continue calling whatever tow company is jotted down next on an unvetted list. Some of those wreckers come from outside the Roanoke Valley, and can wreck wallets while towing away vehicles.
"So we're possibly going to have the same scenario," said Supervisor David Radford, adding that McAfee Knob towing fees ranged from $250 to $650. "We're back to the same old thing."
Supervisors said the tow board recommendations were solid, but expressed frustration about the time it will take to procure contracts and establish the fee schedule.
"I would just like to know that when visitors come to our valley and they're visiting McAfee's Knob that they don't get a really terrible experience," said Supervisor Martha Hooker.
Police said the overcrowding at McAfee Knob only escalates to problem status during autumn. This leaf season, some alternative workaround will have to keep tourists from finding precarious parking places.
"There ought to be a sign so big that someone's got to see it before they start up the trail," North said. "That needs to be put up there so visitors won't make the same mistake twice, because we took it on the chin last year."