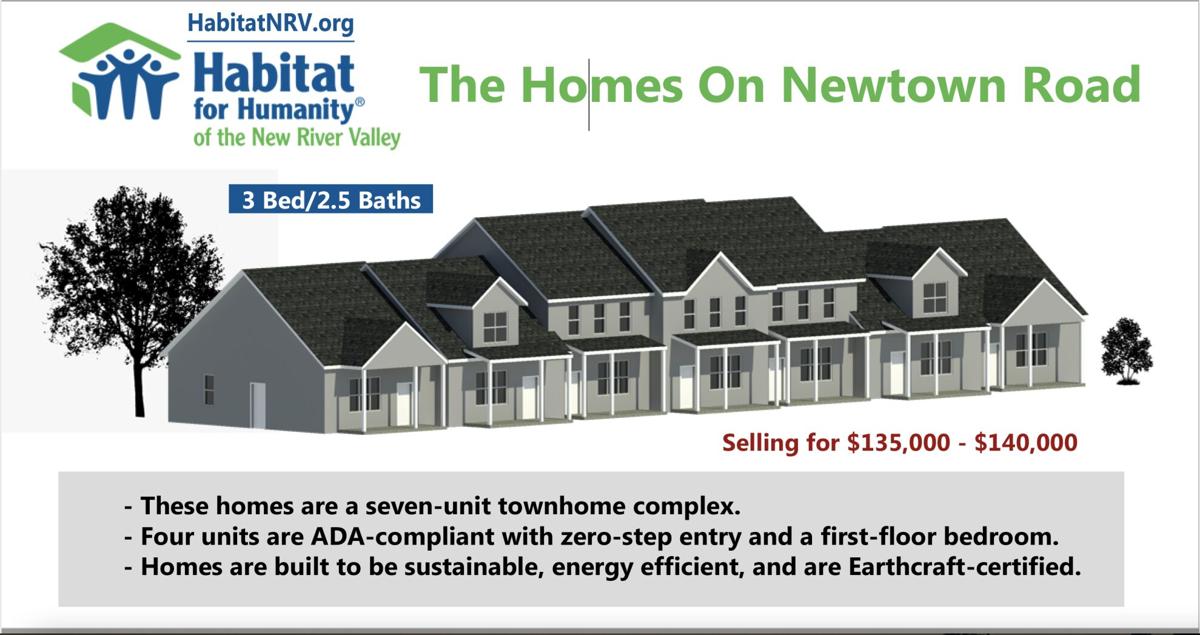 Habitat for Humanity of the New River Valley is continuing a decade of growth by bringing an award-winning town house design to Floyd County.
The $1.4 million project is a partnership with the New River Valley HOME Consortium, which includes Radford and the counties of Floyd, Pulaski, Giles and Montgomery. The consortium, based in Blacksburg's housing office, leverages government funding to help its partner organizations build affordable housing.
The Floyd development will sit on 1.8 acres in the 300 block of Newtown Road and feature seven town homes, some of which will be ADA-accessible, Habitat Construction Manager Dan Crowder said. Each home will have three bedrooms and two and a half bathrooms and sell for up to $140,000.
Sen. Tim Kaine, D-Va., visited the future project site last month on a swing through the region. But work has not yet begun on the town homes, Crowder said. Habitat is seeking approval from the Virginia Department of Environmental Quality for erosion and sediment control planning before crews can begin grading the site.
Crowder said he hopes the homes can be ready for occupancy sometime next year.
The project is earmarked for Floyd County residents and will pay homage to a Floyd native, William "Bill" Hayden, who died in December, Executive Director Jim Drader said. A World War II Navy veteran, Hayden was one of the founders of Floyd's first rescue squad. He led the squad as its captain and was known for his involvement in community affairs. A road that runs through the project will be named for Hayden.
This is Habitat's second multifamily construction project and signals its growth as an affordable housing developer in the area. The first one opened in Blacksburg last fall and won the 2020 Virginia Housing Award for outstanding rural housing development, said Kim Snider, resource development director.
Multifamily construction marks a major transition for Habitat, which is better known for building small, single-family homes on individual lots. In the past, Habitat would hold the mortgages on these homes and recoup the money over time. That made it more difficult to fund new projects, Drader said. The Blacksburg project was different; Habitat holds only one mortgage there, with other homeowners qualifying for third-party loans. That allowed Habitat to recoup its investment quickly and put those funds into the Floyd project, Drader said.
It's taken a dozen years for Habitat to grow to this point. From 2009 to 2013, the organization didn't build a single house. It faced a substantial budget shortfall, had problems keeping its ReStore — a retail thrift store that helps fund operations — open and was embroiled in a lawsuit with a former landlord.
In 2013, the group started to build again, erecting single-family homes wherever in the valley lots were donated. But the leadership wanted to tackle bigger projects, Snider said.
It's done so by partnering with larger organizations, including the nonprofit Community Housing Partners based in Christiansburg, Crowder said. In the future, Habitat will be looking to work on even larger developments.
But it still does the smaller projects it's been known for. In addition to the Floyd town homes, Habitat is finishing up the remodel of a three-story single-family home in Radford, looking at the feasibility of a duplex project in Giles County, and continuing to work with the high school students at Giles Technical Center on modular homes, at least one of which may be ready later this month, Crowder said.
For more information on the Floyd townhome and other Habitat projects, visit www.habitatnrv.org.