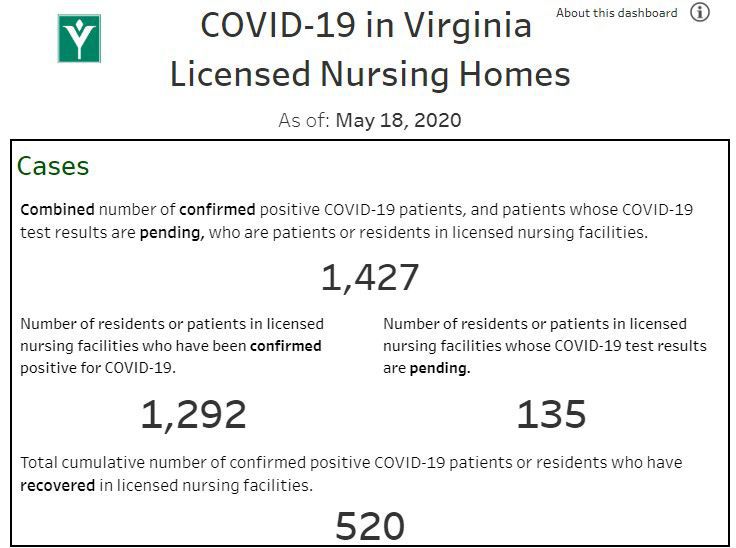 The Virginia Hospital and Healthcare Association on Monday launched a dashboard to report on the number of COVID-19 cases in licensed nursing homes and to show the pressing need for masks and gloves to reduce infections.
The dashboard reported 1,427 residents or patients of nursing homes with either a confirmed diagnosis or awaiting lab results. Additionally, 520 nursing home residents have recovered from the illness.
The dashboard said 11 facilities are having trouble obtaining N95 masks, four can't get enough surgical masks, three are running short on gloves, seven can't get face shields and 18 are having difficulties getting isolation gowns.
"We hope this public reporting illustrates the ongoing urgent need to support long-term care right now," said Keith Hare, president and CEO of the Virginia Health Care Association –Virginia Center for Assisted Living. "Virginia's long-term care providers — both nursing homes and assisted living facilities —are working every day to stop the spread of COVID-19 and follow proper infection control procedures while making sure our residents still receive the daily care they require."
Gov. Ralph Northam, during his briefing Monday, said there's more than enough personal protective equipment.
"Nursing homes are a top priority. If they need more PPE, we have the PPE and hopefully, they will know the proper channels to go through and we will be able to deliver it to them," he said.
Northam said Virginia no longer has a shortage of masks, gloves and gowns.
"We have a great stock of PPE, and more coming in. If there are individuals, businesses, nursing homes, penitentiaries, whatever —if they request it, we have a supply chain to get it to them," he said.
That wasn't the case until recently, and nursing homes and other long-term care facilities reported being short on the supplies that were needed to cut down on the spread of the virus. As of Monday, 59% of the COVID-19 deaths in Virginia were linked to long-term care.
Nursing homes are not required by the federal government to report cases, deaths, along with level of supplies and staffing to the Centers for Disease Control, which will then forward it to the Centers for Medicare and Medicaid. The information is expected to be posted to a website by the end of May.
The nursing homes are voluntarily submitting the information to the hospital association.
Assisted living and group homes are not considered health care providers and are not licensed by the department. They are not required to report cases of the virus to the federal government.
As of Monday, the Virginia Department of Health reports 182 outbreaks in long-term care facilities, which includes nursing homes, that have caused 595 deaths and 4,154 infections.
Virginia does not identify the long-term care facilities or provide information about any outbreak.
Long-term care facilities have reported shortages of personal protective equipment and staff as they have had both workers and patients become infected.
The hospital association earlier this month announced it would help the facilities with staffing and equipment shortages, training and infection prevention and control.
Hare said the dashboard shows only a partial picture of ongoing needs for the state's long-term care facilities in working to prevent further spread of COVID-19. His association has advocated for its members to be transparent about the disease.
In Virginia, the Department of Social Services regulates assisted living facilities. Spokeswoman Cletisha Lovelace said Monday that the homes are required to report outbreaks to the health department.
"The regulations do not require notification to other residents, staff, or family members of residents, as each resident is afforded confidential treatment of his/her health records," she wrote in an email. "Each resident may approve or refuse release of their information to any individual outside of the facility, except as otherwise provided in law or in case of transfer to another caregiving facility."
The hospital association has been publishing a dashboard to report on patients with the virus and its members' bed and ventilator capacity. On Monday, it reported 1,502 Virginians were in the hospital with 361 of them in intensive care and 194 on ventilators.
The association said 4,107 patients had been discharged.
The Virginia Department of Health on Monday reported 31,140 COVID-19 cases, an increase of 752 over the 30,388 reported Sunday. The cases are cumulative and include 29,591 confirmed cases and 1,549 probable cases.
Concerned about COVID-19?
Sign up now to get the most recent coronavirus headlines and other important local and national news sent to your email inbox daily.