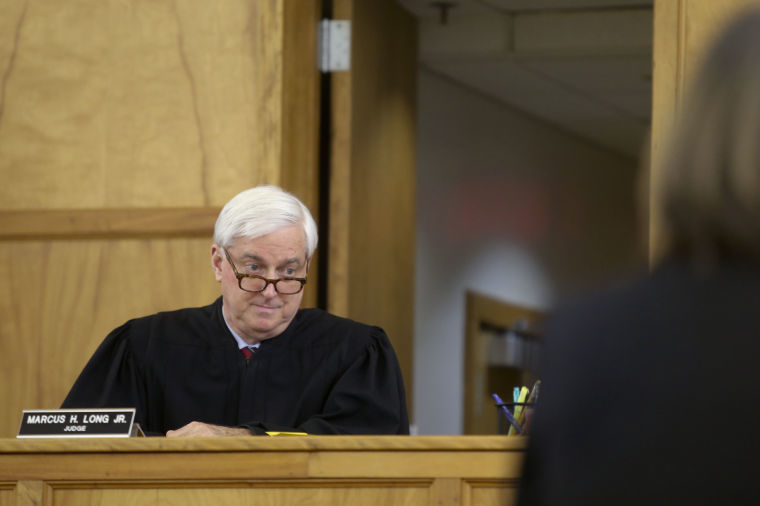 RICHMOND — Virginia's General Assembly declined Monday to give Montgomery County Circuit Judge Marc Long another term.
Long was not included on the list of judges for members of the House of Delegates and Senate to vote on Monday. Sen. Bill Stanley, R-Franklin County, made a last-ditch effort to get Long reappointed by having him added to the list in that chamber. The Senate then voted unanimously for it.
However, no similar move was made in the House. Without the support of a majority of both chambers, Long's current term will end June 30.
Long was appointed to a judgeship in 2005 when Republicans had the majorities in the House and Senate. He did not have the support of Democrats when he was appointed as a juvenile and domestic relations judge in the 27th Judicial District. He didn't receive the typical unanimous vote, with nearly all of the Democrats staging an unusual act of protest by refusing to vote for him.
In 2012, he was appointed to an eight-year circuit court judgeship. He's received praise for leading the effort to create drug treatment courts in the New River Valley that help people suffering from addiction charged with low-level crimes.
Long had low scores in several categories in his 2019 Virginia Supreme Court judicial performance evaluation report. Particularly, local attorneys surveyed responded with low scores for his patience, courtesy and respect in the courtroom. Nearly 26% of respondents said Long's performance was unsatisfactory or needed improvement.
Stanley said he and Sens. David Suetterlein, R-Roanoke County, and Ben Chafin, R-Russell, backed the amendment to have Long added to the list the Senate voted on to give Long another term. They both said he's been a good judge.
"This is all Del. Chris Hurst," Stanley said after the vote.
Hurst, D-Montgomery, said he didn't want to end Long's time on the bench to "score political points."
"I want to commend Judge Long for his more than a decade on the bench, both on juvenile and domestic relations court and on circuit court, and this decision made by the House was not done lightly," Hurst said.
Hurst said many delegates in the House told him they didn't support giving Long another term due to his performance reviews. Hurst said he was in communication with Long to review additional information about Long's performance, but it didn't indicate an improvement.
"The performance was too difficult for me to ignore," Hurst said.
The legislature delayed a vote on judges last week. During that time, Long's name appeared on the list of judges to be reappointed, and then disappeared during a version at the end of the week.
Sen. John Edwards, D-Roanoke, said that while he voted for Long's reappointment and has supported him over the years, that support has waned due to the performance reviews.
Some lawmakers representing Montgomery County would not say if they had anyone in mind to succeed Long.
"We're working on it," said Edwards, chairman of the Senate Judiciary Committee, which interviews judicial candidates.
The General Assembly on Monday reappointed eight judges from Western Virginia to their positions.
General district Judges Skip Burkart of Roanoke County and Robert Adams of Danville were reappointed for additional six-year terms. Pittsylvania Circuit Judge Stacey Moreau, who also hears cases in Franklin County, received another eight-year term.
Several juvenile and domestic relations judges were reappointed to six-year terms, including: Frank Rogers and Onzlee Ware of Roanoke; Stephanie Murray Shortt of Montgomery County; Bradley Dalton of Carroll County; and Laura Dascher of Alleghany County.
The General Assembly will fill judicial vacancies later this session, which could include the vacancy that will be left by Long's departure, as well as the circuit court vacancy in the 23rd Judicial District. Roanoke Circuit Judge William Broadhurst is retiring March 1.
In 2016, Juvenile and Domestic Relations Judge Leisa Kube Ciaffone was one of two candidates considered for a circuit court position in the 23rd District. Roanoke Valley lawmakers backed promoting Judge Chris Clemens from general district to circuit court, saying Ciaffone would get the nod for the next opening.
"We believe that Judge Ciaffone will make an excellent Circuit Court Judge in the future and intend to support her candidacy for the next vacancy," Edwards and Suetterlein wrote in a joint statement in 2016.
Not all Roanoke Valley lawmakers have given Ciaffone their full support for the open seat at this time.
Edwards said he did not recall making the 2016 statement.
"I don't remember that," Edwards said when the statement was read to him.
Suetterlein said he backs Ciaffone once again.
"In January 2016, I said that Judge Ciaffone would make an excellent circuit court judge in the future and that I intended to support her for the next vacancy," Suetterlein said in a written statement. "Her outstanding service since then has only strengthened my commitment in 2020."
Edwards said that in 2013, when a circuit court position was open, the Roanoke Bar Association endorsed David Carson, with Rogers as the second choice. Carson was appointed to the Roanoke Valley bench in 2013. Rogers took the bench of the Juvenile and Domestic Relations Court in the 23rd Judicial District in 2015.
Earlier this month, the Roanoke Bar Association — as well as the Salem/Roanoke County Bar Association — endorsed Ciaffone for the circuit court position.
Ciaffone has been a juvenile and domestic relations court judge since 2013. Her overall work on the bench was rated "excellent" by 94% of the local attorneys surveyed for the 2018 Virginia Supreme Court judicial performance evaluation report.
Get local news delivered to your inbox!
Subscribe to our Daily Headlines newsletter.