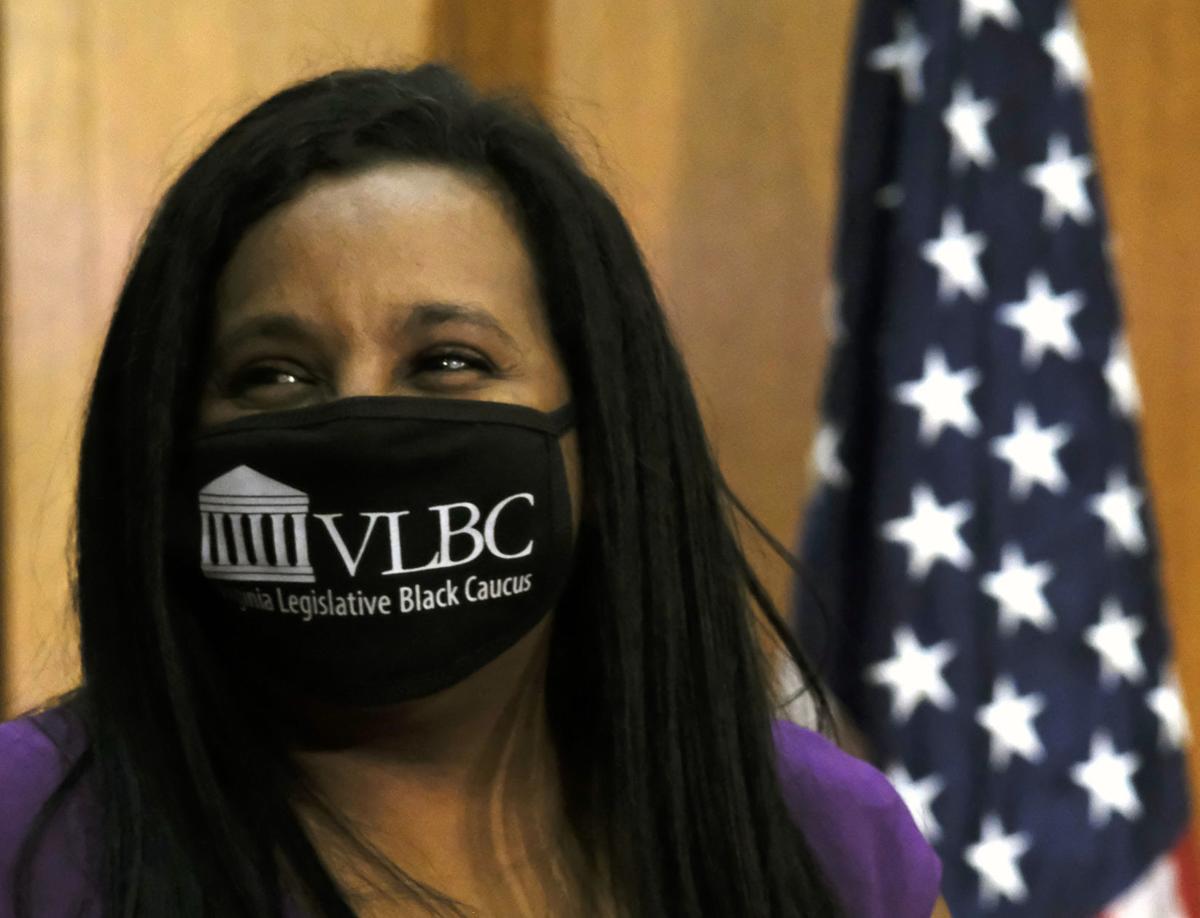 RICHMOND — The Virginia House of Delegates passed a bill Wednesday that would automatically seal criminal records for more than 150 offenses, making it one of the boldest automated sealing proposals in the country.
"This is a second chances bill," said House Majority Leader Charniele Herring, D-Alexandria, the sponsor of House Bill 5146. "This is a bill of redemption."
The bill passed the Democratic-controlled House on a nearly party-line vote of 59-37 and one abstention.
Four Republicans, including Del. Jeff Campbell, R-Smyth, joined Democrats in voting for the bill.
The measure moves to the Senate, which has shown bipartisan support over the years for expunging criminal records, although in more limited terms.
"Now is our chance to endorse second chances for so many Virginians," said Del. Sam Rasoul, D-Roanoke.
Under the bill, anyone convicted of any of roughly 170 misdemeanor and felony offenses — with most violent offenses excluded — could have their records automatically sealed if they aren't convicted of any new criminal offenses eight years following the completion of a sentence.
People who commit violent offenses and sex offenses can't have their records sealed. Criminal charges that don't result in convictions would be automatically sealed, although there are a few conditions in which they could remain in the public record.
The records are only available for review in limited circumstances, such as law enforcement conducting background checks for firearm purchases or background checks for police officers and judges.
People with sealed records would not have to disclose their criminal histories, although there are situations — such as if someone were applying for a job that required security clearance — in which that person would have to inform a potential employer about past convictions.
If signed into law, the measure wouldn't go into effect for four years.
Virginia has one of the most limited record sealing systems in the country. It is one of only nine states that don't allow record sealing of misdemeanor convictions. And 36 states allow records to be sealed for some felony convictions.
About 1.6 million Virginians have a criminal record. Currently in Virginia, people can petition to have their records sealed if they were not convicted.
Typically, the person has to hire an attorney, file a petition in the court where the charge was filed, pay a filing fee and a judge would have to grant it. Defense attorneys say it's a tedious and costly process, so it's uncommon. Virginia issues about 4,000 expungement orders each year.
Automatic sealing systems mean the person doesn't have to take any action, or spend money, and it expands access to the service.
"Criminal records, even dismissed cases, but especially convictions, keep people from thriving by preventing access to employment, housing, education, public benefits and other basic necessities," said Rob Poggenklass, an attorney at Legal Aid Justice Center.
The bill's fate is uncertain in the Senate, where Democrats hold a narrow majority. Sen. Scott Surovell, D-Fairfax, has voiced concerns about Virginia making the leap to doing automatic expungements for felonies when no other state is doing that.
He also took issue with some of the crimes eligible for automatic expungement. As a defense attorney, he said, it's sometimes the case that offenses like indecent exposure or domestic offenses are reduced to misdemeanor disorderly conduct, which is a charge that would be automatically sealed. He described this as "legal fiction."
He said it was valuable to have more discussion about the list of charges that should be automatically sealed which sometimes don't reflect the true nature of the crime.
When the legislation worked its way through the House, Democratic delegates had a few offenses, like involuntary manslaughter, removed from automatic expungement consideration.
Surovell is also worried about making this change without dealing with companies that offer private databases. Those databases scrape court information from websites, so they would be gathering information that could eventually be sealed and sell it to people interested in finding an alternative way to look up criminal records.
Herring has made this proposal a top priority this special session, which has a heavy focus on criminal justice reform following high-profile deaths of Black Americans by police.
During the regular legislative session in the spring, Del. Herring, as chairwoman of the Courts of Justice Committee, sent all of the expungement bills to the Virginia State Crime Commission to be studied.
Herring said she faced a lot of criticism for the move, because criminal justice reform advocates expected the new Democratic majorities in the House and Senate to pass those bills easily. Herring said she didn't want the legislators picking and choosing a few offenses like marijuana or underage alcohol possession that are eligible for expungements.
She said that would bake more inequities into the criminal justice system.
"This is an opportunity for us to look at expungement in holistic manner in a way that protects both public safety but is true to the idea of rehabilitation and second chances," Herring said.
The crime commission, a bipartisan advisory body that studies criminal justice issues and makes recommendations to the General Assembly, looked at various states that have record sealing systems in place.
The crime commission is also studying the petition-based expungement system and whether that can be expanded.
Last year, Pennsylvania, which has a Republican-controlled legislature, became the first state to put into effect an expansive system to automatically seal the records for charges that did not result in convictions, as well as summary offenses and low-level misdemeanors committed by people who have not incurred any other charges within 10 years.
California and Utah have adopted automatic expungement processes for convictions and are working to make those systems operative .
Some other states have narrower automatic expungement programs. For example, as part of the legalization of retail marijuana sales in Illinois, state law provides for wiping out low-level convictions and arrests for marijuana possession.
Del. Les Adams, R-Pittsylvania, the only Republican legislator on the crime commission, called the proposal a dramatic shift in policy and repeatedly emphasized it being described as "progressive."
"We are moving from a victim-centric approach that wants to make sure victims are made whole and public safety is protected to a different goal here," Adams said.
Herring acknowledged the shift and encouraged her colleagues to be bold.
"If someone has committed a crime and paid their debt to society by doing time in prison or being on a period of probation, it is very important that after a specified period of time — and in this bill we have eight years — that they have the ability to have a clean record," she said. "Imagine the stigma that comes with having something on your record. Every time you apply for a job to feed your family, your heart pounds wondering if that's the reason you're denied a job."
Norfolk Police Chief Larry Boone, who sits on the crime commission, said he didn't have public safety concerns over the proposal. He said he'd been arrested a few times as a young man, and he appreciates the importance of having second chances.
"In the African American community, second chances are mandatory, they're necessary," said Boone, who is Black. "I stand here today as a benefactor of those second chances, or those third chances."