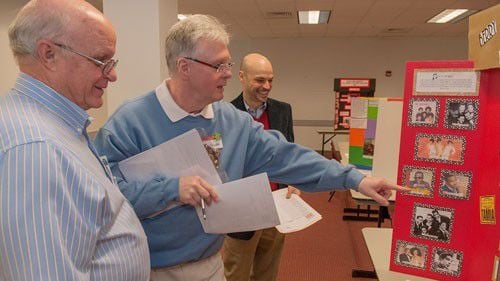 Jim Sellers gave that assignment to generations of Montgomery County students as they left the many classrooms and offices he held over a long career as teacher, principal and school administrator.
And his friends and coworkers say it was an edict he followed.
"He was just a good man," Gary McCoy said. "He cared, and it showed. And he wanted you to be successful. He walked the walk."
McCoy was in a position to know, having been Sellers' colleague, friend and, later, his pastor at Blacksburg Christian Church. McCoy eulogized his friend at a memorial service in the church parking lot on Tuesday. Nearly 200 vehicles filled the spaces, McCoy said.
Sellers died Aug. 28 from complications of COVID-19. He was 67.
It was Sellers who made the call to cancel church services on March 8 when the novel coronavirus pandemic first moved into the area, McCoy said. Sellers wanted to keep his church family safe.
It's unclear how Sellers contracted the virus, based on interviews The Roanoke Times conducted for this story. McCoy said Sellers spent about two weeks in the hospital on a ventilator.
"It's still hard to believe he's not around. It feels just like yesterday I saw him walking down the path behind my house," said Sue Kass, who lived near the Sellers. "It's just really shocking how quickly everything happened. It's really kind of stunning."
Kass said she met Sellers soon after moving to Blacksburg with her family in 2004. The New Jersey native said she used to joke with Sellers, who by that time worked in school administration, about the district's inclement weather policies.
Kass' young children were then enrolled at Kipps Elementary, and Kass said she was sometimes flummoxed by central office decisions.
"They'd have snow days, and I'd look out the window and there would be no snow on the ground," Kass said. "And I'd say, 'Jim, why are we not in school?'"
Sellers became more to Kass than a neighbor and administrator of her kids' school.
"Jim had a fairly big influence on the beginning of my teaching career," she said.
Formerly a human resources professional, Kass was a stay-at-home mom when she moved to Blacksburg. She said her involvement at Kipps inspired her to pursue teaching. So she reached out to Sellers, who at the time directed the state's Career Switcher Program for this area, which ran out of Radford University. The program offered accelerated teaching certifications for people who want to change careers to education.
Soon after completing the program, with a Sellers recommendation in hand, Kass said she landed a job in Blacksburg. She spent 11 years in the classroom. Today, she represents part of Blacksburg on the Montgomery County School Board.
"He was somebody who was just really such a strong influence as far as the kind of educator you want to be," Kass said. "You could probably find hundreds of people to tell you about Jim and what kind of impact he's had on their lives."
On Tuesday, the school board directed staff to place a memorial bench outside the administrative offices in honor of Sellers.
A Danville native and Virginia Tech graduate, Sellers started his career as a young man teaching geography at Blacksburg High School and worked his way up to interim superintendent. After leaving the county schools, he educated teachers and principals at Radford and Tech.
And after retiring from higher education, he found a new way to teach, traveling the U.S. and abroad as an instructor and assessor for Louisiana State University's counter-terrorism preparedness training center.
School brought McCoy and Sellers together, too. They worked as elementary school principals at the same time in Montgomery County in the 1970s.
"He had a tremendous influence on education," McCoy said of his friend. "I mean, he loved it; he believed in it; and he was good at it."