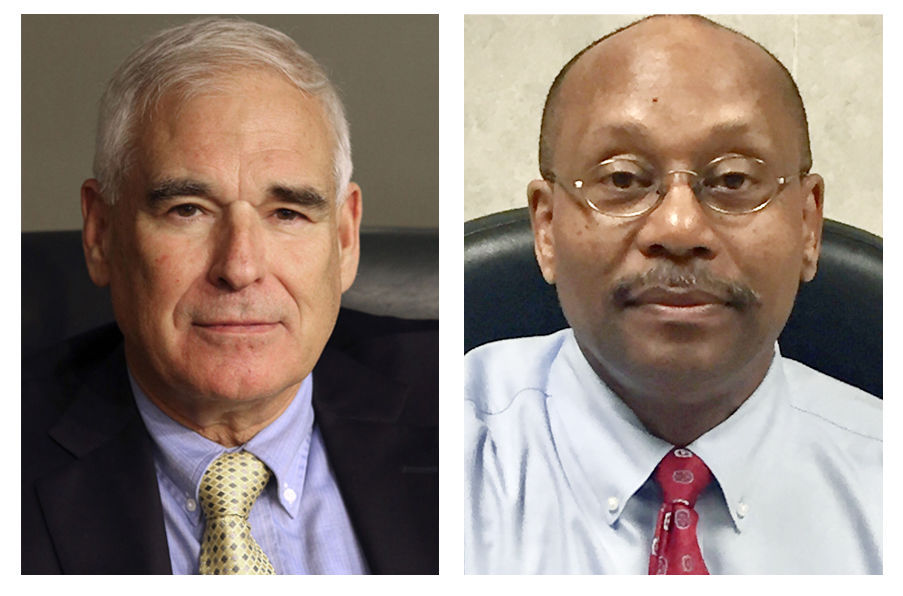 This fall, for only the second time in more than 40 years, the election to determine Roanoke's chief prosecutor will be a competition, one involving two opponents who have faced off before.
Donald Caldwell, who was appointed to the office in 1979 and then ran unopposed for nine consecutive four-year terms as Roanoke's commonwealth's attorney, now seeks an 11th term. In 2017, he defeated his first-ever challenger for the job, longtime Roanoke attorney Melvin Hill.
Caldwell, 70, said he plans to formally announce his independent candidacy for re-election at an event to be held later this month, and has said he wants to reserve his comments on the race and his platform until then.
Hill, 64, who's taking a second run at the job, kicked off his campaign as the Democratic nominee on Tuesday, with a gathering at the Rev. Martin Luther King Jr. Memorial Bridge.
"The platform that I am running on is several things, but primarily it's community-based prosecution," he said, and referenced "epidemic gun violence" that has plagued Roanoke over the past few years, which he said he hopes to reduce by measurable degrees.
"You have to be involved in incarcerating those dangerous individuals who participate in gun violence, who shoot at people, shoot at cars, shoot at houses and so forth. There is no excuse for that kind of behavior and it will not be tolerated when I'm commonwealth's attorney," Hill said.
"The other part of that, what is missing now, is specifically prevention. You've got to be involved in the community, as the commonwealth's attorney, you have to go to churches, where young people are. ... You have to go schools, you have to go to nonprofit organizations" as a means of curbing gang recruitment of local youths, he said.
Hill's plan, which echoed the approach he presented during his last campaign, would include dedicating two assistant prosecutors to focus on gang intervention. He said he also intends to expand treatment options for defendants suffering from drug abuse problems, and to work with legislators to increase funding for drug treatment centers.
"I am convinced, and I have no doubt about it, that at the end of the day, Roanoke will be a safer city after I am commonwealth's attorney," Hill declared.
Hill's previous run against Caldwell, in 2017, was mostly uneventful up until late October. Not long before the election, Caldwell issued fliers publicizing a reprimand Hill had received from the Virginia State Bar, as well as Hill's unpaid city business license and Internal Revenue Service tax liens against Hill, which Caldwell claimed exceeded $205,000.
"If you want to be the elected official who enforces the law, you should follow the law," Caldwell's ad said.
Hill acknowledged his tax debt, which he put at closer to $165,000, and said he had entered into a plan with the IRS to pay it off at a rate of at least $2,300 a month.
Records filed in Roanoke Circuit Court show that by June 2020, Hill had made payments totaling roughly $185,962 and was released from five of his liens.
Hill also settled the balance on his business license and addressed the reprimand, which he said had occurred in 1998, nearly 20 years before the last campaign.
Hill has been anattorney since 1984, most of that time in Roanoke in criminal and civil practice. More recently he served as a substitute judge in Roanoke Juvenile and Domestic Relations Court, although he withdrew from that position in order to run for office. He also worked as an assistant prosecutor in Caldwell's office in 1988, and then again from 1996 to 2001.
During the 2017 election, Caldwell took 53.8% of the vote total, with Hill drawing 46.7%, according to the Virginia Department of Elections.