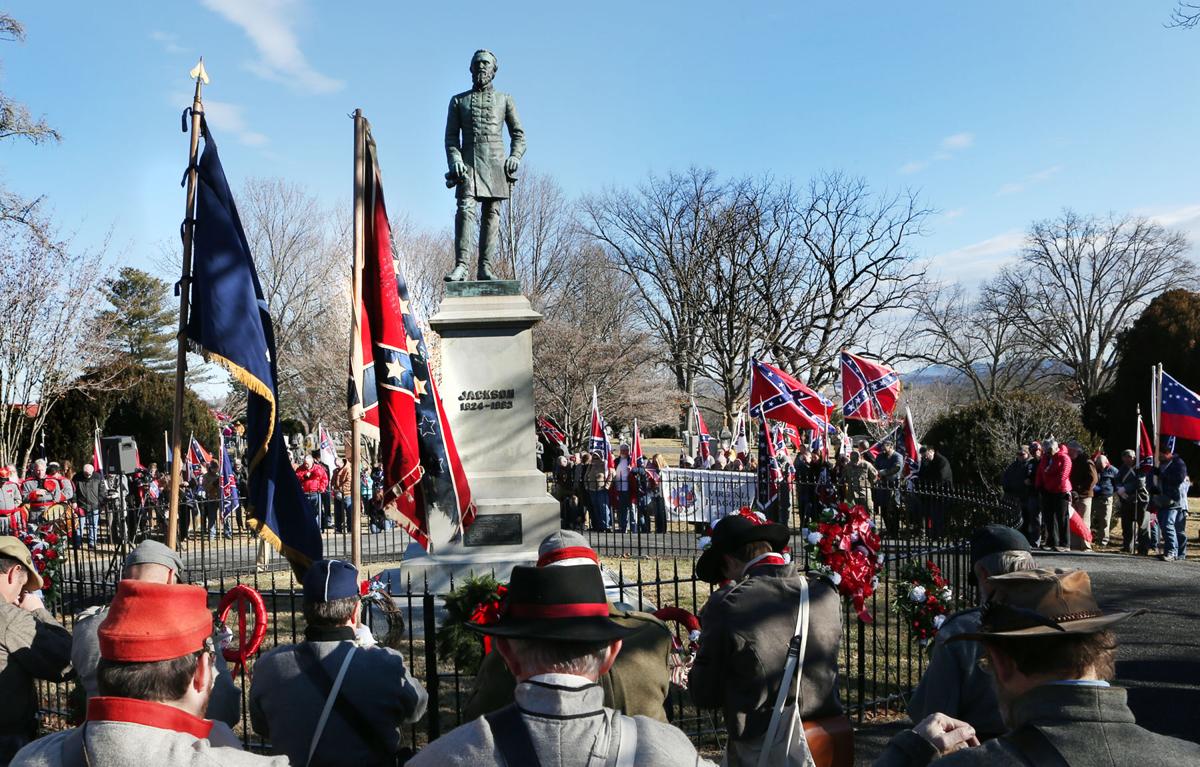 The Lexington City Council voted unanimously Friday morning to rename Stonewall Jackson Memorial Cemetery after hearing from dozens of residents on both sides of the issue.
The council's meeting began 8 p.m. Thursday and didn't end until around 1 a.m. Friday morning after about five dozen people addressed the council virtually or through comments that were read aloud by council members.
At its previous meeting, the council directed city staff to research the process of renaming streets and cemeteries named for Confederate figures including Gen. Thomas "Stonewall" Jackson and Gen. Robert E. Lee after receiving numerous requests from residents.
National protests against racism and police brutality in the wake of the death of George Floyd, a Black man who died in the custody of a white Minneapolis police officer, have led to demands for the dismantling of Confederate names and symbols throughout the South.
Lexington Presbyterian Church conveyed the cemetery, where Jackson was buried in 1863, to the city of Lexington in 1949. The deed contained a suggestion that the cemetery be renamed Stonewall Jackson Memorial Cemetery. In May 1949, the city council approved an ordinance accepting the conveyance and naming the cemetery after Jackson. There is no deed restriction on the cemetery's name, so the city council can change the name by passing an ordinance, according to city staff.
Arden Courtney-Collins, a rising junior at Rockbridge County High School, told the city council she grew up in Lexington and lived under the shadow of Confederate names and symbols. She was born in Stonewall Jackson Hospital, her father works at Washington and Lee University and she swam in the Maury River, named for Matthew Fontaine Maury, a commander in the Confederate States Navy. She said she supported the cemetery's name change.
"These names are not meant to remember Confederate history, they're meant to glorify it," she said. "Changing the name is not hiding or forgetting our history, it's finally addressing it so we can move forward."
Comments against the change were concerned about the effect on tourism, some of which is driven by the Civil War museums and monuments found in the city. Others residents were concerned about erasing history and not "caving to domestic terrorists."
City council members were not convinced it would alter the city's history or tourism numbers. Councilman David Sigler said the city's museums and 15 locations on the National Register of Historic Places will assure history remains a large part of Lexington's future.
Marylin Alexander, the only Black member of the city council, said she grew up in Lexington during the era of Jim Crow and felt that others considered her a second class citizen. She said the community has rallied together in a big way to confront the city about its symbols and signage.
"The activism of our young people today and what we've been hearing from them for weeks now helped me to realize that changing the name on that sign that I have passed by for 67 years, is not for my benefit," she said. "It's not for my peers, Black or white, it's too late for all of that. ... It's for the benefit of my children and my grandchildren, and all of our grandchildren, and more for generations to come, so that their lives are not in any way negatively affected by the vestiges of an ugly past based on a heritage that included hate."
Alexander said this was an exciting time for Lexington and the council should look forward to more changes.
Michele Hentz agreed and said changing the cemetery's name was the right thing to do. Hentz told city council members she buried her husband in Stonewall Jackson Memorial Cemetery and the name has started to bother her since.
"We need to start making changes now," she said. "I think changing the name is a start to healing and promoting unity in Lexington."
The city council is accepting name suggestions for the cemetery and will select a new name in the fall.