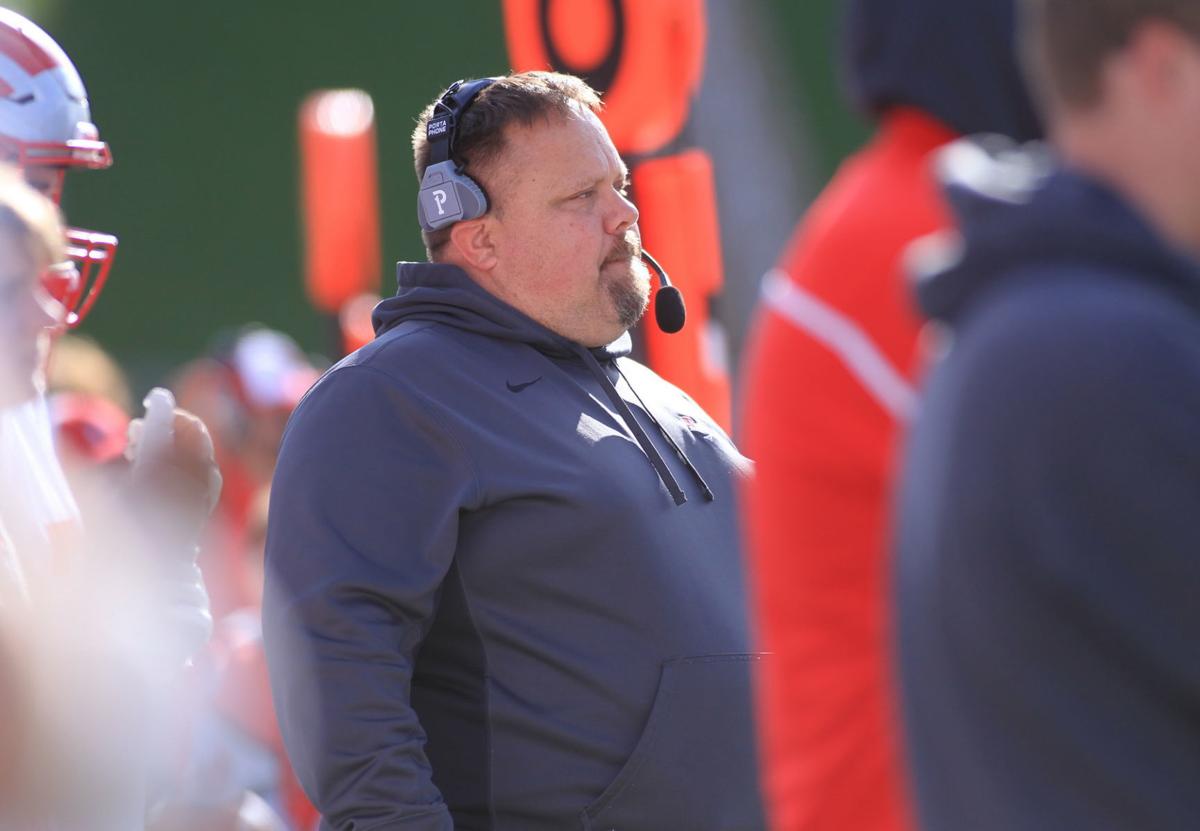 Lord Botetourt High School head football coach Jamie Harless this week sued a Roanoke County School Board member, the superintendent of schools and two principals alleging they defamed him.
In papers filed Monday in Roanoke County Circuit Court, Harless is seeking $500,000 in damages from Roanoke County School Board member Tim Greenway, Superintendent Ken Nicely, William Byrd High School Principal Tammy Newcomb and Northside High School Principal Jill Green.
Roanoke County schools' community relations specialist Chuck Lionberger said the school system had no immediate response to the lawsuit.
"We would not comment on litigation," Lionberger said Thursday.
In the lawsuit, Harless, who is also a teacher at Lord Botetourt, claims that he has suffered "damage to his reputation in the community and in his profession" as a result of statements made by the defendants.
Harless cites a May 13 letter from Nicely to Virginia High School League Associate Director Tom Dolan referring to "possible recruiting practices and unsportsmanlike behavior" by the Lord Botetourt coach.
The lawsuit also states that Green falsely informed Nicely in May that Harless was "attempting to recruit [William Byrd]/Northside football players to play at [Lord Botetourt].
Green is a former human resources director of Botetourt County schools who was named principal at Northside in May.
Nicely's letter to the VHSL referred to seven football players who transferred from Northside to Lord Botetourt during a two-year period.
Nicely's letter to the VHSL also referred to a May 12 email he received from Greenway.
The school board member wrote that Harless admitted during a telephone conversation with Greenway in the fall 2019 that Harless "told one of the William Byrd football players that he should come and play for him." But the Botetourt coach later said the statement was intended as a joke, Greenway wrote.
Harless, in the lawsuit, denied making that statement. The lawsuit also notes that six other Northside students transferred out of the school division to other high schools.
The lawsuit also alleges Newcomb made false statements following an investigation by the William Byrd principal after encounters between Harless and Byrd football players during and after an Oct. 11, 2019, football game between Botetourt and Byrd in Vinton.
The lawsuit claims that Newcomb falsely alleged in a letter provided to the VHSL by Nicely that Harless referred to two Black players at William Byrd as "thugs" and intentionally "used his position to bait two players who he knew had issues so that it would disrupt play and give him an advantage in play."
The lawsuit says that the VHSL "convened a three-member panel on June 30 to hear evidence on the 'unsportsmanlike recruiting practices' and 'unsportsmanlike conduct' charges."
The lawsuit notes that the VHSL rejected the "unsportsmanlike conduct" charge and determined Harless did not participate in "unsportsmanlike recruiting practices."
That finding could not be independently verified on Thursday with the VHSL.
Harless is in his 10th season as Lord Botetourt's head football coach after spending four seasons as an assistant coach at Cave Spring and eight seasons as an assistant at Franklin County.
Lord Botetourt had a 14-1 record and reached the 2019 VHSL Class 3 championship game under Harless, before losing to Hopewell. Harless also directed the Cavaliers to the 2015 Group 3A state final.