Christiansburg businesswoman Marie March has clinched the Republican nomination in the race for Virginia's 7th House of Delegates District.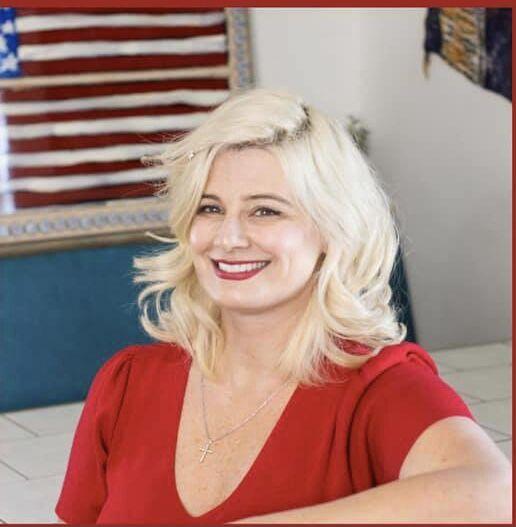 In a firehouse primary held Saturday, March defeated challengers Sherri Blevins and Lowell Bowman, who finished in second and third place, respectively.
March took 54% of the vote, while Blevins received 26% and Bowman got 20%, according to results provided by the 7th Legislative District Committee.
"I'm so excited. This is such a huge win," March said Saturday. "It's a win for the rural county voters. They really came out en masse to support me."
March owns Due South BBQ and Fatback Soul Shack in Christiansburg.
March's run for the state house 7th District seat marks her first attempt to hold public office. She will face opposition in the November general election, as Tara Orlando and Derek Kitts are each seeking the Democratic nomination in the race.
The district covers parts of Montgomery and Pulaski counties and all of Floyd County, where March lives.
The 7th District primary saw a total turnout of 2,561. March won Pulaski and Floyd counties, garnering 1,082 votes in those areas. Blevins won Montgomery County with 376 votes; turnout there was 859.
Saturday's primary also saw Montgomery County Supervisor Todd King defeat Republican challenger Dale Buckner for the board of supervisors' District D seat, an area that covers the southwest section of the county and includes a portion of Christiansburg and the community of Riner. King received 299 votes to Buckner's 202.
King could not be reached for comment. His first term as a supervisor began in 2014.
No Democrat this year filed to run for the District D supervisor seat, and the deadline for that party's June 8 primary has passed.
King is also a colleague of Blevins, who has herself been a Montgomery County supervisor since 2020 and has more than two years remaining on her term.
In the period leading up to Saturday's primary, Blevins had received the endorsements of several local elected officials and figures from within her party, including Del. Joe McNamara, R-Roanoke County; fellow supervisor Steve Fijalkowski; and Montgomery County Sheriff Hank Partin.
Blevins also received support from Christiansburg Mayor Mike Barber and Montgomery County School Board member Dana Partin, neither of whom declares a party affiliation as elected officials.
"I'd like to thank all the people who supported me and endorsed me," she said Saturday. "That means a lot to have their confidence and trust."
Blevins said she looks forward to continuing to serve the citizens of the county. She said it's too early to know if she'll ever seek a state-level office again in the future.
"We'll see where the Lord leads me," she said.
Bowman, who has never held public office, runs his own general contracting business. Before that, he spent some years doing consulting work and regularly worked with municipalities by helping them develop utilities and roads for industrial parks. He also owns a construction waste hauling business.
Bowman touted his unique professional background, saying that he had developed strong familiarity with government due to his extensive work with municipalities.
He couldn't be reached for comment Saturday.
Throughout her campaign so far, March has espoused common conservative talking points such as support for gun rights and pro-life measures. She said she is also for policies to aid small businesses.
March, however, has become a polarizing figure in the New River Valley.
She is a self-avowed Donald Trump loyalist and has used an image of the former president in her campaign materials. March said she felt like she had a stronger connection to Trump voters during the campaign.
March caught much scrutiny in January for traveling to Washington, D.C., to attend Trump's "Stop the Steal" rally. She has, however, maintained that she left hours before the Capitol riot started and that there was nothing criminal about listening to the president speak.
March has also spoken about some ongoing social justice reforms, and her views on the matter have sparked much criticism. One item that generated local backlash was a Facebook post the restaurateur put up in the period immediately following the death of George Floyd, an event that sparked protests across the country and last week led to the conviction of former Minneapolis police officer Derek Chauvin on multiple charges of murder and manslaughter.
March's controversial Facebook post from last year began with the line "The coming Civil War is complex."
The post categorized those who protested police brutality and Trump supporters as two distinct groups. She described those who took part in the protests last year as mostly millennials and as a group that views police and Trump as "THE PROBLEM."
Critics of the post argued that she was calling for violence, but she said she was simply encouraging people with different viewpoints to come together and run for office.
March's campaign-related activities have included announcing her candidacy while holding a Dr. Seuss book and taking a photo in front of a 1979 Dodge Magnum painted to appear like the General Lee car from the classic television series "The Dukes of Hazzard."
March has clashed with local governments and organizations over the years.
She was a staunch critic of Christiansburg's move a few years ago to upgrade its noise ordinance — Fatback Soul Shack was the subject of a noise complaint — and of issues such as the town's meal tax. She has also criticized the use of tax dollars in initiatives such as the wayfinding signs in Christiansburg and a Montgomery County-wide bike sharing program.
March said her stance on local issues is an overall reflection of how she wants to approach lawmaking. She said she's certain there are instances of irresponsible use of taxpayer money at the state level.
On the scrutiny she's received over the years, March said she believes that many in the area have the wrong idea about her and that she is a very charitable individual. She said she invites anyone with a negative perception of her to come meet her and talk.
"I hope they can get to know me as a person, or me as a candidate, and maybe they can understand me better through the coming months," she said Saturday. "I think there's a huge amount of misunderstanding of who I am as a person. I'd like to extend my hand and get to know people."