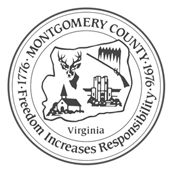 CHRISTIANSBURG — Montgomery County is launching a new court program aimed at steering some defendants with mental health issues back to stability – and away from incarceration.
Later this month, a special court session called a Behavioral Health Docket is to meet in the county's General District Court. An initial group of five defendants, all diagnosed with serious mental illness – but still deemed to be mentally competent legally – and convicted of minor, non-violent misdemeanor offenses will meet with a judge and a support team, probably twice each month for a year. They will receive mental health treatment and encouragement to establish a healthier, law-abiding routine in their lives.
If participants maintain progress, they can avoid going to jail.
"It's a different kind of supervised probation," Commonwealth's Attorney Mary Pettitt said Thursday.
The new docket will be the first of its kind in the New River Valley. If it works, the group of five defendants is to be expanded to about 20. Eventually, more behavioral health dockets may be started across the 27th Judicial District.
Roanoke, Roanoke County and Salem have for years operated a similar program aimed at defendants with mental health issues, calling it a therapeutic docket. That program is credited with helping reduce recidivism.
Montgomery County has the same goal.
"A large number of people recycle in and out of the Montgomery County Jail multiple times per year on minor, non-violent offenses," said a statement that Pettitt released Thursday to announce the new program. "In addition, people with a mental illness who are released from jail often fail to successfully access community treatment services. This failure to stabilize … often results in new arrests, once again stressing the financial and personnel resources of the criminal justice community."
Pettitt's statement said that the county has begun a number of programs in the past 20 years aimed at lowering the number of people with mental illness who end up in the courts.
But in the past three years, 18% of individuals booked at the Montgomery County Jail have a serious mental health disorder, defined as psychosis, bipolar disorder or post-traumatic stress disorder, the statement said, citing jail booking data, information reported by the jail to Virginia's Compensation Board, and New River Valley Community Services' electronic health records.
The new program was spearheaded by Judge Gino Williams. A group of attorneys and court staff assembled the application to start the docket, taking as a starting model a program operated in Charlottesville courts, Pettitt said.
The Virginia Supreme Court granted its approval for the Montgomery County program at the end of 2019 but an actual launch was delayed by the coronavirus pandemic and just the organizing needed to bring the docket to life.
Across Virginia, there are 10 behavioral health docket programs in general district courts – the three Roanoke Valley dockets count as one program – and two in circuit courts, according to the state court system's website. An additional behavioral health docket is operated by the Richmond Juvenile and Domestic Relations Court.
The concept of offering defendants an alternative to the courts' regular path of conviction and incarceration is similar to that of the drug courts in the New River and Roanoke valleys and across the commonwealth. But the Behavioral Health Docket is different in that it only covers misdemeanor charges, such as shoplifting or trespassing, and does not include the possibility of dropping the charges.
The Behavioral Health Docket is a "post-disposition" program, meaning that defendants already have been convicted when they start the docket, Pettitt said. Defendants volunteer to be part of the program and their application must be approved and reviewed by a courts group that includes the prosecutor's office.
The new docket is a joint effort by Pettitt's office, the county sheriff's office, New River Corrections and the courts – and the private criminal defense bar.
Dennis Nagel, a Christiansburg attorney who was part of the group that assembled the application for the new docket, said much of the program's purpose is to offer some sort of routine to people who may not have many places left to turn.