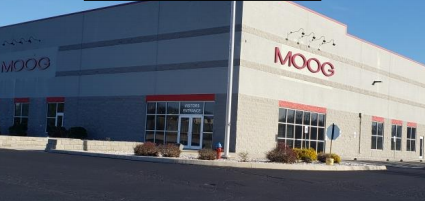 Moog Inc. will invest $10.7 million to transfer existing jobs and equipment from one of its Blacksburg facilities to a building in Montgomery County's Falling Branch Corporate Park.
The latest details of this project, which Gov. Ralph Northam's office announced Tuesday, will give Moog substantially more space to address increased demand and to focus on the production of its slip ring products for the industrial marketplace. The project is anticipated to create 75 new jobs.
Moog specializes in motion control products for various industries. The company had previously announced that it will vacate its facility on South Main Street in Blacksburg as part of its plans to establish an operation at the Falling Branch Corporate Park.
The nearly 102,000- square-foot building Moog will move into was previously occupied by Dish Network, which sold the facility to an entity of Briar Oak Investments for $3.5 million in early 2019. Moog bought the building from Briar Oak for $6.5 million.
"Moog is an important partner in the Commonwealth, and it is exciting to see the company grow its capabilities in Montgomery County," Northam said. "The New River Valley has outstanding institutions of higher education and a world-class workforce, and Moog's continued investment is a testament to these assets. We are confident that this expansion will propel the company and the Commonwealth's aerospace industry forward."
Located just south of Interstate 81, the Falling Branch Corporate Park is home to entities with employment numbers similar to those seen in manufacturing and warehouse-type facilities.
Moog's systems control military and commercial aircraft, satellites, space vehicles and medical equipment. The company operates in 26 countries.
The Virginia Economic Development Partnership worked with Montgomery County to secure the project for the Commonwealth and will support the company's job creation through the Virginia Jobs Investment Program.
The move drew praise from elected officials, including Montgomery County Board of Supervisors Chairman Steve Fijalkowski.
"When an existing company not only decides to stay in our community, but also flourishes to the point of expansion, well, that's when we know that we are all doing something right," he said. "We're proud that they're part of Montgomery County."