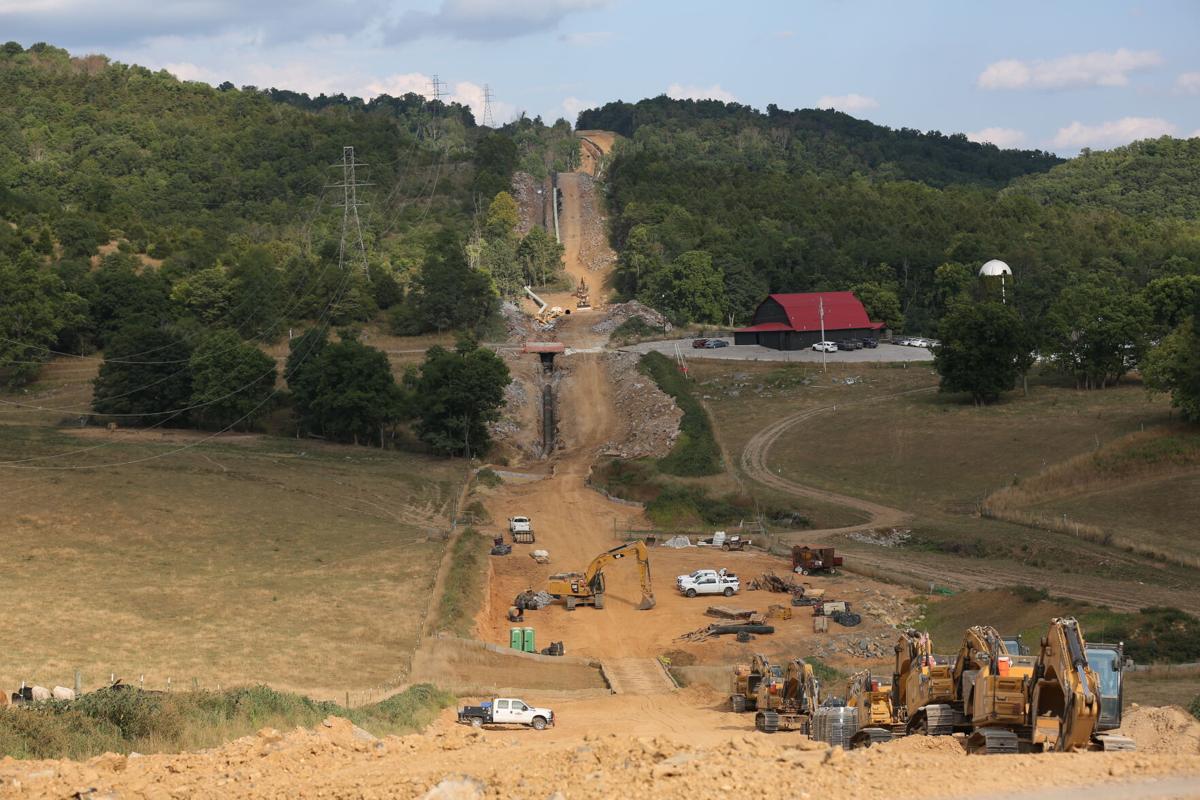 As work on the Mountain Valley Pipeline winds down for another winter season, all but about 20 miles of the 303-mile-long natural gas conduit is finished, according to the lead partner of the project.
"It's in the red zone for completion" by next summer, Thomas Karam, CEO of Equitrans Midstream Corp., said in a conference call Tuesday to discuss the company's third quarter results with financial analysts.
In perhaps the most bitterly fought environmental battle in Southwest Virginia's recent history, Mountain Valley has faced multiple court fights that delayed its completion by more than three years and nearly doubled its cost to $6.2 billion.
But as it nears the end of its fourth year of construction, all that remains is about 20 miles of stream and wetland crossings and a passage through the Jefferson National Forest, Diana Charletta, president of chief operating officer of Equitrans, said during the call.
Mountain Valley still lacks state and federal permits to cross water bodies for the final phase of construction — and opponents show no signs of giving up.
Of 2,292 comments made to the Department of Environmental Quality, 90% opposed granting a state permit for the remaining stream crossings in Virginia, according to Wild Virginia, one of many environmental groups opposed to the project.
Mountain Valley has identified 144 crossings that involve temporarily damming a stream and digging a trench along the bottom for the buried pipe. Another 92 crossings will be done by boring under the water body, which is covered by a separate permitting process that does not require state approval.
DEQ held two public hearings in September and accepted written comments through Oct. 27. A decision by the State Water Control Board is expected in December.
Wild Virginia obtained the public comments — which include most but not all of the written statements — from DEQ through an open-records request, it said in a news release last week.
The group said it decided to make a summary public after learning that DEQ did not plan on releasing its own tally to the water board or the public, as it has done in the past.
A response from DEQ was not available Tuesday, a state holiday.
"We do not presume that Board members will agree with our opinions or those of any other party" Jacqueline Goodrum, conservation policy associate for the group, said in a statement.
"However, one fact seems clear to us. Opponents of MVP provided a huge body of evidence, backed by legal analysis, scientific reports, and data, indicating that MVP has not proven its case."
There must be a showing that digging trenches through water bodies will not violate the federal Clean Water Act. Approval by the state board is required before the U.S. Army Corps of Engineers can give a final go-ahead.
In 2017, the water board granted certification to Mountain Valley after finding a "reasonable assurance" that streams and wetlands would not be harmed. But after a blanket permit later issued by the Army Corps was challenged in court by environmental groups, Mountain Valley restarted the process by seeking individual stream crossing approvals.
The company has run into repeated problems controlling muddy runoff from its construction sites, and opponents contend that information not known to the water board four years ago should lead it to deny the certification this time.
"MVP has caused much destruction and pain to local residents and water users so far and these proposals would be a major blow to our precious resources and our communities," David Sligh, conservation director of Wild Virginia, said.
"Further damage must not be allowed."
While Virginia and West Virginia consider state approvals for so called open-cut crossings, which would be followed by action from the Army Corps, the Federal Energy Regulatory Commission will consider the boring operations.
The U.S. Forest Service gave Mountain Valley permission in January to pass through 3.5 miles of the Jefferson National Forest in two sections, mostly in Giles and Montgomery counties. But the work cannot start until stream crossing permits are granted.
Meanwhile, legal challenges against other permits are pending, with a decision expected by the end of the year from the 4th U.S. Circuit Court of Appeals.
In Tuesday's conference call, Charletta said Mountain Valley expects to have approvals in hand in time to complete construction by next summer, at which point 2 billion cubic feet of natural gas per day will begin moving through the pipeline.
Starting in northern West Virginia, the pipeline will traverse 303 miles of mostly rural land to connect with an existing pipeline in Pittsylvania County, where gas will then be transported to markets in the Mid-Atlantic and Southeastern regions.
A small portion of the gas will go to customers of Roanoke Gas Co.