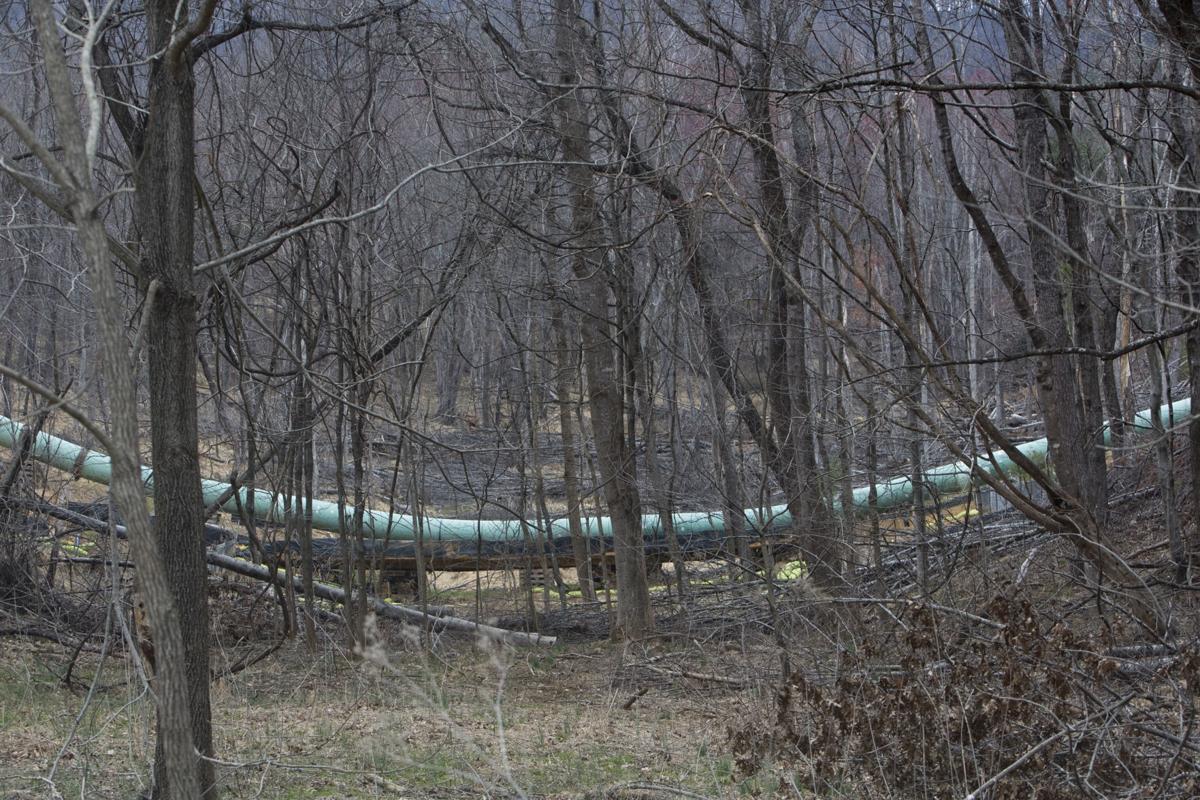 Developers of the Mountain Valley Pipeline have voluntarily suspended work on parts of the embattled project, three days after a lawsuit raised questions about its impact on endangered species.
In a letter Thursday to the Federal Energy Regulatory Commission, Mountain Valley said the suspension covers "new activities" that could pose a threat to the lives of endangered bats and fish, or potentially destroy their habitat.
Less clear was how much of the 303-mile natural gas pipeline will be affected.
"MVP's voluntary suspension is not a matter of miles, it is a matter of doing the right thing," spokeswoman Natalie Cox said in an email.
"The voluntary suspension pertains to areas along the route that may potentially have an impact related to the Endangered Species Act; however, MVP expects to continue with construction, where permitted, in other areas along the route," she said.
The move will have no "material impact" on the number of workers employed, she said, nor does it push back an expected completion date of mid-2020.
Mountain Valley has already laid about 238 miles of pipe, it said in its letter to FERC.
Still, significant stretches of the pipeline — where potential impacts to the Roanoke logperch, the candy darter, the Indiana bat and the northern long-eared bat have been identified — are affected by the shutdown.
Most work will be halted on a 75-mile stretch, along watersheds in the counties of Giles, Craig, Montgomery, Roanoke, Franklin, and Pittsylvania. Another 20 miles, including some streams and rivers in West Virginia, are also included.
Mountain Valley also said it would cease tree-felling in areas populated by endangered bats. But with the exception of a wooded slope in Montgomery County — where two tree-sitters have been blocking work on the pipeline since last September — nearly all of the trees the company had planned to cut are already gone.
"It's a little disingenuous for them to say they're taking these precautions," said Jared Margolis, a senior attorney for the Center for Biological Diversity, one of the environmental groups that filed Monday's legal challenge. "Because, guess what, they've already cut down all the trees that had Indiana bats in them."
Two plants, the small whorled pogonia and the Virginia spiraea, were not included in the voluntary suspension because Mountain Valley found no evidence of them in the project area, it said in its letter to FERC Thursday.
On Monday, a group of environmental groups led by the Sierra Club challenged a 2017 opinion by the U.S. Fish and Wildlife Service, which found there would be no significant harm to endangered species along the pipeline's route through West Virginia and Virginia.
They also asked the service to stay its permit by no later than Thursday, which Mountain Valley cited in its letter to FERC.
"We told you so," Sierra Club campaign representative Joan Walker said in a statement.
"There's no way to build this dirty, dangerous project in any manner that wouldn't directly threaten endangered species or our clean air and water. MVP should just face reality and make this voluntary suspension permanent."
Two weeks ago, problems with erosion and sediment control measures led the Virginia Department of Environmental Quality to issue a stop-work order for a two-mile section of the pipeline in Montgomery County.
Mountain Valley briefly suspended construction in Virginia last summer, when problems with muddy runoff from construction sites first surfaced. And work on the entire project was suspended for about a month by FERC last August, after a federal appeals court threw out a permit for the pipeline to cross through the Jefferson National Forest.
The company's move Thursday is "a big deal, in that they clearly think they are in danger," from the most recent legal challenge, said David Sligh, conservation director of Wild Virginia, another group that joined in the case.
A petition asked the 4th U.S. Circuit Court of Appeals to vacate the Fish and Wildlife Service's biological opinion, in part because of the large amount of sedimentation released by construction work since it made its decision nearly two years ago.
Paul Angermeier, a professor in Virginia Tech's Department of Fish and Wildlife Conservation, has also pointed to "several important shortcomings" that led to significant underestimates of the pipeline's impact on the endangered Roanoke logperch.
The 4th Circuit has already thrown out a similar permit issued for the Atlantic Coast Pipeline, ruling that the federal agency had apparently "lost sight of its mandate."
"I think they [Mountain Valley] saw the writing on the wall and said it's going to be far more difficult if we fight this out in court." Margolis said.
The company is still trying to regain two sets of key permits it lost to legal challenges last year, one for the pipeline to cross through the national forest and another for it to cross more than 1,000 streams and wetlands.
In her email, Cox wrote that the voluntary suspension will remain in effect until the Fish and Wildlife Service completes its ongoing review. An official with the agency did not respond to questions Thursday.
In April, FERC asked the service to provide a list of questions and information needs about endangered species, including concerns Angermeier had raised earlier. That prompted the Sierra Club, Wild Virginia and Appalachian Voices to write the service the next month, urging it to reexamine its biological opinion — and threatening to sue if it did not.
After not hearing anything from the agency, the groups filed suit on Monday.
Peter Anderson, Virginia program manager for Appalachian Voices, said his organization and others will continue to urge the Fish and Wildlife Service to suspend Mountain Valley's endangered species permits.
"This action by MVP shows that they know that construction poses dire threats to these species and their habitats — and they are trying to paper over it," Anderson said.
"The Federal Energy Regulatory Commission should put a real stop to construction while these issues are pending."