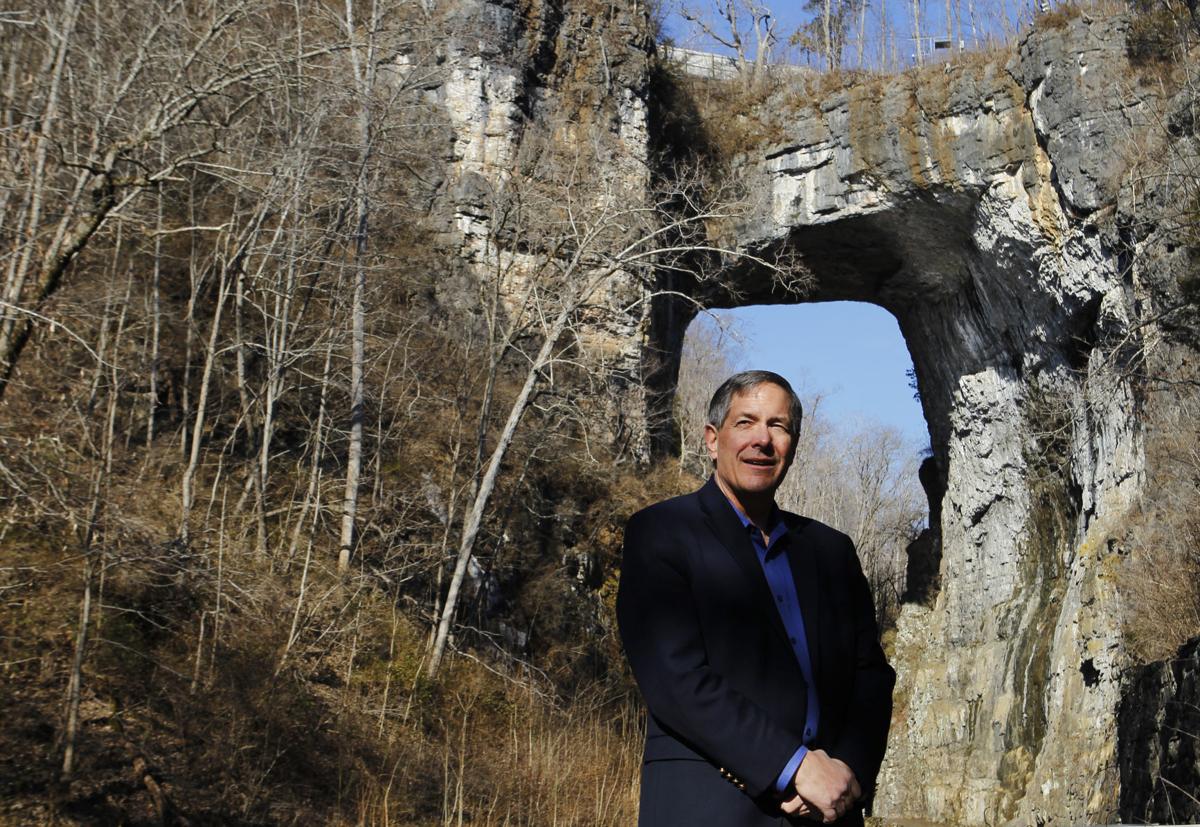 Six years ago, Natural Bridge and its surrounding forestland were saved from being sold to the highest bidder.
Now a state park, the popular Rockbridge County tourist attraction is again facing an uncertain financial future.
The park likely will be unable to make a nearly $580,000 annual payment on a loan from the Virginia Resources Authority that is due Nov. 1, according to a letter from Stephanie Hamlett, the authority's executive director.
Hamlett's letter went to Tom Clarke, president and CEO of the Virginia Conservation Legacy Fund. In 2014, the fund purchased the 215-foot high limestone arch and surrounding property before it could be carved up for sale at a public auction. The fund borrowed $9.1 million from the authority to close the deal, with plans to donate the land for a state park once the loan was paid off.
But the nonprofit organization soon fell behind on the loan and other debts as it struggled to manage the natural attraction, which includes about 1,500 acres and a hotel adjacent to Natural Bridge.
A possible foreclosure was avoided in 2016, when the property became a state park. But the payment on the loan will nearly double this year, and continuing questions have led authority and state officials to consider severing their ties to Clarke.
"I anticipate that you will cooperate with whatever actions are deemed necessary to transfer the Natural Bridge, should a default occur, to a more appropriate owner," Hamlett wrote in her April 29 letter, which the authority provided in response to an open-records request from The Roanoke Times.
Efforts to reach Clarke last week were unsuccessful.
But in a June 23 letter responding to Hamlett, also released in response to a request under the Virginia Freedom of Information Act, Clarke wrote that he is willing to consider a transfer.
"VCLF will cooperate fully and do what we can to make that transition as smooth as possible, always keeping in mind the overarching goal of VCLF and the Commonwealth to preserve the Natural Bridge for the benefit of the public," the letter stated.
A privately owned public park
Natural Bridge State Park is a rarity for Virginia.
While officially a public park, it remains privately owned by Clarke's group, which was formed for the sole purpose of preserving the landmark and county namesake. Normally, land is not sold or donated to the state until it is debt-free.
As part of an agreement reached in 2016, the authority restructured its loan, extending its life by 10 years and reducing the yearly payments. Under the plan, the Department of Conservation and Recreation took over all financial affairs at Natural Bridge, making the annual payments with admission revenues and sales from a visitors center.
Payments were set at about $325,000 for the first three years, giving the park time to establish its financial footing, before they would increase in 2020. During that period, the agreement required Clarke and his nonprofit to build up a reserve fund of $500,000, to be used if needed when the payments went up.
This November, $579,000 is owed the loan. That's more than what the park can afford through its own operations. And, Hamlett wrote in her letter to Clarke, "reserves are nonexistent, notwithstanding efforts by VRA and DCR to request that you participate in building reserves."
The loan currently has a balance of $6.5 million, according to Shawn Crumlish, director of financial services for the authority.
In asking what his plans were, Hamlett reminded Clarke that his group remains legally responsible for the loan.
DCR and the authority are currently in negotiations with a major nonprofit conservation organization, which they hope will become the new owner of the park and then donate it to the state once the debt is retired, according to the department's director, Clyde Cristman.
No deal has been struck yet, leaving the state to consider other options to make this year's payment. Officials declined to elaborate on what those steps might be.
"One way or another, we are going to keep the debt service current with the revenue that's coming through the gate," Cristman said.
In 1774, Thomas Jefferson paid 20 shillings to acquire Natural Bridge from the King of Great Britain.
The rocky arch, which spans a deep gorge that was slowly carved by water more than a million years ago, is "the most sublime of nature's works," Jefferson once said. He later pledged to never let the bridge "be injured, defaced or masked from public view."
Nearly 250 years later, then-Gov. Terry McAuliffe declared that mission accomplished with the creation of Natural Bridge State Park. As he stood beneath the stone passage, McAuliffe told a crowd that gathered for a dedication ceremony: "This would not have happened without Tom Clarke."
To be sure, the property could have been sold in 35 parcels at a public auction in 2014, possibly to multiple owners with plans to build condominiums and other developments that would clash with what was once listed among the world's seven natural wonders.
But the relationship between Clarke and state officials has been tense at times.
In his June 23 letter, Clarke wrote that his nonprofit "has at times disagreed with the decisions of the Virginia State Park personnel." He offered no specifics, and added that "we always supported the decisions, once the decisions were made."
Clarke also rebuffed Hamlett's request for details on his plans to satisfy the bill that will become due in November.
"VCLF is always willing to provide information," he wrote. "At this time, we have no information to offer ... We just don't see how it would help for VCLF to guess the amount of funds which may be available in November."
The two-page letter, which went on at some length about the nonprofit's role in saving Natural Bridge, did not respond in detail to questions raised by Hamlett about the missing $500,000 reserve fund.
Clarke, a health care executive behind other philanthropic ventures, was out of town last week. He sent word Friday through an official with his investment group that "this particular reserve has not been funded." He did not elaborate.
If authority officials were frustrated by the scant details from Clarke, it would not have been the first time.
When the nonprofit's financial problems became public in 2015, board members of the authority — established by the General Assembly to help localities get favorable terms to finance infrastructure projects — bristled at what was the first borrower vetted by the agency to default in 30 years.
There was talk of foreclosing on the property, and questions about failures to supply financial records or to make monthly deposits to accounts, even though sufficient operating revenue was coming in.
"Where are the funds going?" One board member asked as Clarke was grilled during a 2015 meeting.
But with the restructured loan the following year, and the requirement that DCR take over the park's financial affairs, those concerns died down to some degree — until now.
Clarke: "Park still struggles"
After struggling financially under the leadership of Clarke and previous owners, Natural Bridge made a comeback as a state park.
Visits were up 41% in the first year of operation. That was likely due to a reduction in admission prices. But other benefits of being a state park — such as better promotion, marketing, educational and recreation offerings — also played a role, officials have said.
More recently, the COVID-19 pandemic cut into that success from March to May. But more people started to visit over the summer, as outdoor recreation was seen by many as a cure for cabin fever caused by stay-at-home orders.
Social distancing requirements led to the temporary cancellation of a shuttle bus that took visitors about a quarter-mile to the bottom of the gorge, offering an awesome view of the bridge. But that didn't stop people from taking a trail.
"The majority of people seem to enjoy the walk," Cristman said.
In July, for example, revenues were up 44% compared to the same month in 2019. The 2020 monthly increase was 16% when Natural Bridge was included with five other parks in the district, according to DCR figures.
Another positive development came in June, when it was announced that the Natural Bridge Historic Hotel and Conference Center will become a Trademark Collection by Wyndham hotel brand. About $750,000 in renovations are planned under the new ownership.
Clarke's nonprofit bought the hotel in the same transaction as the bridge.
The hotel, just across the road from Natural Bridge, is not part of the state park. But it has long been viewed as a key way to pull visitors from the nearby I-81 to spend time at the natural attraction.
Despite all the improvements, the park "still struggles to be fully self-supporting," Clarke wrote in his letter to Hamlett.
"We should all be mindful of those realities," the letter concluded, "as VRA and DCR continue their work on potential solutions should a payment default occur on November 1, 2020."