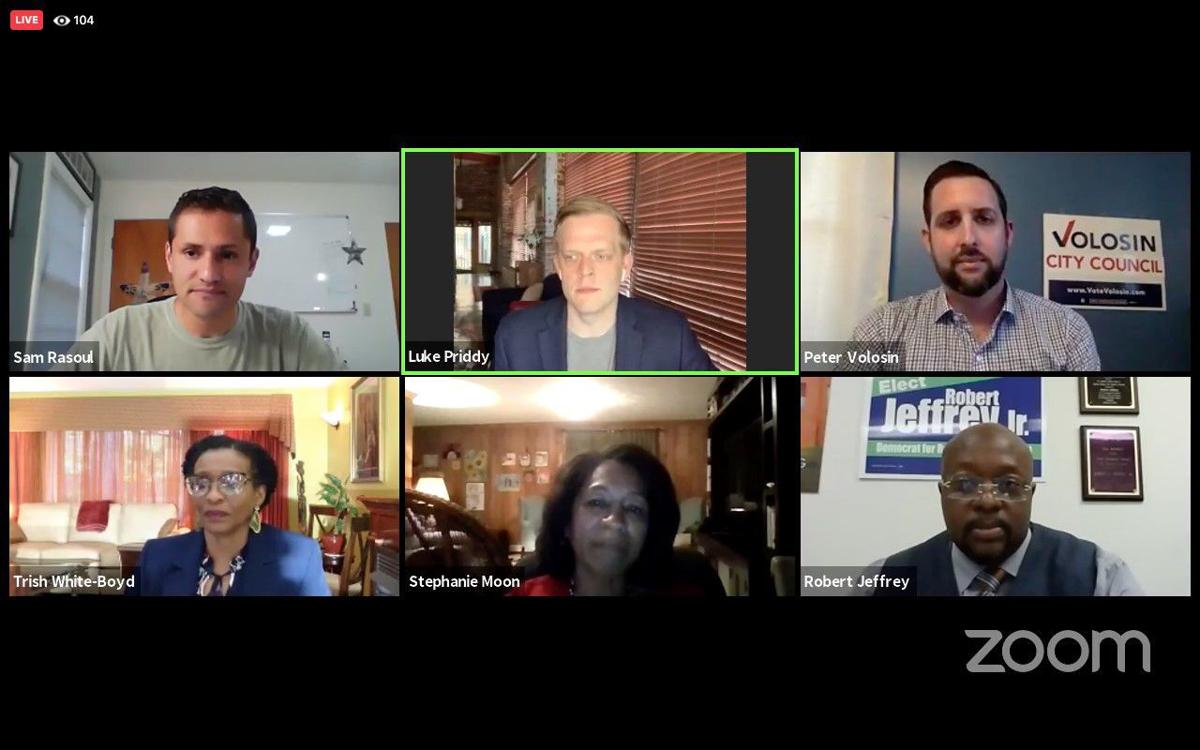 Five Democrats seeking three seats on Roanoke's city council answered questions in a virtual candidate forum Tuesday about the COVID-19 pandemic, the city's school board and the new location for the bus station.
Three city council seats are up for election in November. Incumbents Michelle Davis and Anita Price announced they will not be seeking reelection. Trish White-Boyd, who currently holds one of the seats by appointment, is seeking a Democratic nomination to run for election to a full term.
She's competing with Robert Jeffrey, Stephanie Moon, Luke Priddy and Peter Volosin for one of the three Democratic nominations.
All five candidates addressed their plans to help the city recover from the coronavirus pandemic, which has brought local governments and businesses to a near halt as social distancing requirements have forced many to close or reduce hours.
Jeffrey, a Roanoke magazine publisher, said he wants to focus on helping small businesses, especially minority businesses, get back on their feet and develop relationships with banks during and after the pandemic.
Moon, who recently retired as Roanoke's city clerk, agreed that local businesses will need help applying for assistance already being provided by the state and federal governments.
She said the city would need to make sure the right information is getting to residents and small business owners.
Priddy, who serves as chief of staff for state Sen. John Edwards, D-Roanoke, and White-Boyd agreed that communication will be key in making sure the city and its businesses are maximizing the assistance available. Priddy said it is difficult to make a recovery plan without knowing the outcomes of the pandemic, but it would be prudent to begin taking important steps now to mitigate effects.
Volosin said he wants to make sure the city is operating as efficiently as it can if large cuts have to be made to city budgets. He said the city should have shovel-ready projects that can potentially be funded by other stimulus packages created by the state and federal governments. Volosin recently started a job as a planner for Botetourt County's government, holds a real estate license and has a background as a housing advocate.
Del. Sam Rasoul, D-Roanoke, who moderated the forum Tuesday, asked candidates whether they would support switching from an appointed school board to an elected board. Roanoke is one of the few localities in the state whose city council appoints its school board members.
Volosin said an elected school board would be a good idea, but only after the city develops a system to ensure candidates are not from the same area.
Priddy and Jeffrey said they would be in favor of an elected school board. Both Moon and White-Boyd said they saw advantages for both elected and appointed school boards. They said they would need to either further study the issue or put the issue directly to citizens to decide.
Candidates were asked about whether they supported the new location for the bus station. All of the candidates agreed the bus station needed to be relocated from its current space at Campbell Court in the 100 block of Campbell Avenue Southwest, but disagreed on whether the new location in a current pay parking lot in the 300 block of Salem Avenue Southwest was the most appropriate.
The proposal has been controversial since first emerging into public view in January 2019 after lengthy secret negotiations. A prominent real estate developer and other business owners and some downtown residents oppose the move.
White-Boyd said she agreed with the move and thought the Salem Avenue location was the best option. Priddy said he wasn't sure it was the best location, but it wasn't a bad one. He said the bus station would be moving closer to his home, which he was not against.
Volosin disagreed and said the new location was not the best solution for the city. He said there are more suitable locations, especially ones closer to the new Amtrak station, which would help the city create a central transportation hub for visitors and residents — a better long-term solution, he said.
Moon said she would have to look closer at other options before deciding. Jeffrey said he believed it was a good move, but questioned whether the decision was made because the station needed a larger space or because the city was trying to push the bus station's clientele out of downtown. He said he would disagree with trying to relocate bus riders.
The Roanoke City Democratic Committee will hold a virtual committee-only convention May 2, when 76 committee members will select the Democratic nominees for the Roanoke City Council. The committee recently switched the nomination method from a firehouse primary, open to registered voters who back the party, which it said was no longer safe because of the COVID-19 pandemic.
Because Roanoke historically votes so strongly for Democrats, those who can't vote in the closed convention argued that the nomination contest is essentially the election.
But the committee said it was the safest and simplest choice, even if it was not the most open.
Republican and independent council candidates have yet to emerge for the November election. David Bowers, the former mayor, has said he will run for that job again as an independent. Incumbent Mayor Sherman Lea is unchallenged for the Democratic nomination.
The committee will stream another online candidate forum at 7 p.m. April 28 on the committee's Facebook page.
Get local news delivered to your inbox!
Subscribe to our Daily Headlines newsletter.