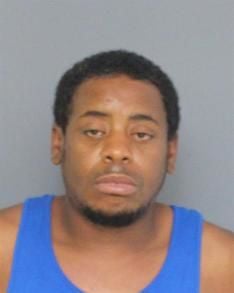 CHRISTIANSBURG — A Fairfax County man accused of pepper-spraying a Christiansburg store owner and stealing his day's receipts — and with running from police and jumping from a motel window in a bid to escape — will remain behind bars to await trial, a judge ruled Wednesday.
Justin Christopher Narcisse, 39, of Burke, faces charges of robbery, assault and battery, illegal use of a gas, and destruction of property after an incident that began late on July 15 and continued into the next morning.
Narcisse appeared via video from the Western Virginia Regional Jail for his bond hearing in Montgomery County General District Court. He is on suicide watch, a jail officer said before the hearing began.
The story of Narcisse's arrest, as drawn from Assistant Commonwealth's Attorney Jennifer Wolz' courtroom summary of the prosecution's case, from search warrants, and from an email from Christiansburg spokeswoman Melissa Demmitt, began when a town police officer pulled over a white U-Haul pickup truck on Christiansburg's Bradley Drive by the Holiday Inn.
It was about 11:15 p.m. on July 15 and the pickup had no tail lights. As the officer got out of his car, a passenger, later identified as Narcisse, jumped out of the pickup and ran behind the Holiday Inn, toward the Huckleberry Trail walking and biking path. He quickly disappeared from the officer's view, leaving behind an empty green, zippered bag on the ground, the accounts said.
The driver, Donna Nelson, 44, of Burke, told police that she and Narcisse had stopped at the Holiday Inn while on a trip to Louisiana, where they planned to pick up Narcisse's child, Wolz said. Nelson said that they had gone to a store to get drinks but it was closing, so they left and she dropped Narcisse at Red Robin because he "wanted to get into some fun," Wolz said.
Nelson told police she drove to a church parking lot and had a "prayer meeting" with her deceased father, Wolz said.
Then Nelson drove back toward the hotel and on the way was flagged down by Narcisse, who jumped in the pickup and told her to drive, according to the account she gave police. When the Christiansburg officer turned on his lights behind them, Narcisse threatened to pepper spray Nelson if she stopped, but she pulled over, Wolz said.
That was when Narcisse ran, according to the prosecution account.
While this was occurring, emergency dispatchers took a call from the owner of the Little Market store in the 800 block of Peppers Ferry Road. He said that a man had pepper-sprayed him and taken a green, zippered bag with the day's receipts — about $5,000, search warrants said. The owner said the robber fled in a white truck.
Town police realized they probably had the truck. With the county sheriff's office, police began setting up a perimeter to find the robbery suspect, Demmitt wrote. A tracking dog from the Blacksburg Police Department tried unsuccessfully to locate Narcisse, according to Demmitt and Wolz.
Then a woman called Christiansburg police and said a man was at her mother's residence in the 100 block of Windsor Drive and wanted a ride to the Super 8 motel, Demmitt wrote. The caller said an Uber had been called for the man.
Police went to the Super 8 and found that at about 3:30 a.m. on July 16, Narcisse had booked a room, according to Wolz and search warrants.
Town police went to the room and made verbal contact with Narcisse, but he would not open the door. An officer watching from outside saw Narcisse cut the screen in the second-floor window and leap out, Wolz said. He was quickly arrested.
Narcisse sustained what seemed to be minor injuries and was treated at the scene by a sheriff's deputy, Demmitt wrote.
Wolz said about $230 was found in a paper bag in the Super 8 room.
At the bond hearing, defense attorney Dennis Nagel of Christiansburg argued that Narcisse's apartment in Burke and his work there doing renovations showed a sufficient tie to the area and that he should be released on bond.
Wolz opposed bond after questioning Narcisse and being told that he had lived in Burke for only six months and in Dallas for a month immediately before that. Narcisse also acknowledged a list of prior convictions in Louisiana that included resisting arrest and fleeing from officers.
Judge Randal Duncan declined to grant a bond, noting that Narcisse could appeal his decision to Circuit Court.
Narcisse's next general district court appearance is scheduled to be a Sept. 15 preliminary hearing.
Nelson, who was charged with being an accessory to robbery, also has a preliminary hearing scheduled then.
Get local news delivered to your inbox!
Subscribe to our Daily Headlines newsletter.