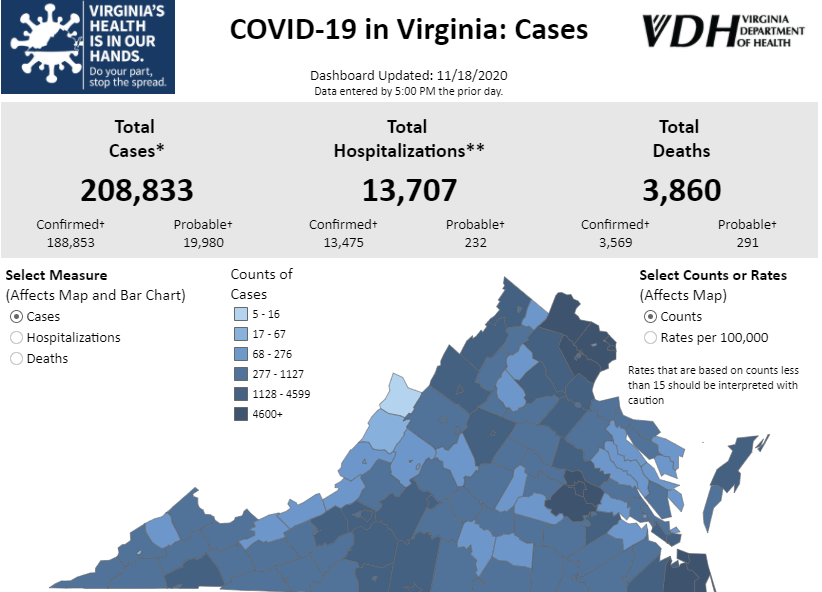 Gov. Ralph Northam said Wednesday that graphic images of makeshift morgues in other states moved him to order new restrictions aimed at slowing the spread of the coronavirus.
"I will tell you what really affected me is seeing mobile morgues outside hospitals because there's no place to put the dead. We don't need that to happen to Virginia," he said.
Northam started by explaining it was the data — increases in cases that now number more than 2,000 a day, the inching upward of the rate of positive — and how he looks every day at trends and hotspots.
But then he became somewhat emotional during his press briefing to say seeing what was happening in other states prompted him Friday to limit public gatherings to no more than 25 people, order bars to stop serving at 10 p.m. and close by midnight, and to have children as young as 5 wear masks.
Just three days prior, he declined to impose any new restrictions despite case counts surging in the farthest corner of Virginia, saying he favored a PR campaign instead.
He hasn't ruled out additional restrictions.
"We have Thanksgiving coming up. We have the flu season coming up. If Virginians would do the right thing — and by the way, this is in your hands, Virginia — you know what to do. If we do the right things, we will keep the numbers down," he said.
Northam's update came on a day that 11.2% of Virginia's hospital patients have COVID-19. That's 3.7 percentage points higher than a month ago.
On Tuesday, the Virginia Hospital and Healthcare Association board of directors and Virginia hospital executives issued a joint statement, saying case counts are rising and straining resources.
"If the trend continues, it will place greater strain on hospital team members including doctors and nurses, therapists and custodians, and food service and support staff who have bravely worked to help patients throughout the COVID-19 ordeal. Surges in infections and hospitalizations increases their risk for exposure to illness. For the good of the Commonwealth and all its communities, our goal is to avoid these scenarios," the statement said.
On Wednesday, the Virginia Department of Health reported 99 new admissions with 1,469 of the 13,091 hospital patients having infections. Of them, 318 were in intensive care units and 126 were on ventilators.
The state's hospitals have the capacity to treat about 16,500 patients and have plans to be able to surge to 20,000 beds.
The problem, though, as Ballad Health is finding in Virginia's far southwest coalfields, is that having beds and having enough healthy doctors, nurses and other staff are two different problems.
Ballad reported Wednesday 250 of its health care workers in quarantine while its inpatient counts have surged upwards the past few weeks, hitting new records daily. COO Eric Deaton said during a news briefing that records were shattered on the number of patients seen, admitted and dying.
"Unfortunately, this a very momentous occasion for the Appalachian Highlands," he said. "Unfortunately, this is pretty bad news for our region," he said.
For months, Ballad Health officials have pleaded with the people they serve to wear masks, practice distancing and have expressed frustration that so many ignore the health measures, thinking they are just fearmongering.
They've brought patients, family members and staffers to their weekly briefings to share the stories behind the numbers.
Jamie Swift said they'll keep on telling them, hoping to get through to folks before it's them or their families being admitted to ICU beds, or worse, being turned away because they are beyond capacity.
Ballad CEO Alan Levine warned in recent social media posts that he anticipates in coming weeks cutting of care to all non-emergency care. The system's modeling shows that its inpatients with the virus will increase from 250 to 350 in a few weeks.
"Some people laugh off masks, and eschew social distancing. Inconvenient? Yes. Are we all fatigued and wish this was over? Yes. Is our collective fatigue and doubt understandable? No question about it — yes! Even as we implore upon everyone to take this seriously, this comes with true empathy for why there is doubt and why people do push back. There is no anger on our part. We just know what we are seeing and it renders us totally helpless if our hospitals get overwhelmed," Levine wrote. "All I can say is that people are suffering. People we care about. Our nurses and health care providers are giving it all they have and it's heartbreaking to see what they are going through. The lasting harm that will result as many of these heroes pull back from the exhaustion and move on to something else is hard to quantify right now. But everyone will pay this price for a time to come."
Most of the people Ballad serves live in Tennessee's Tri-Cities region. Tennessee's governor has not required masks or limited social gatherings the same way Virginia's has.
Virginia Secretary of Health Dr. Daniel Carey said that messaging and getting people to follow it is the No. 1 thing the state can do for Ballad.
Carey said he talks often with Levine and knows Ballad is facing challenges with having enough ICU nurses, respiratory therapists and emergency room nurses.
"In other national emergencies we could borrow from one area and take to another area," he said. "But as you've seen, cases are increasing all across Virginia."
Carey said Virginia and its hospital association are talking about whether they might need to help by transporting patients north on Interstate 81 from far southwest to other hospitals less affected by the virus.
"Logistically, that would be a last resort" he said.
Hospitals in Near Southwest Virginia, which includes the Roanoke and New River valleys, on Wednesday reported numbers similar to last week's report. The weekly report by Carilion Clinic, Centra, LewisGale, Sovah and the Salem VA showed 208 patients with COVID in their hospitals, 36 of them in the ICU and 22 on vents. Another 26 patients are suspected of having the virus and are awaiting test confirmation.
On Tuesday, public health officials reported 32 people who live in Roanoke and 42 who live in the Alleghany Health District were in the hospital.
On Wednesday, Dr. Noelle Bissell, director of the New River Valley said a rise in cases among those aged 25 to 59 is putting a strain on local hospitals.
"Our hospital systems are feeling a pinch, and that's because there's more community spread in our working population," Bissell said. "That's kind of the big news in the New River Valley, that we have an upward trend in our working age adults."
The district reported earlier in the week that 44 people with confirmed cases were in the hospital and another five were thought to have the illness but were awaiting test results.
As a region, Southwest Virginia has seen its percentage of hospital beds used by COVID patients rise to 14.7% as of Tuesday. The region was initially spared an onslaught of infections with just 4% of its patients with the virus on May 1 when hospitals restarted surgeries and other nonessential procedures.
The rate remained at 6.6% through mid-September but nearly doubled by mid-October.
Statewide the percentage of COVID hospital patients was about 7.5% in September and October but jumped to 11.2% by Wednesday.
Staff writer Henri Gendreau contributed to this report.