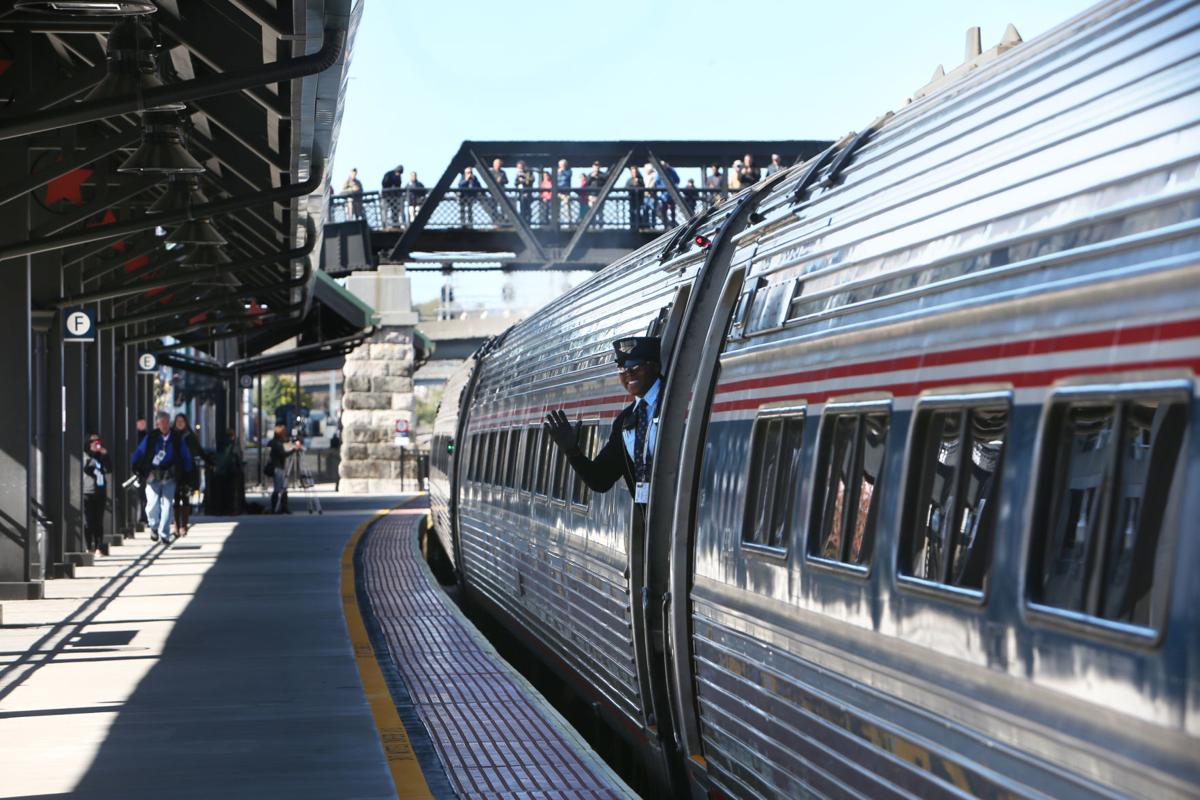 CHRISTIANSBURG — Gov. Ralph Northam will be in town Wednesday afternoon to make an announcement about rail, state officials said.
The event is scheduled for 2 p.m. on the Regal New River Valley & RPX property near the Uptown Christiansburg mall, said VDOT spokesman Jason Bond, who was relaying messages from the Virginia Department of Rail and Public Transportation and the governor's office.
The governor's visit comes as many in the region eagerly await for more development on a plan to expand passenger rail service to the New River Valley.
Buoyed by a local campaign, the effort has gradually gained steam over the years. One of the most recent and significant developments occurred more than a month ago when Northam signed legislation authorizing the creation of the New River Valley Passenger Rail Station Authority, an entity that will allow a number of regional partners to share in the cost of building and maintaining a train station.
Christiansburg Mayor Mike Barber said it's set to include representation from several municipalities—including his—and agencies in the New River Valley.
"There will be shared expenses, some more, some less depending on population and proximities," Barber said, adding that the project can probably be completed within the next three to five years.
Christiansburg has taken steps in recent years to prepare for the expansion of passenger rail. That includes the purchase of a handful of parcels near the town's aquatic center off North Franklin Street, creating the potential site for a passenger rail station.
Local studies have designated Christiansburg as a good spot for a station to the town being more conveniently located for the main passenger groups—research has found that most passengers would come from either Blacksburg or Christiansburg.
Among other goals, backers of the New River Valley rail campaign have touted the project's potential to boost economic development and to provide alternative long-distance transportation for the tens of thousands of students at Virginia Tech and Radford University.
"I feel good that he's coming," Barber said about Northam's visit. "I think the news will be very encouraging and very exciting."
In a related matter, the governor's visit has generated some debate among Christiansburg officials, particularly Councilwoman Johana Hicks, over whether a town council meeting notice should have been posted for the event.
Hicks wrote in an email to town management and the rest of council that the event should be considered a meeting for the elected body due to the expectation that more than two of her colleagues would attend. State law requires certain protocol when more than two members of an elected body are in the same place, based on the situation.
"It is better to be [cautious] and advertise it," Hicks wrote.
However, Christiansburg officials, including Barber, said the town received legal opinion affirming that the event would not constitute a meeting, provided that council members do not assemble in groups more than two at a time.
"The governor's office specifically asked that we do not advertise it if possible, even as a more generic announcement, and I conferred with our attorneys to get the guidance that it would be exempt if the council members do not gather together in a group of more than two," Christiansburg Town Manager Randy Wingfield wrote in an email.