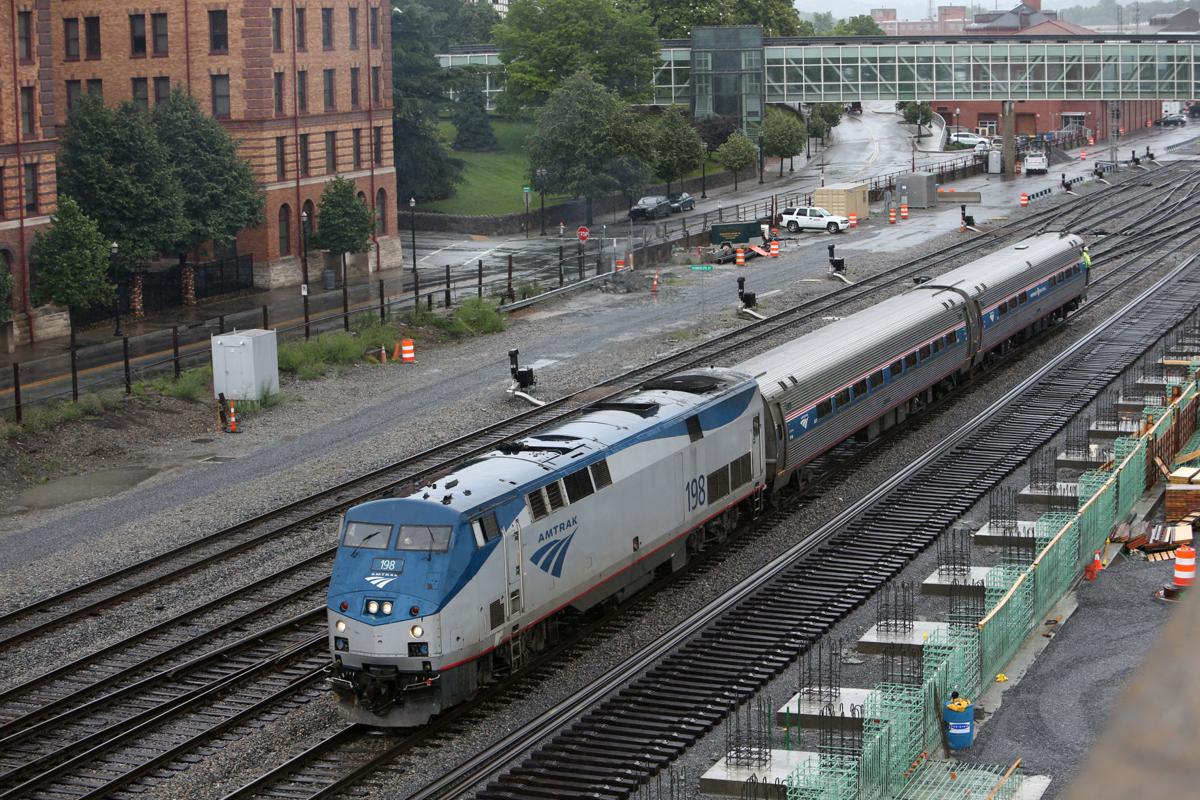 CHRISTIANSBURG — State transportation officials joined a handful of local and area lawmakers Thursday to encourage a push to establish new passenger rail service in Montgomery County.
The transportation officials included Virginia Secretary of Transportation Shannon Valentine, who was the keynote speaker, and Ray Smoot, a Commonwealth Transportation Board member based in Montgomery County.
More than 50 people attended the event in Christiansburg's Great Road on Main Street venue.
They also heard from U.S. Rep. Morgan Griffith, R-Salem, and state delegates Chris Hurst, D-Blacksburg, and Nick Rush, R-Christiansburg, each of whom voiced support for the effort to eventually build an Amtrak station in town.
The event occurred as local government officials and business and academic figures across Montgomery County and the New River Valley await further progress on the plans to extend the passenger rail service that launched in Roanoke two years ago.
Embodied in a campaign called New River Valley Rail 2020, plans call for Christiansburg to house the station due to the town having been deemed as the most convenient meeting point for potential riders.
For a few years now, supporters have said that passenger rail, among other benefits, would help drive further economic development, alleviate some of the long-existing traffic issues on Interstate 81 and provide another transportation alternative for the roughly 40,000 students enrolled at Virginia Tech and Radford University.
"It's going to happen," Christiansburg Mayor Mike Barber told the crowd Thursday. "I have no question it's going to happen. Christiansburg is growing. … It's going to come, and we're going to do a really good job with it."
The town has even started investing in the targeted site.
Along with an adjacent 1.2 acres it already owns, Christiansburg is in the middle of finalizing a contract to buy another roughly 7 acres of land near its aquatic center that it plans to use for the station.
One hurdle to the rail plans, however, has been a state-backed $350,000 study that Norfolk Southern needs to perform to determine what improvements are needed to house passenger rail service on the tracks the company owns in Christiansburg.
State rail and transportation officials interviewed over the past several months have said they are unsure about exactly what's delayed the start of the study.
"These discussions continue to go on at the state level," Smoot said Thursday. "I remain hopeful they will proceed with the study."
In the meantime, Valentine — along with the local lawmakers — urged the New River Valley entities to maintain their current efforts.
"You all have done everything right," she said. "You've been deliberative, collaborative. Your outreach has been spot on."
Valentine also touted local transportation systems such as Blacksburg Transit and the Smart Way bus system between Roanoke and Montgomery County.
Valentine also cited the current plans to improve I-81 and the move a decade ago to establish Amtrak service between Lynchburg and Washington, D.C., as reasons for Montgomery County and the rest of the New River Valley to maintain their campaign.
Valentine pointed to sustained increases in train ridership as one key point.
Valentine recalled how the service from Lynchburg was launched as part of a pilot and had at the time elicited some doubt about its viability.
However, ridership numbers eclipsed the projections, she said, resulting in significant and quick cost recoveries for the state, which had then invested $17.5 million.
"If we can develop a ridership here, that's how we are able to sustain trains," she said. "And we've come a long way in the last decade."
Valentine cited increases in statewide ridership, which went from 125,000 in 2009 to more than 800,000 now.
Ridership between Roanoke and Washington, D.C., is at 183,736, up about 5% from the same period in 2018, according to the latest figures from the Virginia Department of Rail and Public Transportation.