WASHINGTON — Rep. Ben Cline walked out of a meeting about the ballooning cost of higher education frustrated. He had just been defeated — again.
Cline, a Republican from Botetourt County, put forward a pair of proposals to increase transparency and accountability at higher education institutions as well as to deal with the ease with which people are able to obtain tens of thousands of dollars in student loans.
The House Education and Labor Committee, like Congress controlled by the majority party Democrats, swiftly killed his ideas. Rep. Joe Courtney, a Democrat from Connecticut, called Cline's student loan proposal "radical."
"Well, good," Cline said walking down a hallway. "I didn't come here to support more of the same that isn't working."
After nearly a year of being in Congress, Cline, 47, is finding that change doesn't come easily. And as a freshman Republican in the minority party, he doesn't wield much influence.
"It's so partisan up here that the Democrats march lock step and the Republicans march lock step and so nothing gets done, which is an unfortunate way of doing things," Cline said.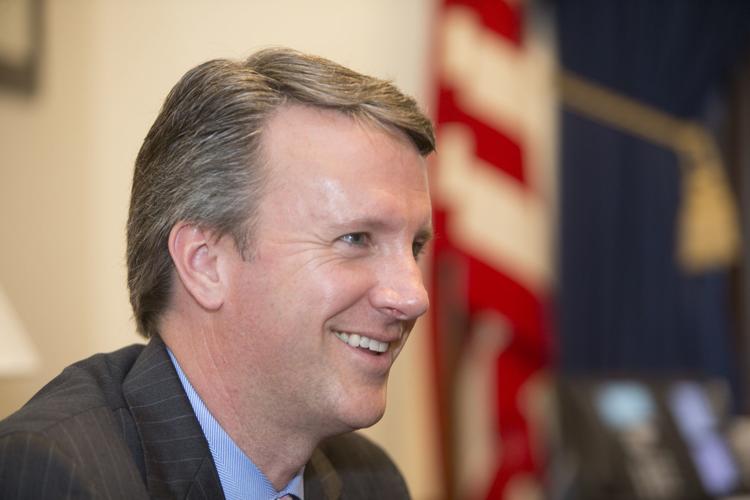 It's hard to get a substantive bill signed into law, and it's even rarer for a freshman to accomplish that. Yet, President Donald Trump has signed into law four bills Cline has worked on.
Cline arrived on Capitol Hill during upheaval. He came from Virginia's House of Delegates, where he enjoyed 16 years in the majority representing his then-hometown of Rockbridge County and other nearby communities.
In January, he was thrown into the minority after the Democrats won control of the House of Representatives. As the year has progressed, so has the intensity around an impeachment inquiry against Trump. As a member of the House Judiciary Committee, Cline likely will have to vote on any articles of impeachment.
After hours of walking back and forth on Capitol Hill between meetings and events, Cline plops down on the couch in his office to relax for a few minutes before he has to go to something else. He still talks about his time in the state legislature in the present tense. That's how much he misses it there.
"Every day, every day," Cline said, sighing, about how often he thinks about Richmond, where he worked across the aisle and passed dozens of bills.
So why did he leave the coziness of Richmond for dysfunction and gridlock in Washington, D.C.?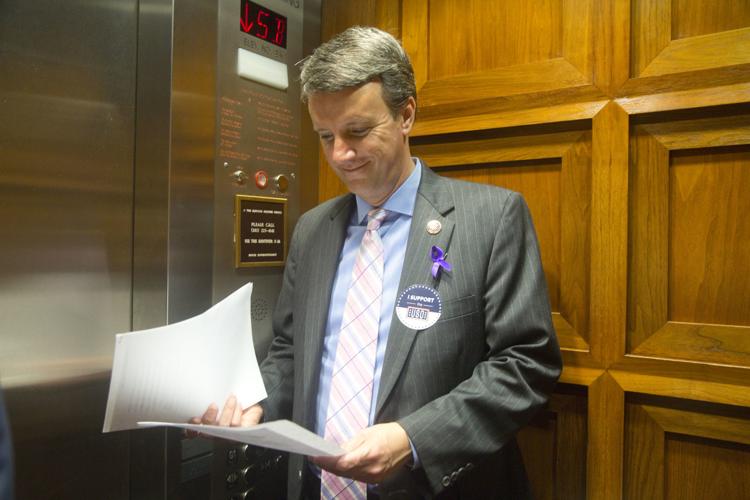 'Political animal'
Cline learned how to present and defend his viewpoints at the dining hall table at Bates College, a liberal arts school in Maine.
"That gave me an appreciation for understanding different points of view and finding consensus where we can, and standing on principle where you must," Cline said.
Cline's father instilled in his children the value of a higher education. Cline moved from Oklahoma to Rockbridge County at the age of 3 because his father, Phil Cline, took a job at Washington and Lee University, where he taught for 35 years.
Cline's interest in politics began early. He competed for president of the student body at Lexington High School, where he ran on getting a jukebox put in the cafeteria.
As Cline prepared to graduate from Bates College in 1994, he volunteered for an alumni weekend. He asked if he could help with the class of 1974: Rep. Bob Goodlatte's class.
Goodlatte, a Republican from Roanoke County, had been serving in the House of Representatives for a year and a half by then. Cline left a note in the dorm room Goodlatte was staying in during his visit, and Cline recalled he wrote something like, "Hi, I'm from Lexington, Virginia, politics major, and I want to work on the hill."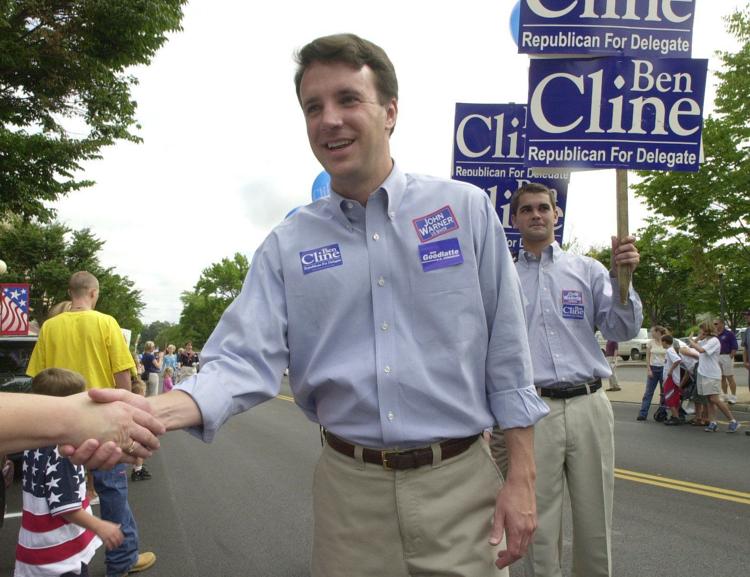 Goodlatte had an opening, so Cline started out as his legislative correspondent and climbed up the chain over the years to eventually become his chief of staff. He watched Goodlatte move from the minority party to the majority and learned about issues like technology, in which Goodlatte carved a niche.
"I'm a political animal, but I always thought I would be behind the scenes," Cline said.
Then Vance Wilkins, the speaker in the House of Delegates, resigned amid a sexual harassment scandal. Cline saw an opening, so he ran for and won the seat.
Cline was one of the most conservative members of the House of Delegates, which included serving as chairman of the conservative caucus. He earned a reputation for standing up for gun rights, opposing abortion rights and fighting against tax increases.
Apart from the hot button issues, Cline worked across the aisle. Being a part-time prosecutor on domestic violence cases informed his views on policy, leading him to get bipartisan support for legislation that protected victims of domestic violence by denying bail for people charged with felony strangulation.
Recognizing the need for an affordable degree, he got legislation passed to create a $16,000 bachelor's degree by working with colleges across the state and pooling resources like online classes. He helped make the government more transparent and advocated for a fiscally responsible government.
Del. Sam Rasoul, D-Roanoke, said he and Cline shared similar views on secrecy and surveillance issues.
A few years ago, when then-Gov. Terry McAuliffe tried to change legislation that would loosen restrictions on police drone use, Cline and Rasoul worked together to pull together enough votes to narrowly override the governor's amendments.
"Ideologically we were very different because he comes from the more ideological part of the Republican caucus," Rasoul said. "But we were able to work together."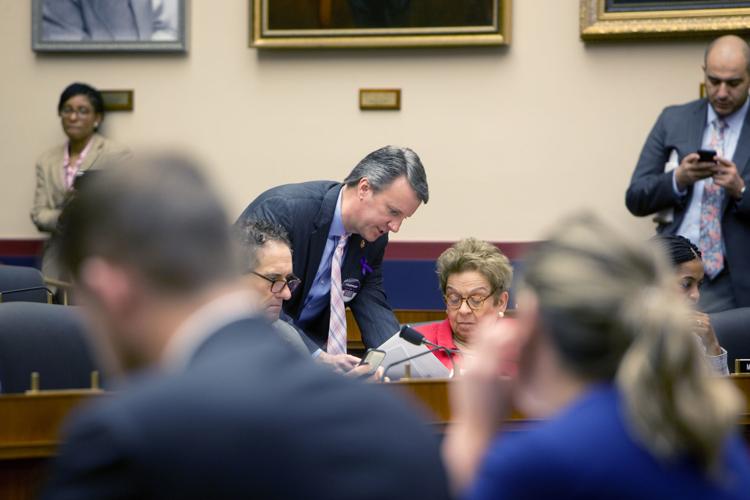 Learning to succeed
At a town hall this fall in Rockbridge County, a man asked Cline, "Would you be happier if you went back to Richmond?"
It's that experience in Richmond that Cline said makes him as effective as can be in Congress, even when taking into consideration he's a freshman in the minority.
"I learned a lot in Richmond about how to get things done," Cline said. "And I've learned a lot in the last nine months about getting things done in Washington, and I think I can be effective for the people of this district up there on the issues that are important to them."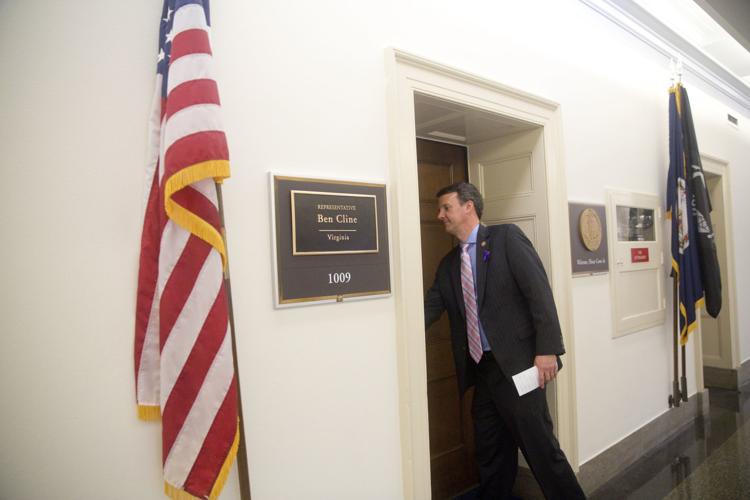 Also this year, Cline got a designation for the National George C. Marshall Museum and Library. Trump signed his Small Business Reorganization Act, which helps small businesses resolve their debts without having to close their businesses. And he was the lead Republican sponsor of a bill signed into law to help certain members of the National Guard and Reserve struggling with debt.
"For us to get not just one bill, but four signed into law, I attribute to the relationships I've built across the aisle and working to make sure that I'm someone they can work with," Cline said.
Still, he's introduced bills that Democrats overwhelmingly don't support. He submitted a bill to have immigration authorities alerted if undocumented immigrants attempt to purchase a firearm. While that bill hasn't gone anywhere, Republicans put the idea into House Democrats' gun control bill.
"In Washington, that letter by your name dictates whether you get things done or not," he said. "And being a Republican in a Democrat-led House presented challenges I had to overcome by working with the Democrats."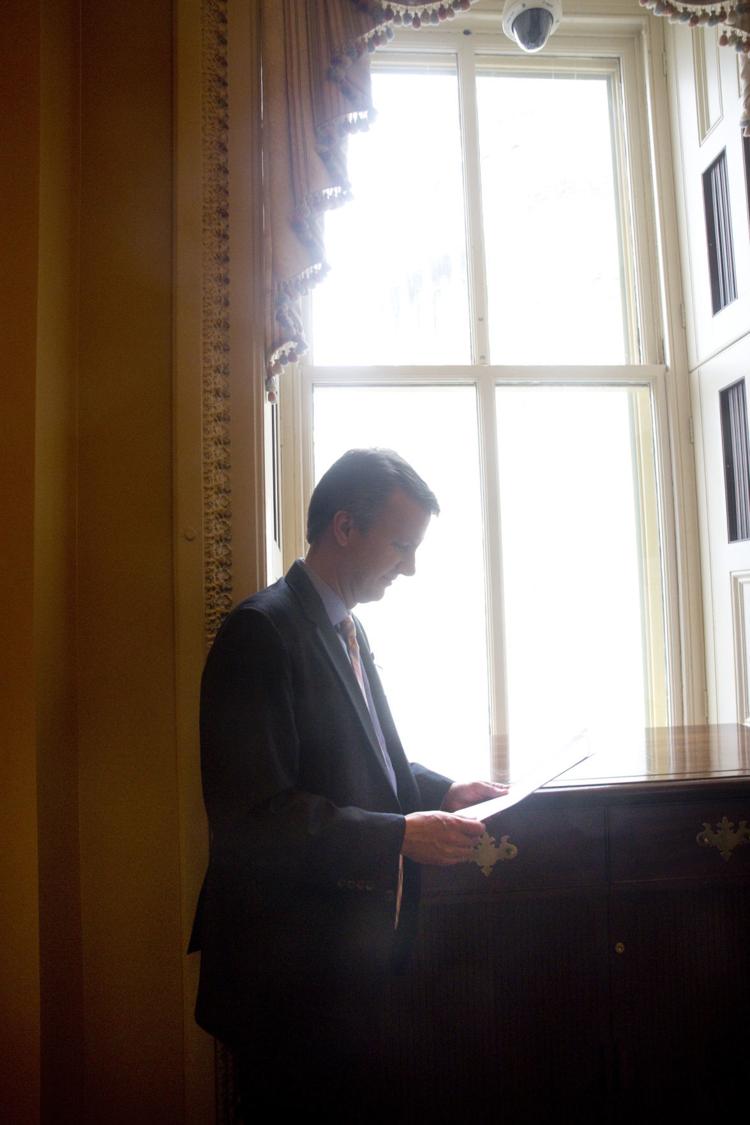 Cline said he'd like to play a stronger role in immigration policy and figuring out how to deal with the United States' massive national debt, but in the meantime, he's set more reasonable policy goals.
He's worked on proposals more likely to get bipartisan support, like providing a sort of small claims court for copyright infringement rather than relying on lawsuits in federal court. He's also been trying to bring down high prescription drug prices.
Rep. Robert "Bobby" Scott, D-Newport News, said many people join Congress without ever having any legislative experience. He said Cline's experience has made him a fairly effective member.
"He comes with legislative experience in the House of Delegates and congressional experience in Bob Goodlatte's office, so he has a good idea of how you get things done and how to get a bill passed," Scott said.
Cline said he likes to get into the weeds of policies. During a meeting of the House Education and Labor Committee, of which Scott serves as chairman, paper towered up on his desk of versions and amendments to a bill related to college affordability.
"He's a conscientious and hard-working member," Scott said.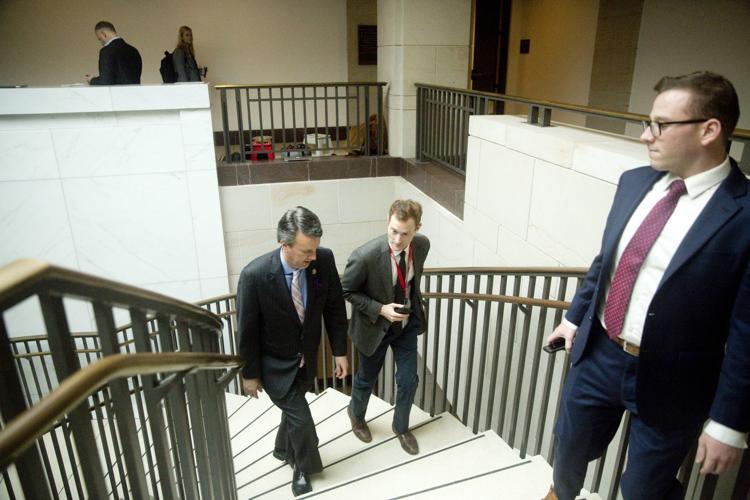 Looming impeachment
After Cline walks down a spiral staircase to attend a briefing on Syria, a reporter latches onto his side and asks him his thoughts about the impeachment inquiry. This is happening more often. Cable news shows reach out to him with interview requests.
With the impeachment inquiry against Trump underway, Cline may come to play an important role. Cline is Virginia's only representative on the House Judiciary Committee, which will have to decide whether to approve articles of impeachment to send to the full House of Representatives.
Cline has been a vocal supporter of Trump and has pushed back against the impeachment proceeding so far.
Cline follows a line of congressmen from Virginia's 6th Congressional District who served influential roles on the Judiciary Committee. Before him, Goodlatte served as chairman. And before Goodlatte, Caldwell Butler sat on Judiciary.
Both Republicans voted for impeachments: Goodlatte to impeach President Bill Clinton in 1998 and Butler to impeach President Richard Nixon in 1974.
It's been Butler's role that has loomed over Cline. Virginians and political observers have been recalling how Butler was a first-term representative when he cast a key vote against Nixon.
The moment was hailed as an example of courage, said U.S. Sen. Tim Kaine, D-Va., the son-in-law of former Gov. Linwood Holton, who was also Butler's law partner.
"That was not partisan," Kaine said of the Nixon proceedings. "I hope we rise to that same level, and people put the oath to the Constitution first."
Cline doesn't need reminding of this. Plus, he worked as Goodlatte's chief of staff when Clinton was impeached.
"I take my responsibilities as a member of the Judiciary Committee very seriously, and like Caldwell Butler and Bob Goodlatte, will pursue the facts and uphold my oath to the Constitution and responsibly represent my constituents," Cline said.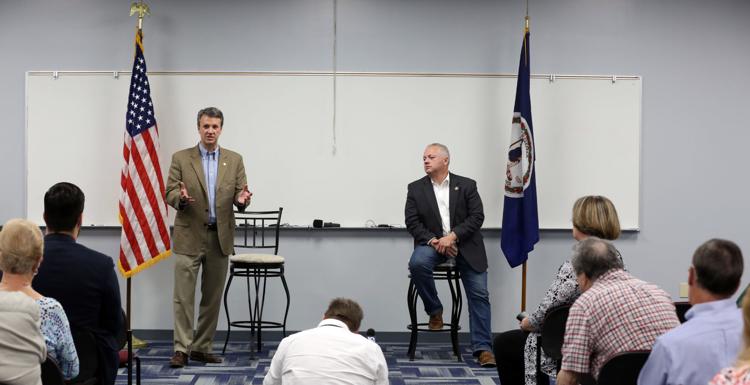 Crossing the aisle
Cline can frequently be found hanging out in the middle of the aisle on the floor of the House of Representatives, which is unusual for representatives to do.
He's been trying to apply the lessons gleaned at the lunch tables at Bates to the halls of Congress.
"Ben has done a good job at reaching out to people and finding settings we can come together and try to get to know members on both sides of the aisle," said Rep. Haley Stevens, a Democrat from Michigan, who counts Cline as a friend.
When he sees a Democrat sitting alone, he approaches and strikes up conversation. He's been organizing lunches with members of the committees he serves on: Education and Labor as well as Judiciary, along with some of the subcommittees of those panels.
"Empathy is such an overused word these days, but you need to understand where the other person is coming from in their position and recognize that they come at it from a position of morality as well," Cline said. "Their morals might be different than yours, but the more you can understand where the other person comes from, the more you can find common ground."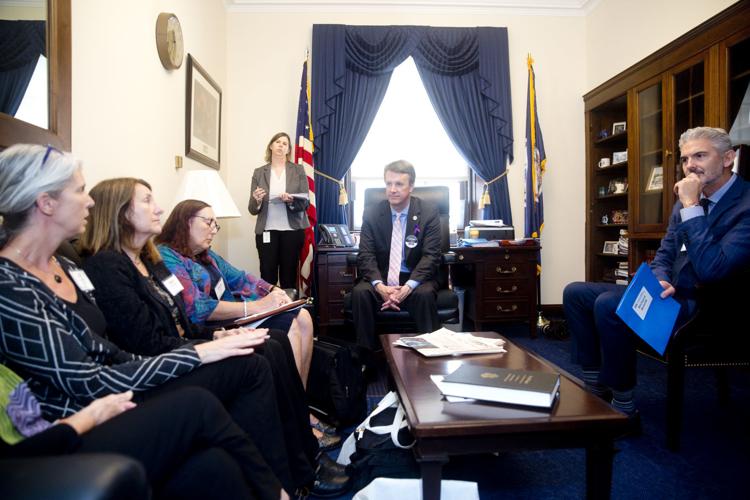 Cline said the lunches are especially useful in balancing his role on the Judiciary Committee, which handles a range of hot-button issues, like guns and immigration. The passionate debates can risk someone coming off as too partisan to work with, he said.
"How I'd explain him in my short time of knowing him is you can disagree with him without him being disagreeable," said Rep. Kelly Armstrong, a Republican from North Dakota who sits next to Cline in the Judiciary meeting room. "One thing Ben's really good at is fighting with somebody at noon about something and working with them on something else at 12:30."
Cline has tried not to let the way the president talks poison his efforts. Trump's style of partisan combat has included name-calling and racist tweets.
"I think that everybody's got their own way of expressing their points in public, and I've been taught that you can catch more flies with honey than vinegar, and that's just part of the way I was raised," Cline said. "Around here, I try and get things done by using a tone that reaches across the aisle and respects whoever you're in a conversation with."
Cline may be experienced, and he may be getting bills passed, but he acknowledges he's still learning how to be a congressman during these divisive political times.
At a town hall, he kept referring to Democrats as the "other side" and broadly describing them as adversaries with "extreme" views. A few women in the audience shook their head in disapproval every time he did it.
When a woman stood up to ask a question, she first noted his choice of words when describing Democrats. Even though she's a Democrat, she's his constituent, too, she said.
Cline said he would keep that in mind.
"I need to be careful about the rhetoric that I use because I'm trying to build bridges," Cline said. "I don't want to keep them from being built with the language I use."
Get local news delivered to your inbox!
Subscribe to our Daily Headlines newsletter.