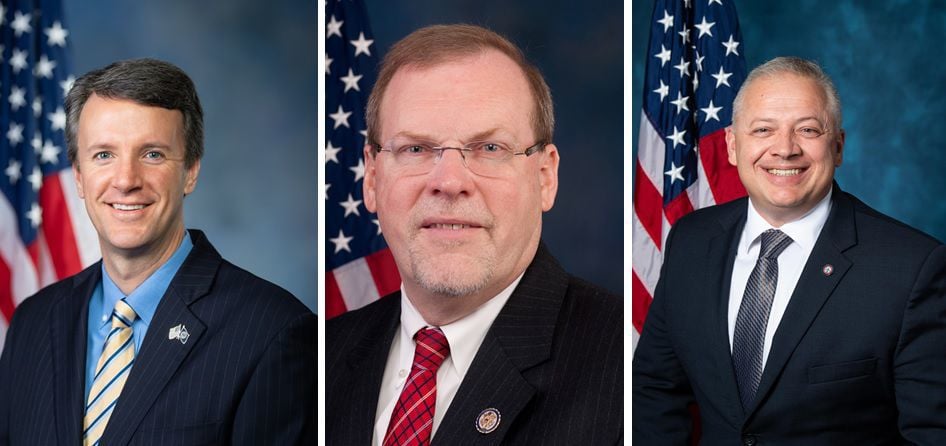 It's been more than six weeks since Joe Biden won the presidential election, and only one Republican congressman from Virginia has recognized Biden as the country's incoming 46th president.
After the Electoral College officially affirmed Biden's victory on Monday, three of the Republican congressmen — Reps. Ben Cline, Morgan Griffith and Rob Wittman — say the process to determine the next president is still ongoing or have remained silent. Rep. Denver Riggleman, R-Nelson, who lost a challenge to run for reelection, has been saying for weeks that the election is over, Biden is the next president, and that attempts to overturn the results or cast doubt on the election process are dangerous.
"I'm just like so many Americans waiting to see," Griffith, R-Salem, said Thursday.
Griffith said he's still waiting for lawsuits to work themselves out, but added that it was good that Biden was getting prepared to take office. Griffith represents the 9th Congressional District, where Trump earned 70% of the vote.
Cline, R-Botetourt, and Wittman, R-Westmoreland, did not respond to requests for comment. They did not provide responses to a list of questions, including if they recognize Biden as the next president and, if they don't, when they will.
President Donald Trump has not conceded and has urged his supporters to continue to fight on. He's falsely claimed he won reelection and has spread disinformation and made baseless allegations about widespread voter fraud.
The Trump campaign and his allies have been repeatedly been rebuffed in lawsuits in state and federal courts challenging the election results.
Earlier this month, 126 House Republicans — including Cline, Griffith and Wittman — signed onto a brief supporting Texas' lawsuit asking the U.S. Supreme Court to overturn the results of the election. The extraordinary lawsuit targeted four battleground states that Biden won — Michigan, Georgia, Pennsylvania and Arizona — and sought to have their votes thrown out. The court rejected the bid.
The lawsuit didn't make fraud allegations, rather it said changes to voting procedures removed protections against fraud and were unlawful when officials or courts in those states made the reforms without the approval of the states' legislatures.
Griffith said he found that argument to be a compelling one, so that's why he backed the lawsuit. His name was inadvertently left off the lawsuit, but it was eventually added.
Cline did not answer a question emailed to him asking him to explain why he signed onto the lawsuit. In the 6th Congressional District that Cline represents, Trump won 59% of the vote.
In an email newsletter to constituents, Wittman said the lawsuit was aimed at having the Supreme Court uphold the authority of state legislatures and determine the validity of ballots. He represents the 1st Congressional District, where 51% of voters chose Trump.
"President Trump has also voiced his support for this lawsuit, and many Americans are encouraged that this case will bring additional clarity and accountability to our democratic processes," Wittman wrote. "To restore the confidence of all Americans that the rule of law will be upheld — and our elections will be secure — we believe the Supreme Court must review and adjudicate these important issues.
Riggleman said while some members of Congress truly believe what they're saying, he said it's mostly "messaging to the constituents."
"The 126 members who signed onto that Texas lawsuit, there will be no repercussions, and they'll actually probably gain votes," Riggleman said in a Wednesday interview. "It's frustrating, it makes me mad. It's like they built a self-licking ice cream cone where they feed disinformation to the people, and then they say they have their support, but they're the ones who planted the disinformation. It's the pinnacle of political self-licking ice cream cones."
Riggleman will be succeeded in January by Bob Good, a religious conservative from Campbell County who ousted Riggleman during a drive-thru convention over the summer after Riggleman caused an uproar among conservatives for officiating a same-sex wedding.
Good has not acknowledged Biden as the next president and has repeated many of the refrains that Trump has said. At a recent rally, he falsely said the Democrats "set out to steal the election" and kept a "trove" of "mysterious ballots." He said he was "ashamed" that Virginia's Democratic-controlled General Assembly removed the requirement for "people to vote without IDs" because he said Democrats did that so they could cheat. Virginia still requires people to show some form of identification to vote, but the legislature this year did repeal the requirement the identification include a photo.
Good has said he plans to join a small group of House Republicans who are planning a long-shot challenge to overturn the election results next month. Republican Rep. Mo Brooks of Alabama has said he will object when Congress convenes Jan. 6 to count certificates of electoral votes. It's usually a mostly ceremonial process confirming the results of the presidential election, but Republicans could turn it onto a messy and divisive matter.
Good said he would "fight with Mo Brooks of Alabama." Good will represent the 5th Congressional District, where 51% of voters chose Trump.
"I will fight with the others in Congress who are going to challenge this," Good said.
Once an objection is heard from a member of each house of Congress, senators and representatives will debate in their respective chambers and then vote on whether to disqualify a state's results. Both the House and Senate would have to agree to toss out a state's electoral votes.
Cline and Wittman did not answer an emailed question if they would object or be a part of this effort. Griffith said he will not personally object but would wait to see what information was brought forward for him to consider whether to support.
"We'll have to cross that bridge when we get to it," Griffith said.
Griffith said that, at least for him, he considers Jan. 6 to be the end.