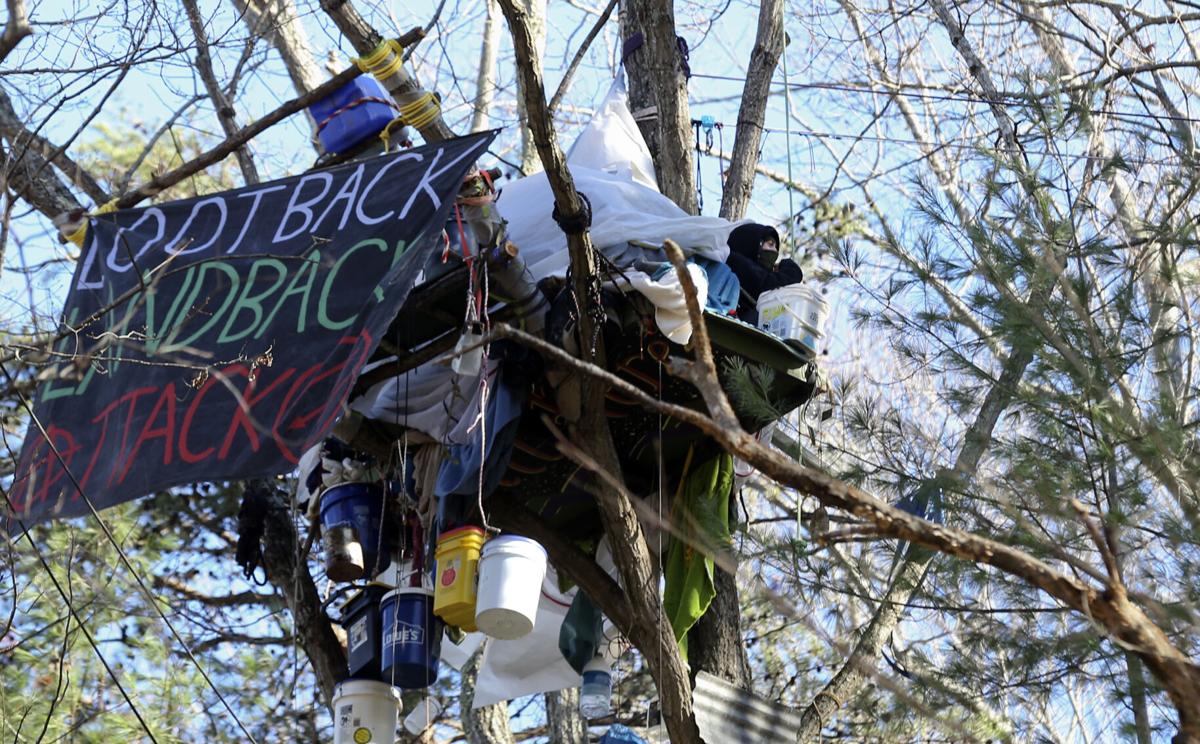 On a Saturday in November, a single-engine airplane followed the 303-mile route of the Mountain Valley Pipeline as it wound through the mountains of Virginia and West Virginia.
Aerial photographs taken from the plane, commissioned by a citizen's watch group, showed long strips of bare earth along a 125-foot-wide right of way for the pipeline, and streams running brown with sediment.
A report and photographs from Mountain Valley Watch, which was formed to monitor pipeline construction when it began nearly three years ago, was submitted Wednesday to the State Water Control Board.
"Let's get some grass growing on dirt that has been sitting there for 18 months," Kirk Bowers, a professional engineer who is one of the founders of Mountain Valley Watch, said during a public comment period of the board's meeting.
Bowers and about 15 other speakers were critical of what they called two failures: Mountain Valley's attempts to control muddy runoff from its linear construction zone along steep mountain slopes, and the efforts of state regulators to protect the natural resources in the pipeline's path.
"The harm done to the waters of Southwest Virginia could have been halted by you three years ago," longtime pipeline opponent Mara Robbins told the board.
Although the board — which approved a water quality certification for the pipeline in 2017 — took no action Wednesday, it heard an update from Melanie Davenport, director of the Virginia Department of Environmental Quality's division of water permitting.
For the third time since construction began in February 2018, DEQ is seeking fines from Mountain Valley for violations of erosion and sediment control regulations, the board was told.
The most sweeping case was made in a lawsuit that alleged more than the 300 cases of noncompliance. In 2019, Mountain Valley paid $2.15 million to settle that case as part of a consent decree that called for tougher enforcement and higher penalties for any future violations.
After inspections found 29 infractions the following year, DEQ sought another $86,000. Mountain Valley contested some of the findings and wound up paying $58,000 after negotiating with the agency.
A third allegation of noncompliance was made over the summer, when sediment made its way into an unnamed stream, Davenport said. In a letter sent this week to Mountain Valley, DEQ asked for a $6,500 payment.
Mountain Valley could not be reached following the daylong meeting, which ended at 6:45 p.m.
But in the past, the company has said most of the problems were caused by record rainfalls in 2018. With construction delayed multiple times by legal challenges from environmental groups, Mountain Valley contends that the best way to limit harm is to complete the nearly finished pipeline.
On Oct. 9, the Federal Energy Regulatory Commission lifted a stop-work order that it had issued a year earlier, amid multiple attacks of federal permits issued to Mountain Valley.
Since work has resumed, DEQ has done about 40 field inspections. Davenport said one of the most common concerns was ineffective maintenance of erosion controls such as silt fences and water bars, earth barriers built along the right of way to curb runoff.
Most of those problems were quickly corrected, and there were no significant findings of noncompliance, she said.
Meanwhile, a tree-sit protest that has blocked pipeline construction for more than two years continued this week, despite a judge's Nov. 19 order that found the protesters in contempt of court.
In addition to fining the tree-sitters $500 for every day they remain in tree stands off Yellow Finch Lane, Montgomery County Circuit Judge Robert Turk ordered that sheriff's deputies "take such measures as are necessary to remove them."
A contingent of law enforcement and Mountain Valley officials visited the site Tuesday and Wednesday mornings, leaving after taking photographs and peering up into the trees with binoculars.
"It's hard to tell what they're thinking," one of the unidentified tree-sitters, known only as Acre, said from his perch in a chestnut oak. "I think they're still a little baffled."
Acre said Tuesday that he and another aerial protester have no intentions of leaving their posts. "I'm hoping we're here 'til spring," he said.