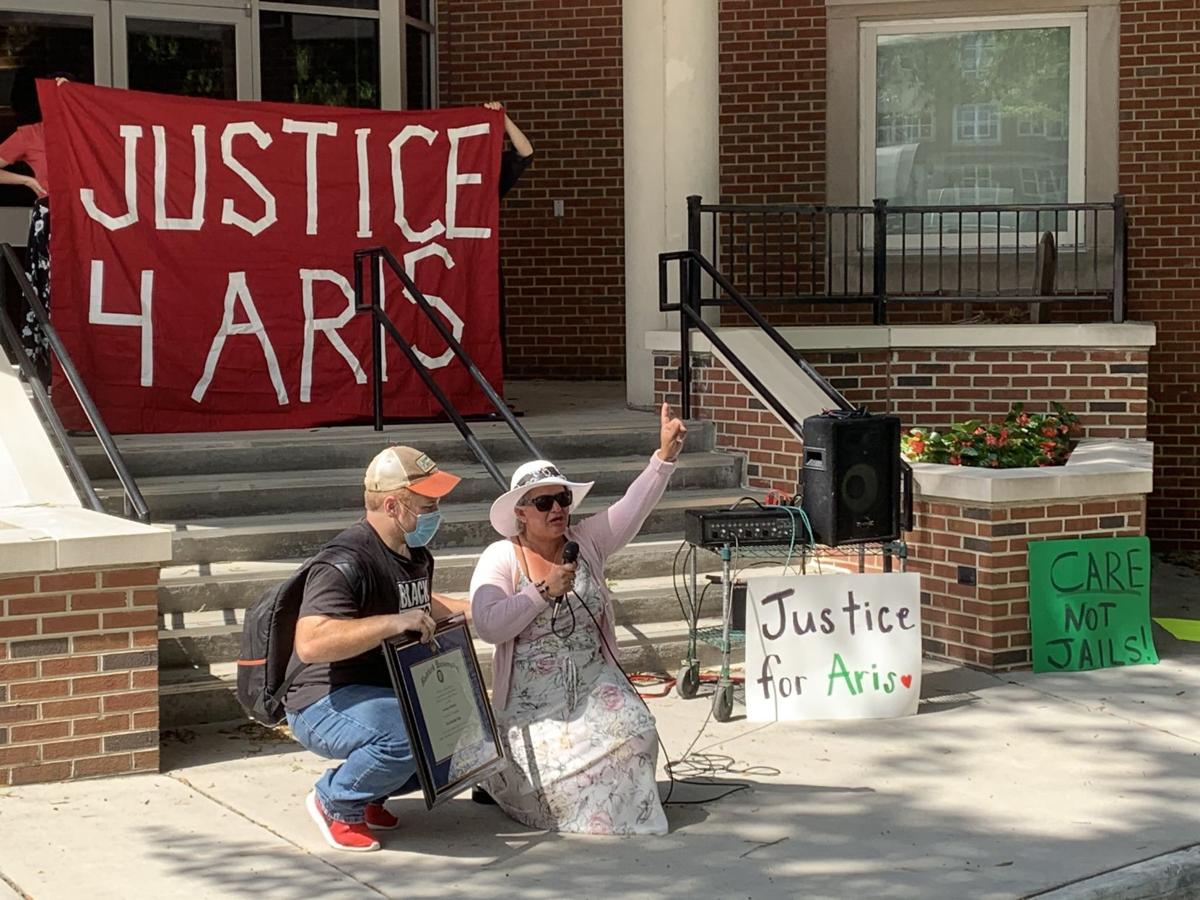 RADFORD — Dixiana Perez spoke passionately about the untimely death of her son at a protest held in his honor at Radford University Saturday afternoon.
Perez, of Culpeper, attended a rally put on by New River Workers Power — a group usually involved in employee rights — calling for an independent investigation into the death of Radford University freshman Aris Lobo-Perez, who was arrested by campus police in the Muse Hall dormitory just before midnight on Sept. 11, 2019, for public intoxication. The group also requested that the university adopt a "care not incarcerate" policy so that no other students would die in police custody.
The group also asked for any video footage of the incident, but university officials said the footage has already been released through the family's attorney.
Lobo-Perez was taken to the New River Valley Regional Jail where he died the next morning shortly after jail personnel offered him breakfast. He was discovered unresponsive, and attempts to resuscitate him were unsuccessful, authorities said.
The regional jail referred the case to the state so an outside investigation could take place. No wrongdoing was found to have occurred, and it was determined that Lobo-Perez died from a combination of an opioid overdose and asthma, according to a state medical examiner's office review.
But Saturday's rally focused more on how the arrest was handled by campus police, and the law enforcement procedures that led him being taken to jail as opposed to receiving medical treatment first. Additionally, Perez spoke about how the university reacted in the aftermath of Lobo-Perez's death.
Perez said her son had problems with asthma that required him to take medication and to always have his inhaler on him. She said all of her son's medical information — including a brain injury he had suffered from a car wreck in high school, which led to him needing painkillers temporarily — was disclosed to the university on the medical forms Lobo-Perez was required to submit before arriving on campus.
However, jail Superintendent Greg Winston told The Roanoke Times in March via email that Lobo-Perez, "was not in possession of an inhaler upon his admission to the jail."
Perez said she doesn't understand why campus police did not look at his medical records before taking him into custody.
"They had all of his information on file. All they had to do was check and they would've seen what he needed," she told The Roanoke Times Saturday.
At the time, university officials said the RUPD officer Emily Stike followed protocol, and no further investigation into his death or the handling of his arrest would be conducted.
University Chief of Staff and Vice President for Strategic Operations Ashley Schumaker confirmed on Friday that the university's position remained the same.
Schumaker released the police report Friday at the request of The Roanoke Times after the university previously refused to do so, "due to an on-going investigation by the Virginia State Police, which is an allowable exemption under FOIA. The investigation has since concluded. And, as a result, the report is being provided," she wrote in an email.
When asked about the university's response to Lobo-Perez's death, Schumaker sent the same answer previously sent by the university when asked the same question in December.
"Radford University expresses its deepest sympathy to the family and loved ones of Aris Lobo Perez. The Lobo Perez family has been and will continue to be in the thoughts and prayers of members of the Radford family," Schumaker wrote in an email.
Schumaker concluded the response by stating, "the University does not have any additional comment regarding this matter."
Perez said President Brian Hemphill never spoke with her personally, and she was only given two bags of clothes and an honorary diploma when she came to Radford the day after her son's death.
"They don't care what happened to my son or my family. I hope nobody ever has to go through what we've gone through," she said. "I didn't want that diploma. It's a slap in the face."
Schumaker said the university was made aware of Saturday's event via social media. No university employees, including Hemphill, were at the rally held in front of Martin Hall, which houses the president's office. Schumaker did not provide an explanation when asked why no employees attended the rally.
Perez told the crowd how excited her son was to attend Radford, and was even more proud that he was able to attend college following his accident.
"We were so happy when he came here. But my daughter and I cried when we saw the Radford sign yesterday," she said. "His dream was taken from him two weeks after getting here. ... I feel like I failed as a mother letting him come to Radford."