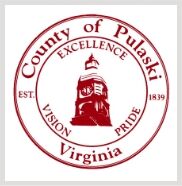 Pulaski County has launched an initiative to help local business owners as well as burgeoning entrepreneurs—coinciding with the county's acquisition of the NRV Business Center, a mixed-use business incubator in Fairlawn.
Pulaski recently acquired the facility from the New River Valley Development Corporation and will now run the Small Business Solution Services in the building. The facility was gifted to the county, but it will be responsible for the remaining debt – less than $2 million – on the building, according to County Administrator Jonathan Sweet.
The center will soon be officially renamed the Pulaski County Innovation Center, and the county will be hiring a small business solutions manager to oversee the operation, a county news release states.
The new position will be responsible for managing the overall operations of the center and working directly with its tenants on both their business and office needs, according to the release.
Sweet said the manager will also be out in the community to help businesses not located at the center.
The county's economic development authority will fund the new position and pay down the remaining debt on the building using rental income revenues generated from the newly acquired center, according to the release.
This new program is part of the county's comprehensive plan and is aimed at helping the county reach its "40-by-30 goal" of having 40,000 residents in the county by 2030.
"It is vitalizing to see the Board of Supervisors and the EDA concentrate additional resources on assisting our small business community navigate and respond to today's unique challenges as well as seize upon equally unique opportunities," Sweet said in the release.
Small business development has been a priority of the EDA ever since it transitioned from the Industrial Development Authority in April 2018, and broadened its focus to include small business and entrepreneurial support services, tourism and marketing, workforce development, community engagement, retail and commercial development, economic diversification and residential development, according to John Wyatt, the organization's chair.
Sweet said the center is already home to approximately two dozen businesses, and the small business program will start once the aforementioned position is filled, which he hopes is done by mid-March.