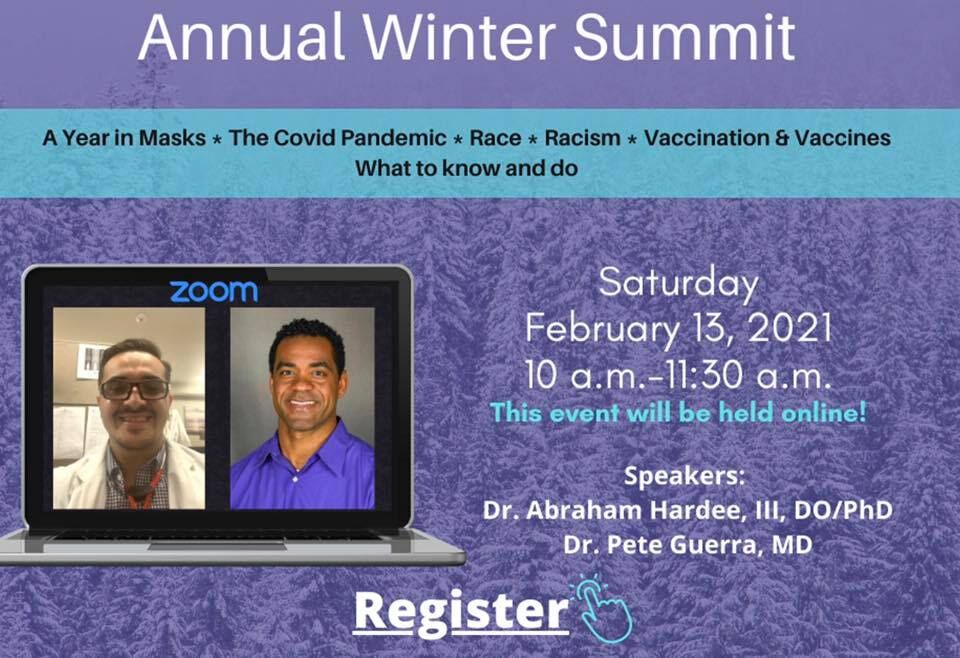 Two New River Valley doctors spoke about race and racism in health care and shared information about COVID-19 vaccinations during a Saturday morning Zoom panel held by Dialogue on Race.
Drs. Abraham Hardee III and Pete Guerra focused their presentation on four objectives: racial disparities, biases, social determinants of health and COVID-19.
Dialogue on Race is a Montgomery County group dedicated to discussing race relations in the New River Valley and beyond. Over 270 people attended Saturday's summit, which continued despite the icy weather since it was already virtual due to the pandemic.
Guerra, a doctor at the Community Health Center of the New River Valley, explained that understanding diversity and inclusion is critical to improve society and health outcomes. Inclusion is about growth, not political correctness, he said, quoting civil rights leader Jesse Jackson.
Hardee said there's diversity within race and cultures.
"We want to transition that word 'race' itself to maybe instead of saying race, what's their culture? That's got so much more significance of identifying someone opposed to just saying their race," said Hardee, who practices at the Community Health Center, MedExpress Urgent Care and is associate chair for primary care for rural and medically underserved populations at the Edward Via College of Osteopathic Medicine.
A 1997 study found that babies born to white, U.S. mothers and Black, African mothers had similar birth weights, while babies born to Black, U.S. mothers had lower birth weights, Guerra said, which "tells us that there's probably some broader aspects to culture that we need to consider when we're caring for patients and thinking about community health."
Class is also important to evaluate, Hardee said.
"Race disparities should not be analyzed without simultaneously considering the contributions of class disparities," he said. "I.e. where did you grow up? Did you have formal schooling? Did your parents have formal school? What makes that up? What were the resources that were available to not only your parents, but to you growing up?"
Health care professionals hold biases just like the general population, which can negatively affect patients, Hardee said.
"Providers with higher levels of bias are more likely to demonstrate unequal treatment recommendations to those that are underserved populations," he said.
It's important that medical providers check their biases to make health care as accessible and accurate as possible, he said. That includes hiring a diverse staff so patients see themselves reflected in their health care providers, offering extended office hours for patients who work night shifts and making sure available pamphlets and magazines reflect the patients being served.
Social determinants of health are also key factors, Hardee said. That includes housing instability, food insecurity, a safe, accessible environment, mental health, substance use and more.
The doctors also briefly discussed the COVID-19 vaccine, encouraging attendees to volunteer through the Virginia Medical Reserve Corps and support local health departments.
Hardee also explained that it was important to follow distribution phases and allow those who have the highest need to get vaccinated first.