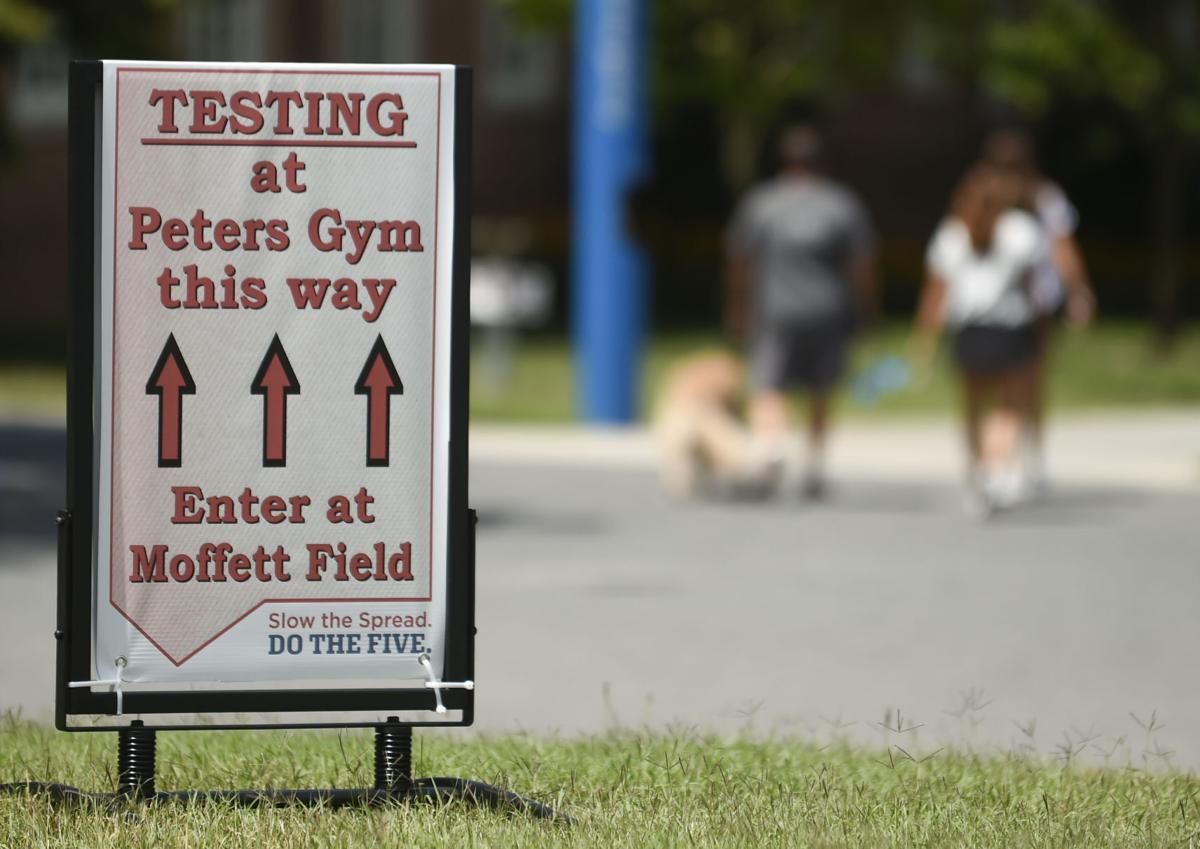 RADFORD — The city's ban on gatherings of more than 50 will continue until at least Nov. 2.
The city council unanimously voted in favor of extending the emergency ordinance at its regular meeting Monday night.
The ordinance went into effect Aug. 6, shortly after Radford University students begin returning to the city for the fall semester. Since that time, the city has seen its COVID-19 cases rise from just under 30 at the beginning of August to 669 as of Monday, according to the Virginia Department of Health.
During the month of August into the beginning of September, cases were rising at a rapid rate, going from 166 to 467 in a week's time between Aug. 24 to Sept. 1. Hospitalizations, however, have only gone from three to five cases, two of which happened over the weekend. There are still no reported COVID-19 deaths in Radford.
After the recent spike in cases, New River Valley Health District Director Dr. Noelle Bissell told The Roanoke Times that cases would start to not increase at such a rapid rate and that approximately 99% of all positives in the city could be attributed to Radford University students, but those positive tests were not getting out into the greater community.
Over the past two weeks, the city has reported roughly 220 cases, a much lower rate than when Radford made it to No. 7 on The New York Times' list of biggest COVID-19 hot spots in the country. Radford had dropped to 48 on that list as of Monday evening.
And though Radford is improving with the number of cases it is reporting per day, the council agreed it was too early to lift the ordinance quite yet.
Mayor David Horton said that with many fall festivals that are usually scheduled coming up and Halloween just around the corner, the city didn't want to give the impression that large gatherings were something that should start again.
"I get questions from a lot of people asking if it's safe to hold different events around the city and the answer is, 'It's not,'" he told The Roanoke Times before Monday's meeting.
Horton said that he's received feedback from residents on both sides of the issue, and he understands their concerns.
"I have people that say we aren't doing enough and stricter measures should be in place, and I have people telling me we are going too far and infringing on their rights," he said. "Ultimately we have to do what's right for the city, and we think we are doing that."
Councilwoman Jessie Foster echoed a similar sentiment at the virtual meeting Monday night.
"I love going to gatherings and having fun with friends ... I am done with COVID, but I don't think it is done with us yet," she said. "This ordinance won't be in place any longer than is necessary."
Councilman Forrest Hite again said, as he did last month, that the city should discuss the ordinance at each meeting instead of approving a longer term extension. He told The Roanoke Times before the meeting that he would agree to the Nov. 2 date, because it was a good compromise and he felt the ordinance was still necessary.
Hite also said that he has been in regular contact with the city's police department, and has been told by Police Chief Jeff Dodson that the ordinance is deterring large gatherings.
Radford University's most recent data showed a 12.26% positivity rate out of 2,911 tests. The school's COVID-19 dashboard is updated each Tuesday and has shown the student health center has given fewer tests since the end of August, going from 89 on Aug. 31 to just three on Sept. 6.
University spokeswoman Caitlyn Scaggs wrote in an email that the reported numbers at the health center "are reflective of those who are seeking testing due to being symptomatic or a close contact."
"It is encouraging to see these numbers declining as it is indicative that our students are following public health guidelines, making wise decisions and contributing to a healthy campus and the broader community," she wrote.
Students are being tested at the student health center. Additionally, the university is offering surveillance testing for students, faculty and staff on select dates, Scaggs wrote.
Radford's limitations on gatherings don't apply to religious ceremonies, weddings, funerals, day cares, sporting events or large-scale employers.
People who host a gathering of more than 50 people could face a civil fine of $300, and $150 for attendees, if they ignore officers' warnings. No citations have been given thus far, according to Horton.
Blacksburg instituted a similar ban in August that was set to last for 90 days at the time the emergency ordinance passed.
Concerned about COVID-19?
Sign up now to get the most recent coronavirus headlines and other important local and national news sent to your email inbox daily.