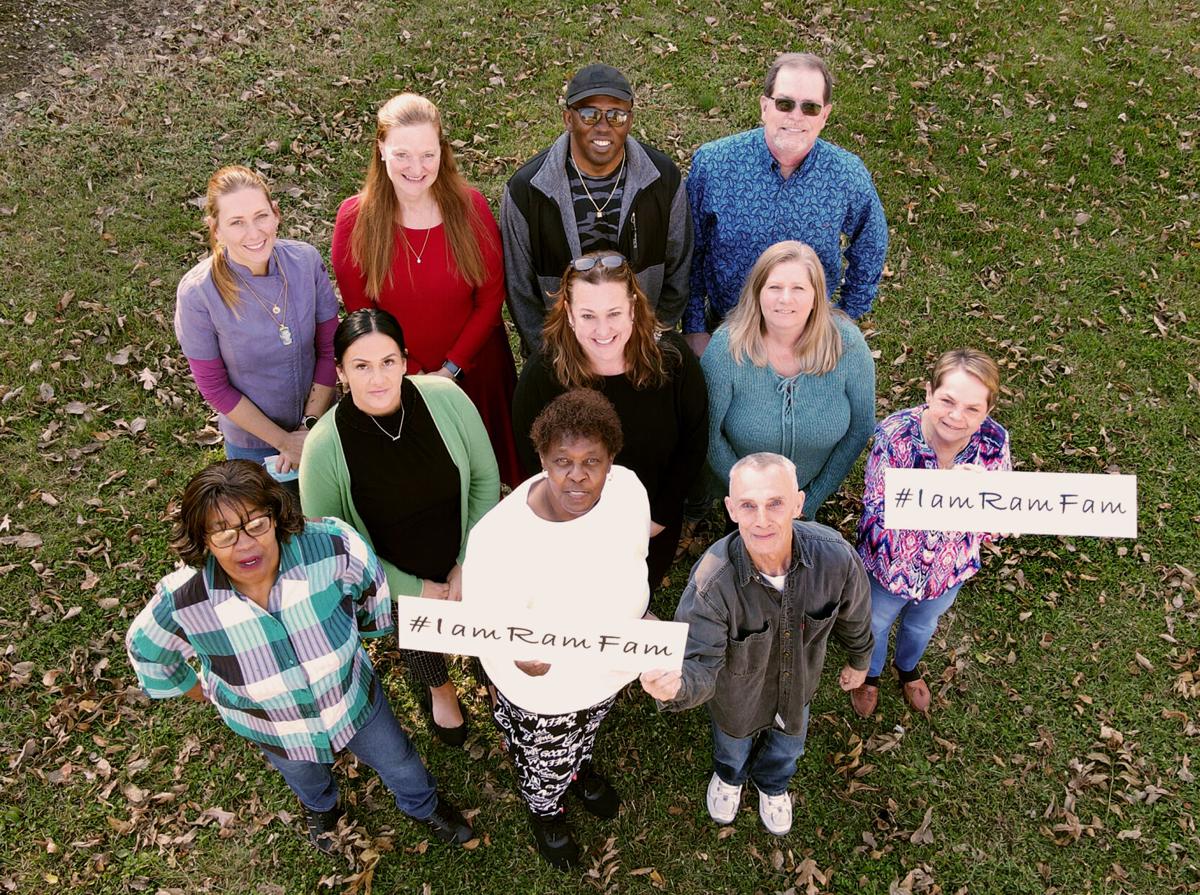 The Roanoke Times' Good Neighbors Fund raised a record-breaking amount of money in 2020-21. By March 2021, the official end of the annual fund drive, $280,505 was contributed by readers.
The project benefits Roanoke Area Ministries' Emergency Financial Assistance Program, which helps people who are in danger of becoming homeless due to an unexpected expense with rent, utility payments and prescriptions. Applicants don't necessarily have to be poor — they just need to demonstrate need.
Those needs have been profound during a year in which many people remained out of work due to COVID-19 shutdowns. Despite the success of the drive, the fund is nearly depleted at year's end, said Melissa Woodson, executive director of RAM.
In 2021, RAM has given $297,234 in aid to 2,442 individuals, with the Good Neighbors Fund monies supplemented by grants. At the charity's day shelter on Campbell Ave. in Roanoke, 22,620 hot meals were served to 1,182 people.
Woodson is grateful for the increase in donations.
"People were so generous last year," she said. "It's remarkable."
Although one check for $10,000 came in last year, Woodson said that most donations were in the $25-$100 range. "Even small donations made a difference."
This year, she said, "I hope that people will give us what they can. Everyone seems to be tightening their belts."
Woodson believes the fundraising effort was boosted by RAM's new marketing program, which was implemented last year. It gave the charity a presence on social media such as Facebook and Instagram.
"We're getting better at trying to tell our story," she said.
Woodson also is pleased with the way her staff has coped with the unusual demands of the past year. "I feel like I'm a leader among leaders," she said.
For the past two years, like every other individual and organization in the world, RAM's mission has been seriously impacted by the COVID-19 epidemic. Many of the agency's practices and procedures have yet to return to normal.
Applications for financial aid are still taken online, the shelter is limited to a small group who truly have no place else to go, and the kitchen volunteers — most of whom were asked to stay home last year — are kept separate from those who show up to be fed .
Those who have homes take the food away in to-go containers, while the homeless eat in the shelter, where they can spread out more than they could in RAM's dining room, which remains closed.
Moratoriums on evictions and utility cut-offs helped to curb homelessness and loss of services for most of the pandemic. Now bills are now coming due for those who, despite stimulus payments, supplemental unemployment insurance and child credits from the federal government, have been unable to make payments .
For most applicants for financial aid, Woodson said, "rent is an issue," with some tenants owing thousands of dollars to landlords. In those cases, she said, even when grants from the Emergency Financial Assistance Program are supplemented with donations from other charities, "there's only so much we can do."
As in past years, RAM has won a grant that will used to supplement the fund in the amount of $18,500, which will go toward rent assistance. Another grant for $5,000 will be added to the agency's feeding program.
RAM also received a grant from the federal CARES Act that allows it to serve as a screening service on behalf of the Western Virginia Water Authority for those who need aid. As for electric bills, Woodson said, "we've seen them just get higher and higher," as penalties and late fees are added to overdue charges.
Woodson worries that the coming winter months will bring evictions, as federal money for rental programs dries up.
Woodson said the charity is seeing more people on fixed incomes show up for meals, as well. Earlier in the year, the facility's kitchen was serving about 80 meals per day. That number jumped to 120 this summer, and was at 140 by the fall.
"It may have something to do with inflation," she said.
Offering free meals is "another way we prevent homelessness, by helping people save on their food bills," she said. Though much of the food prepared in the kitchen is donated, some items must be purchased and higher costs have added to RAM's expenses.
Last year, Woodson was concerned that the agency could face a $20,000 shortfall for its operating costs, due to the cancellation of several large fundraising events. But enough contributions came in this year that she was able to give the charity's employees raises, which brought their salaries more in line with similar positions at other organizations.
"People really stepped up," Woodson said about the donations. "We were able to put money back into RAM House."
Despite the windfall, because the charity is housed in a decommissioned church in the city's West End neighborhood that is more than 100 years old and is hard to heat and cool, "we're still very budget conscious," she said.
This year, RAM is holding an online auction to help with operating costs. Donations include a beach vacation rental, gift certificates and handmade items.
Due to worldwide shipping problems, Woodson said, "people won't be able to find the gifts they want" this Christmas. She is hoping the auction will help fill those needs. It runs until Dec. 10.
RAM also made improvements to its marketing program, Woodson said, by adding a vision statement, revamping the mission statement, and creating a new logo for the 50-year-old charity. The agency's new slogan is: "See the need. Meet the need. Daily."
Woodson said she's not sure when it will be business as usual at RAM again. The charity will continue to follow its COVID-19 mitigation policies in the foreseeable future.
The Good Neighbors Fund drive begins the Sunday before Thanksgiving and ends Dec. 31. During this time, The Roanoke Times will publish a series of profiles of some of the people who have been helped by the fund. Readers often ask to give directly to those featured in the stories, but donations cannot be earmarked for individuals. Donations may be made by clipping the form that appears in the newspaper's print edition and returning it with a cash or a check. Online donations made be made by going to raminc.org and clicking on the Good Neighbors Fund button.
In past years, 100% of the money raised went directly the poor. RAM now reserves 10% of the proceeds of the drive for processing applications for aid.
"We have to be able to sustain the program so people can be helped," Woodson said.
The names of donors and honorees will be published in the newspaper, and every donor will receive a thank-you card from RAM. Those who give more than $100 will be sent a personal letter.