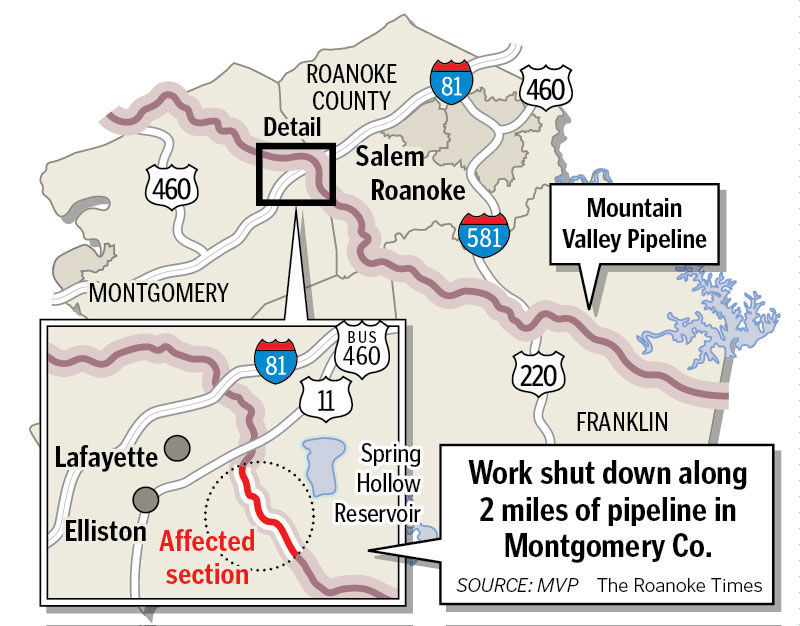 Virginia regulators ordered Friday that all work cease on construction of the Mountain Valley Pipeline along a 2-mile section of the route in eastern Montgomery County.
The Virginia Department of Environmental Quality, in stopping work on the project for the first time, cited lapses in compliance with an approved erosion and sediment control plan. Agency director David Paylor said in a news release that his agency is "appalled" by findings during a Thursday inspection.
Inspectors found a work site without control measures near U.S. 11/460, DEQ spokeswoman Ann Regn said. Elsewhere in the same area were control devices that had not been maintained, she said. "It's a violation of the certification," Regn said of the lapses found. "We did this certification to ensure natural resources are protected. We said all along we were going to hold them to a high standard."
Conditions seen during the site visit showed "an imminent and substantial adverse impact to water quality is likely to occur as a result of the land disturbing activities," DEQ said in a letter to the company, which is based in Pennsylvania. Clearing, grading and trenching were banned in the affected area until DEQ had signed off on steps to fix the problems.
Paylor's reaction was to evidence "that construction priorities and deadline pressures would ever rise above the proper and appropriate use of erosion control measures," the government's statement said.
Environmental advocate Russell Chisholm said in a release that he was "appalled" that the company's skimping on control measures to advance the project surprised the DEQ. Citizens have repeatedly reported similar lapses in permit compliance for at least a year, said his statement, issued by the Protect Our Water Heritage Rights Coalition, an anti-pipeline group with constituents in Virginia and West Virginia. Chisholm is its co-chair.
In response to citizen reports, "those in positions of power chose to ignore our calls for real, meaningful enforcement through a stop work order and instead allowed MVP to work despite several missing federal permits, a pending lawsuit for violations, and at least 35 Notices of Violation in West Virginia," the statement said.
The Sierra Club's Virginia chapter commended the DEQ. "Southwest Virginians are suffering demonstrable damage to their communities, waterways and property, and we are hopeful that DEQ will take further measures that reflect its responsibility to put the needs of Virginians first by issuing a stop work order for the entire route," its statement said.
The inspection report from Thursday will become public, but when that would occur was not known Friday.
MVP did not immediately respond to a request for a comment.
Meanwhile, a Roanoke federal judge on Friday rejected a request from pipeline officials to permit the removal of pipeline opponents known as Tree-Sitter 1 and Tree-Sitter 2 in the same area where the stop work action took effect. U.S. District Judge Elizabeth Dillon ruled that the company's plan was legally deficient. Her ruling was unrelated to the DEQ action.
Dillon wrote that she knows pipeline officials are frustrated "with the obstructive actions of the tree-sitters," who have positioned themselves near Yellow Finch Lane, and suggested other legal strategies. These could include pursuing trespassing charges against the protesters or asking a state court to find that they have interfered with easements, the judge said. The pipeline company could also try to have them held in contempt in federal court, according to the judge.
A 19-year-old woman was arrested Thursday after state police say she secured herself to Mountain Valley Pipeline equipment in Montgomery County.
Eleanor Rose-Nason Davis of Ann Arbor, Michigan, was charged with various counts related to obstruction of justice and damaging property. State police said Friday that she was held without bond in Montgomery County.
Staff writer Henri Gendreau contributed io this report.