A guitarist and singer of growing popularity was killed early Monday in a Bedford County crash.
Jacob Doss, 19, of Hurt died after a two-vehicle crash just before 12:30 a.m. near Huddleston, his mother, Teresa Doss, confirmed.
Doss, who performed frequently in the Roanoke area, had played the evening before at Fork in the Alley.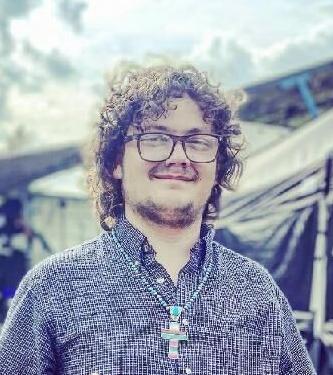 The collision happened near the intersection of Virginia 24 and Thornbird Place, in the Huddleston area, according to Virginia State Police. Additional details were not available, and the cause remains under investigation, state police said. The bass player in Doss' band, Kevin Daye, was injured in the crash but survived.
"A piece of my heart and soul is gone," his mother, Teresa Doss, said in a message exchange.
Friends and fellow musicians said Monday that they remembered Jacob Doss as more mature than his years, with humility to match his growing ability on guitar and vocals.
He sat in with JoJo Stocktons' band, Solacoustix, on Sunday, for Stockton's birthday celebration.
"He was just the coolest young man, and a sweet soul," Stockton said in a message exchange. "It's just unreal. ... He played at my party and my guitar was the last one he played."
Doss and Isaac Hadden, 18, became fast friends after Doss' manager, Jennifer McFadyen, introduced them at one of Hadden's shows at Twisted Track Brewpub. They played together on that show and quickly became friends, with plans for more gigs, Hadden said.
"The first thing that came to my mind the first time I heard him was just soul," Hadden said. "The guy clearly has a lot to say, and he really puts it all out there, which is awesome. And, you know, killer chops — the guy could play blues like crazy. He was a really nasty blues player.
"He just really made you feel something, is kind of the best way to put it. He really was able to connect with people's emotions in a special way."
McFadyen, who was booking him and beginning to manage him, said she was devastated at the loss. She said she booked him into Twisted Track, where she is a manager, on a Lynchburg band's recommendation. He came in and blew the crowd away with B.B. King, Billy Cobham and Allman Brothers Band songs.
"Hands down the coolest person I ever met in my entire life, and I've met a lot of cool people," McFadyen said. "He's just become my best friend. We call each other every day.
"I feel bad for everybody on the planet now, because that kid was the truth. I am so lucky to have known him. I just can't believe I'm never going to hear him sing again."