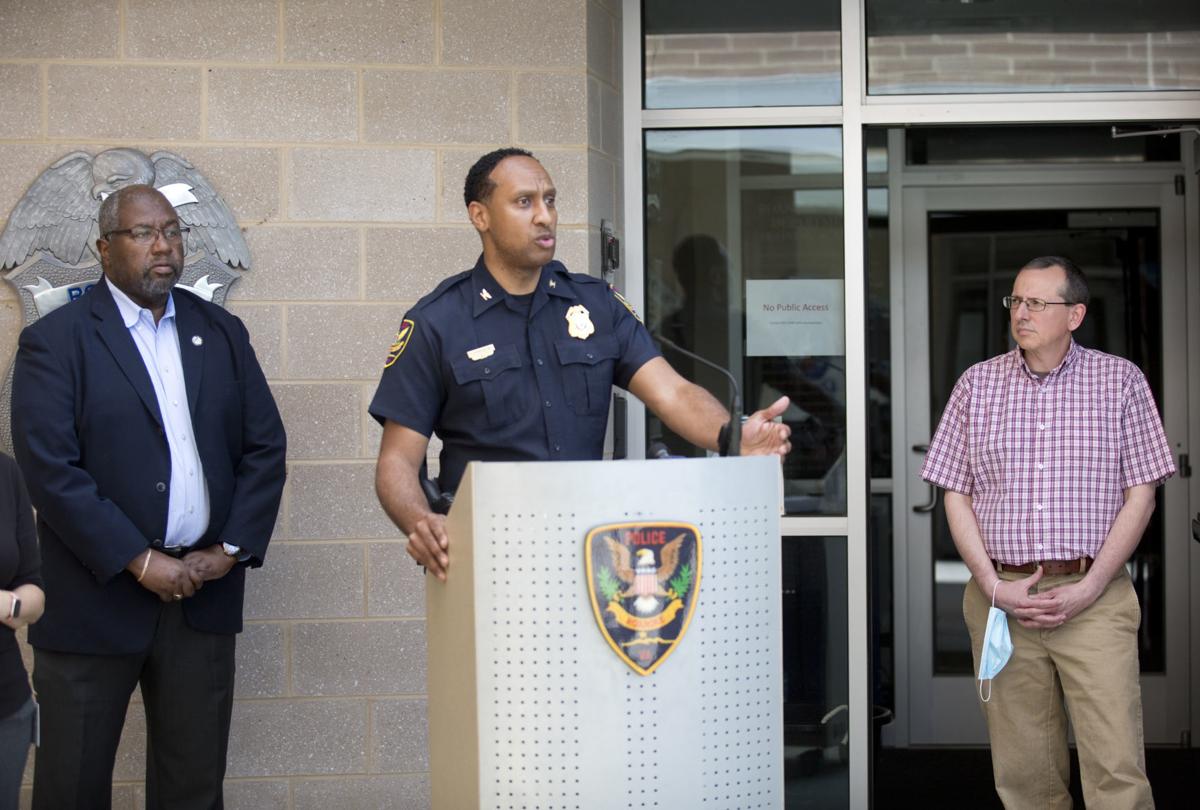 Following a weekend of protests in parts of Roanoke, city council members voiced their support for both local police officers and for the protesters.
In sometimes emotional comments near the end of Monday's council meeting, members called for Roanoke to lead the way in solving racial problems that, as council member Bill Bestpitch put it, "go back 400 years."
The comments came as the council approved an emergency declaration that gives City Manager Bob Cowell the ability to access state resources following Saturday's protests that swept through the city.
Roanoke's protests were part of a wave that rolled over the country in the wake of Minneapolis resident George Floyd's death in police custody last week. Floyd died after an officer kept his knee on the man's neck for more than eight minutes.
In Roanoke, about a half-dozen people were arrested Saturday after protests that stretched from Valley View Mall, Target and the Valley View Walmart back to downtown just before midnight.
The protests did not feature any looting or wide-scale property damage or injuries as in some more violent protests in larger cities.
Roanoke's emergency declaration also allows the city manager to impose a curfew if necessary, which is something that Roanoke did not do Saturday and currently has no plans to do, Cowell said.
Council members lauded both police and protesters, but maintained that Roanoke must take steps to heal the city's racial wounds.
"We cannot just keep on throwing lip service," council member Anita Price said. "We have to actively work on the things we know that are abundantly evident. ... We know we have some things we've got to move forward and enough is enough."
Roanoke Mayor Sherman Lea said that he accompanied Roanoke police to Walmart, Target and Burlington Coat Factory, where protests flared Saturday evening.
He credited police and new Chief Sam Roman for keeping protests and law enforcement response peaceful.
"Our police officers were in charge. ... I thought they did an excellent job," Lea said. He added that "there are some things that people said went astray, and we're going to deal with those. But our men and women were on the forefront protecting the businesses and the people."
Cowell said that Roman has talked to some of the people who protested in order to determine what went well and what did not following Saturday's events.
For the most part, council members sympathized with the protesters. Council member Michelle Davis said that she was "proud of the people who took a stand this weekend and said that they've had enough."
Holding back tears, Price said she understood people's anger, especially after talking to male members of her family who told her about their experiences of being racially profiled and followed by police because they are black.
Price commended the "peaceful demonstrators who were able to articulate the pain and frustration that we're going through not only here in Roanoke but across the country."
She said Roanoke's racial problems cannot be dealt with until the city comes to terms with the fact that problems exist.
"You cannot address what you don't first acknowledge," Price said.
White-Boyd said she felt "a little helpless" as events unfolded Saturday. "I appreciate what protesters are trying to say and how they were trying to express themselves. ... Personally, I wanted to say that I understand what they're feeling."
She urged the council to send a letter of condolences and public sympathy to Floyd's family.
Davis said she was no longer certain the answer to racism would come from government, although she is encouraged by the number of prominent African-Americans in leadership roles in Roanoke — a roster that includes Lea, Roman, Sheriff Tim Allen and incoming superintendent of Roanoke schools Verletta White.
"Our highest positions are led by strong African American leaders," Davis said. "I am so grateful that we have that and we in Roanoke City have a unique opportunity to take action in a way that almost no other community in our country has right now."
Vice Mayor Joe Cobb said that people had told him that a racist, inequitable system was not broken, because indeed "that's the way the system was built."
"We as a city have to create a new way of being," Cobb added before reading the poem "A Black Man's Tears" by Roanoke poet and performer Bryan Hancock.
Bestpitch noted how the country talks about fixing racial problems without doing anything.
"There's a big part of me that says shame on us that we haven't done more, shame on us that we haven't worked harder to overcome some of these difficulties," he said.
"We can't solve all problems in this country, but we can work together to make things better in the city of Roanoke, Virginia, and by golly it's time for us to quit fooling around and get to work."