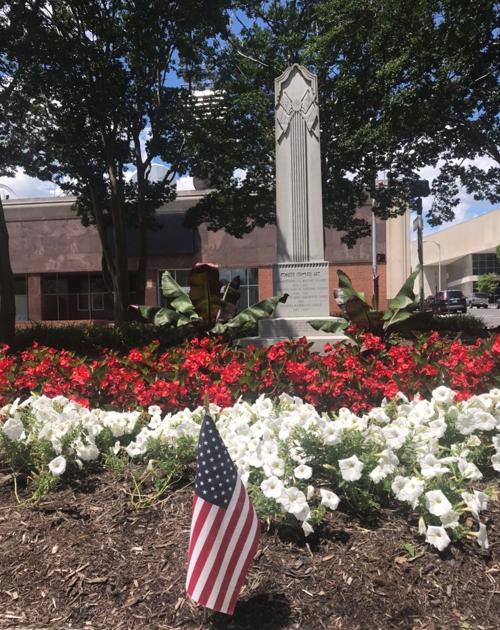 The Roanoke City Council will select a replacement for council member Djuna Osborne by interviewing candidates in public and allowing citizens to comment during the process.
The council chose that course Monday, as it also approved giving the fallen Lee Memorial to Evergreen Burial Park and promoting Tim Spencer to the job of city attorney.
Monday was the first regular meeting since Osborne announced her resignation last week after more than two years on the job. Following the city's charter and state law, the council opted to appoint a replacement following a process that includes applications, public interviews and a comment period.
Potential applicants for the open council seat must be Roanoke residents and must apply to the city clerk's office by 4 p.m. Oct. 1. The city council then will select a list of finalists Oct. 2, and announce them at during council's regular meeting at 2 p.m. Oct. 5. Interviews will begin at approximately 3 p.m. that same day.
That evening at 7 p.m., the council will hold a public hearing during which citizens can comment about applicants. The council will make the appointment Oct. 21 during its regular 2 p.m. meeting.
The council could have made an appointment without public comment or it could have scheduled a special election at a later date, but it chose public interviews as a way to make the process more open to citizens, city attorney Dan Callaghan pointed out.
"This is a very transparent process," council member Anita Price said after Callaghan laid out the plan.
Osborne's resignation came just seven weeks before council and mayoral elections on Nov. 3. Roanoke voters will choose three members from a slate of eight candidates. State law forbids any of the candidates currently on the ballot from applying for the current open seat.
Osborne cited increased family and career workloads due to the COVID-19 pandemic as chief reasons for her resignation.
A two-month legal process to remove the memorial to Confederate Gen. Robert E. Lee from downtown Roanoke ended with the council agreeing to give the granite pillar — now broken into pieces after a person knocked it over — to the owners of Evergreen Burial Park and the Historical Society of Western Virginia.
A new state law allows Virginia municipalities to remove war memorials, including Confederate statues, which had become more controversial in recent years.
The city council voted in July to remove the 10-foot granite shaft, then held a public hearing on the matter in accordance with the new law. It then had 30 days to offer the memorial to a history group, battlefield or cemetery. The city also tried to contact the United Daughters of the Confederacy, which initially raised the memorial in 1960, but the UDC made no offer.
In a letter, Evergreen president Donald Wilson and historical society president F. Anderson Stone noted that Evergreen Burial Park would be a fitting place for the memorial because at least 60 Confederate veterans and at least one Union soldier are buried there.
The memorial will stand near a flagpole dedicated to the memory of the astronauts who died in the Challenger space shuttle explosion in 1986.
Spencer new city attorney
Longtime Roanoke senior assistant attorney Tim Spencer will become the new city attorney, following Callaghan's retirement at the end of this month.
Spencer, 59, who has worked in Roanoke for 17 years, is a Portsmouth native and graduate of Virginia Military Institute who holds a law degree from the T. C. Williams School of Law. Before arriving in Roanoke, he was Danville's city attorney for seven and a half years. He called his new position a "dream job."
"It's been about 20 years of working toward this goal," Spencer said in an interview following Monday's meeting. He added that his role is to represent the council and help it attain policy objectives.
"I will help find ways within the law to achieve their goals," he said. "As Vice Mayor Joe Cobb told me [during interviews], I am now the representative of city council in the community. I am not just Tim Spencer, I am Tim Spencer representative of the city."
The job pays $162,000 annually.
In other council business:
n The council passed resolutions recognizing two retiring city employees, Callaghan and public-access television director Elaine Bays-Murphy.
Callaghan came to Roanoke in 2012 after a long career in New Hampshire. While working as the city's chief legal counsel, Callaghan helped Roanoke navigate projects such as the return of passenger rail service to Roanoke, the completion of the Market Garage project that included a Hampton Inn in downtown Roanoke and construction of the new Franklin Road Bridge.
After plaudits from all six council members, including council member Anita Price's description of Callaghan as "a gentleman and a scholar," Roanoke Mayor Sherman Lea awarded Callaghan a key to the city, which the mayor called city's highest honor.
Bays-Murphy retired after 26 years with RVTV, for which she worked as cable access director. Bays-Murphy had been with Roanoke's public-access station since it first went on the air. Council members commended Bays-Murphy not only on her visual storytelling skills but for navigating the station through a technological evolution that included digital conversion and myriad other changes.
n The council passed a resolution allowing Greater Roanoke Transit Co. to offer free bus fares on Election Day for all Valley Metro buses.
Get local news delivered to your inbox!
Subscribe to our Daily Headlines newsletter.