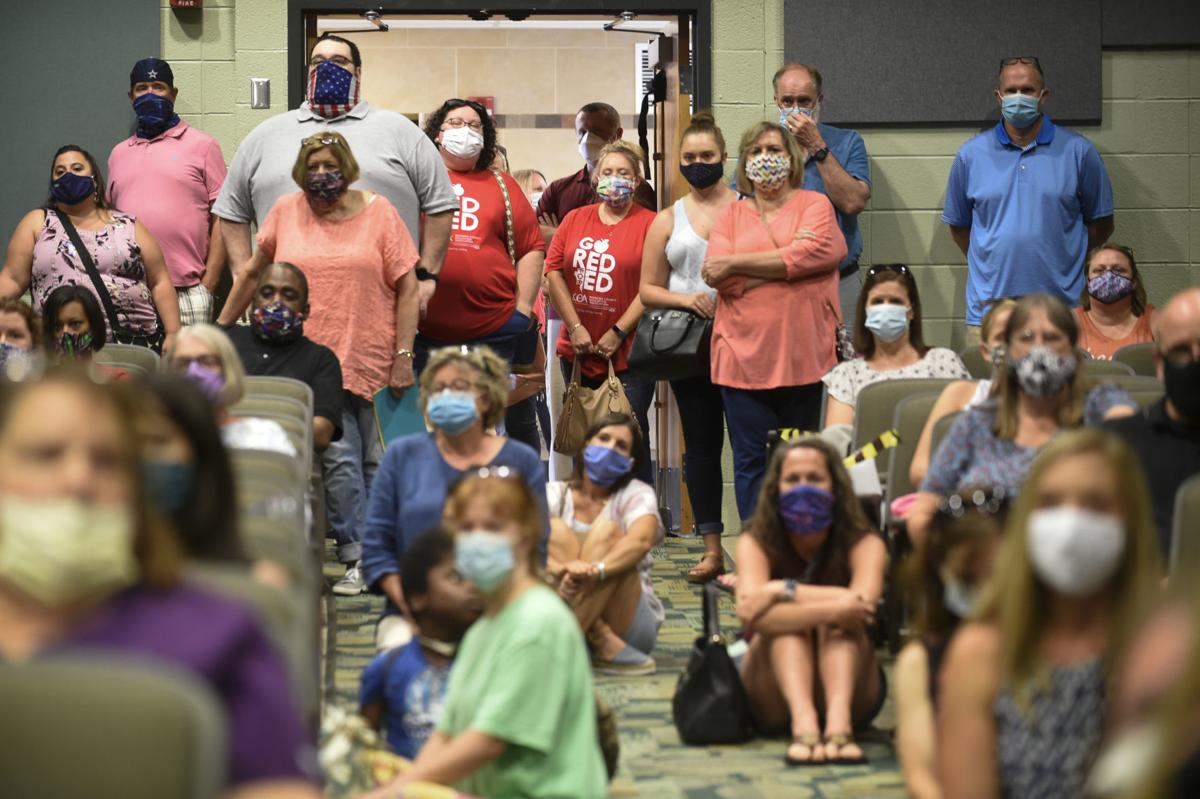 The Roanoke County Education Association wants Roanoke County Public Schools to return to school remotely, backtracking on its earlier support of Roanoke County's proposed plan for a partial return to the classroom.
Citing rising cases in Southwest Virginia, members determined "there is no safe way to open Roanoke County schools in a face to face setting," according to a statement released Monday. The union's position has evolved as "more and better research has been presented" about transmission of COVID-19.
"We would love nothing more than to be back in the classrooms with the students that we care for, doing the work to which we have devoted our lives," the statement said. "Every teacher and staff member we know wants to be back on school campuses — but only when it is safe to do so."
The teachers' union follows in the footsteps of other local chapters of the Virginia Education Association asking for a remote start, including those in Fairfax County and Richmond. Though the VEA is affiliated with the National Education Association and describes itself as a union, in Virginia, teachers, as public employees, are not allowed to collectively bargain or to go on strike. The VEA functions as more of an advocacy group for teachers.
The RCEA said in its statement that health and safety are top priorities, with economic factors and child care "important but secondary."
"We are dealing with a dangerous virus that is spread by person-to-person contact and has sickened and killed Americans of all ages," the statement said. "We need to take the time to do it right and stay healthy and safe for tomorrow. Virginia must proceed with caution and ensure the health and safety of all as it considers schedules for reopening schools."
Roanoke County's plan calls for pre-K through second grade students to return to the classroom daily and for older students to attend in-person twice a week with remote learning the other three days. Families also may opt for 100% remote learning. The school board is scheduled to vote Wednesday on the plan after previously postponing to hear from more of the community and survey families.
Teachers, normally a group wary of public attention, have spoken out recently, largely concerned about health and safety. Previously, President Tim Summers said his members were willing to back the proposed Roanoke County plan, although he also said they wouldn't be opposed to a stricter plan.
Several school board members have advocated for sending more elementary-aged students to the classroom daily. A group of parents and teachers called "Reopen Roanoke County Schools" has asked the school board to give all students the option to return to the classroom full time. At the Roanoke County School Board's meeting two weeks ago, nearly 50 speakers were split on how the county's schools should reopen. School board member Jason Moretz said roughly 60% of the 401 emails he received on the topic favored the proposed partial in-person plan.
Those advocating for a fuller return to the classroom pointed toward the American Academy of Pediatrics' guidance, which discussed the "goal of having students physically present in school" and the importance of in-person learning. The group released a second statement late last week with the National Education Association and other education groups that emphasized safety and science and discouraged politics in the decision.
"For instance, schools in areas with high levels of COVID-19 community spread should not be compelled to reopen against the judgment of local experts," the statement read in part. "A one-size-fits-all approach is not appropriate for return to school decisions."
In a survey of RCEA members, 74% indicated they would prefer a remote opening, according to the union. That same percentage also felt it was not safe to reopen schools.
Even more, at 90%, said they had medium or high anxiety about returning to school, with 54% responding high anxiety. Summers said 310 members responded to the survey.
The union also weighed the challenges of returning to the classroom, such as needing more substitute teachers, "the inevitable wave of closings, quarantine and reopenings," decreased instructional time due to following stringent health protocols and being unable to share items used for teaching, such as math manipulatives.
The recent joint statement from the American Academy of Pediatrics called on the federal government to provide additional funding and discouraged withholding money from districts that don't reopen full time, referencing a threat from President Donald Trump and Education Secretary Betsy DeVos.
The RCEA also voiced support for increased state and federal funds in order to safely reopen schools and ensure students have access to technology.
"Failure to do so will only worsen the inequities in our public schools, disproportionately affecting students of color and those living in poorer communities," the statement said.
Concerned about COVID-19?
Sign up now to get the most recent coronavirus headlines and other important local and national news sent to your email inbox daily.