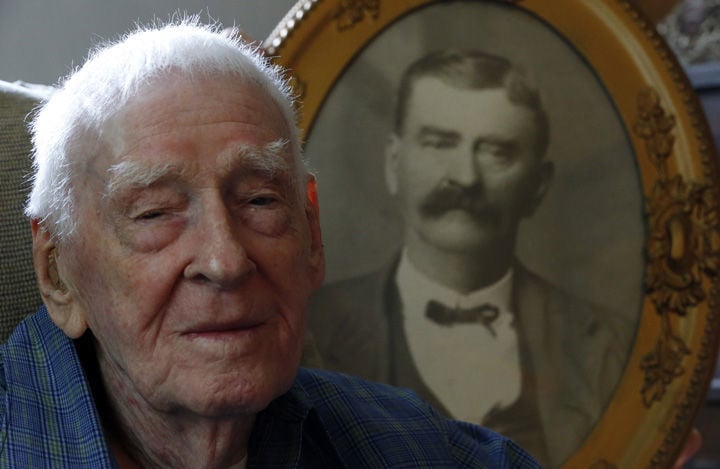 Calvin Crane, a Roanoke man who died Sunday at 102, was believed to have been the last living son of a Confederate veteran in the United States — and by that, we mean a real son of a Confederate veteran.
Crane's father, James Antony Crane, was a Confederate soldier from Pittsylvania County, who served during the Civil War with Ringgold Battery, Company B of the 13th Battalion, Virginia Light Artillery. He served through the end of the war in 1865, married twice, fathered 21 children and died around 1918, when Calvin was barely a year old. Calvin never knew much about the man, except that he liked to hunt and that he was old when Calvin was born.
James Crane fathered 16 children with his first wife, who died around the turn of the 20th century. He was in his 50s when he married Annie Eanes, an 18-year-old woman who had grown up as an orphan and lived on a farm near Danville. Calvin, born on Feb. 27, 1917, was the youngest of James and Annie's five children.
Gerald Via, a member of the Fincastle Rifles Camp 1326 of the Sons of Confederate Veterans, confirmed that Crane was the last known living son of a Confederate soldier.
Calvin Crane led a life notable for reasons other than his Confederate kinship. He served in the U.S. Army during World War II, earning two Bronze Stars for valor as he fought in North Africa and Europe with the 1st Armored Division. After the war, he moved to Roanoke to work for an uncle in the dry-cleaning business before joining the maintenance department of Roanoke's main post office.
"He was the kindest gentleman you'd ever meet," Via said. "He was a wonderful person. I didn't even know he had been in World War II or earned the Bronze Stars. It was nothing he talked about."
According to an obituary in The Roanoke Times, Crane and his wife Mary Harth Crane — who is 98 — were married for 65 years. The couple lived in southeast Roanoke and attended Waverly Place Baptist Church where Calvin taught Sunday school for 22 years. The couple stayed in the neighborhood until Calvin moved into the Salem Veterans Affairs Medical Center's Community Living Center a few years ago.
Crane was born on a farm near the White Oak Mountain community of Pittsylvania County barely two months before the United States entered World War I. His family moved to Danville soon after his father's death so his mother could work in the Dan River Mills, according to a profile published by the Richmond Times-Dispatch in 2013. The Crane family's financial situation was so desperate, Calvin had to leave school after the sixth grade.
"I had a terrible time growing up," Crane told the newspaper.
He joined the Sons of the Confederate Veterans in 1993 and attended monthly meetings for more than 20 years, said Via. The SCV's national headquarters in Columbia, Tennessee, confirmed that Crane was the last living known son of a Confederate veteran, Via said. The United Daughters of the Confederacy says that five living daughters of Confederate veterans are known, none of them in Virginia.
In 2014, National Geographic reported that fewer than 35 children of Civil War soldiers, Union and Confederate, still were alive.
David Demmy, executive director of the Sons of Union Veterans of the Civil War, said the Pennsylvania-based organization knows of two living sons of Union veterans and four living daughters.
Crane is also survived by two daughters and a host of grandchildren, great-grandchildren and a great-great-grandson, with another on the way.
The Crane family declined through an acquaintance to be interviewed for this story. In 2013, Crane's daughter Cynthia Crane Jones told the Richmond Times-Dispatch that it had been difficult over the years convincing others of her close Civil War connections.
"I know when I was in, like, third or fourth grade and we'd start studying the Civil War, I'd say, 'My grandfather was in the Civil War!' " she told the newspaper. Her teachers and classmates attempted to correct her by saying, "'No, no, that was your great-grandfather.' And I'd say, 'No, it was my grandfather.' Mom even had to go to school one time and tell them it was my grandfather."
Get local news delivered to your inbox!
Subscribe to our Daily Headlines newsletter.